Regulation of multi-organ inflammation in the regulatory T cell-deficient scurfy mice
Journal of Biomedical Science
2009
16:20
Received: 07 February 2009
Accepted: 12 February 2009
Published: 12 February 2009
Abstract
Scurfy mice display the most severe form of multi-organ inflammation due to total lack of the CD4+Foxp3+ regulatory T cells (Treg) resulted from a mutation of the X-linked transcription factor Foxp3. A large repertoire of Treg-suppressible, inflammation-inducing T cells was demonstrated by adoptive transfer experiments using Rag1-/- mice as recipients and by prolongation of lifespan through breeding with Faslpr/lprmutant. Inflammation in the ear, eyes, skin, tail, salivary glands, lungs, stomach, pancreas, liver, small intestine, colon, skeletal muscle, and accessory reproductive organs are identified. Genetic and cellular regulations of specific organ inflammation are described. Sf mice may be useful for the identification of organ-specific antigens and Treg capable of suppressing inflammation in an organ-specific manner. Sf mice are also useful to determine the important inflammation process at the checkpoint after Treg regulation using genetic analysis through breeding.
Keywords
Skin InflammationLung InflammationLacrimal GlandLarge RepertoireGranular Convoluted Tubule
Review
Thymic selection imparts T cell subsets with distinct functions and specific antigenic markers. In the thymus, the CD4+ T cell compartment contains a Foxp3- population (termed conventional T cells or Tconv) that when exits to the periphery will respond to antigenic stimulation and a Foxp3+ population (regulatory T cells or Treg) that when exits to the periphery will suppress immune responses [reviewed in [1–3]]. Although negative selection eliminates the high-affinity T cells that react with self antigens, T cells reactive with self antigens with low to moderate affinity may escape negative selection and exit to the periphery where they may become auto-reactive under appropriate conditions [4, 5]. The presence of Treg is necessary to suppress this response to maintain peripheral tolerance. Early works using day-3 thymectomy or anti-CD25 antibody treatment have implicated Treg presence [6, 7], but the most convincing and definitive evidence for Treg came from the genetic studies of Scurfy (Sf) mice and IPEX patients, both display fatal multi-organ inflammation caused by mutations in the transcription factor Foxp3 [8, 9]. Foxp3 is absolutely required for the Treg generation in the thymus and Treg maintenance in the periphery. In this regard, the demonstration of inducible Treg from naïve CD4+CD25-Foxp3- T cells in the periphery implies that Sf mice and IPEX patients must also lack inducible Treg [10]. Inducible Treg may be more important for the regulation of immune response to foreign antigens or foreign antigens steadily associated with the host. Thus, Foxp3 expression is required lifelong for the maintenance of tolerance [11]. Foxp3 expression defect may result in spontaneous response to both self antigens and foreign antigens steadily represented in the host.
The overall Treg expression in the periphery is affected by factors that participate in the Treg generation in the thymus and by factors that maintain Treg expression in the periphery. In addition to Foxp3, thymic Treg generation depends on high-affinity IL-2 signaling [12]. In the absence of IL-2 or IL-2Rα, thymic Treg generation is reduced but IL-7 signaling can partially compensate this defect [12]. Another study using Foxp3-GFP knock-in mice also favors the interpretation that IL-2 is not indispensable for the thymic Foxp3+ Treg generation [13]. Naïve CD4+Foxp3- T cells in the periphery could be converted to functional CD4+Foxp3+ T cells when activated through TCR and in the presence of IL-2 and TGF-β1 [10]. Peripheral Treg are maintained to a great extent by the high affinity IL-2 and TGF-β1 signaling pathways [14–16]. In the periphery, IL-2 defect can be compensated to a significant extent by the IL-15/IL-15R signaling pathway but the requirement of TGF-β1 is indispensable [10, 12, 17]. Many factors that regulate Treg development and homeostasis also regulate Tconv cells. Because of this complicated etiology and regulation, Treg expression in different mutant strains varied and its effect on peripheral tolerance results in varying manifestation of multi-organ inflammation. We will focus on the multi-organ inflammation associated with Il2-/- and Sf mice in the B6 genetic background because they have been extensively studied.
Spontaneous multi-organ inflammation is a characteristic of Treg deficiency and Sf mice provide the best source to study such process. A contentious issue is whether the multi-organ inflammation responses are the results of activation of organ-specific auto-reactive T cells. Critically speaking, these spontaneous inflammation responses cannot be considered autoimmune without the identification of the target antigens and their organ-specific association. Perhaps the best example that Treg control auto-immune response is the gastritis induced by day-3-thymectomy that activates both T and B cell responses against the H+/K+-ATPase of stomach parietal cells [18, 19]. In experimental autoimmune prostatitis and oocytitis, specific responses against EAPA and MATER organ antigens have been implicated [20, 21]. Antibodies reactive against a mitochondrial antigen associated with cholangitis have been demonstrated in Sf mice [22]. Because Treg controls immune responses to both self and foreign antigens, it is likely that the multi-organ inflammation is the result of loss of tolerance to self antigens as well as foreign antigens that are more often associated with particular organs in the host including the steady presence of antigens from the environment, food, bedding, and microbiota [23].
Sf mice display the most severe form of spontaneous multi-organ inflammation disease but their multi-organ inflammation is restricted to a few. Sf mice die around 24–28 days old with severe inflammation in the ear, conjunctiva, skin, lungs, liver and tail. [24]. Common autoimmune diseases such as thyroiditis, diabetes, encephalomyelitis, arthritis, glomerulonephritis and inflammation in the oral and gastrointestinal tracts are not observed [24, 25]. Two approaches were used to determine if early death or pre-weaning condition prevented the expression of inflammation in these organs. The lifespan of Sf mice can be prolonged to 8–20 weeks old by introducing the apoptosis-preventing Faslpr/lprgene [26]. Surprisingly, additional inflammation was observed only in colon and accessory reproductive organs. Thus, pre-weaning condition may not be the only factor that affects organ-specific expression of inflammation. The second method is by transferring Sf lymph node cells into Rag1-/- recipients [25]. This approach not only induced severe inflammation in the skin, lung and liver but also in salivary gland, stomach, pancreas, small intestine, and colon. Thus, Sf mice probably contain many inflammation-inducing T cells capable of inducing inflammation in various organs. Some of the organs that are not inflamed are probably caused by factors other than early death or the absence of inflammation-inducing T cells [25].
For simplicity and clarity purpose, a summary figure (Figure
1
) is used to present the inflammation of various organs induced under various conditions. In each presentation, leukocyte infiltration is indicated by arrows. Negative controls totally lack leukocyte infiltration and they are not presented. Description of each panel is included in the figure legend.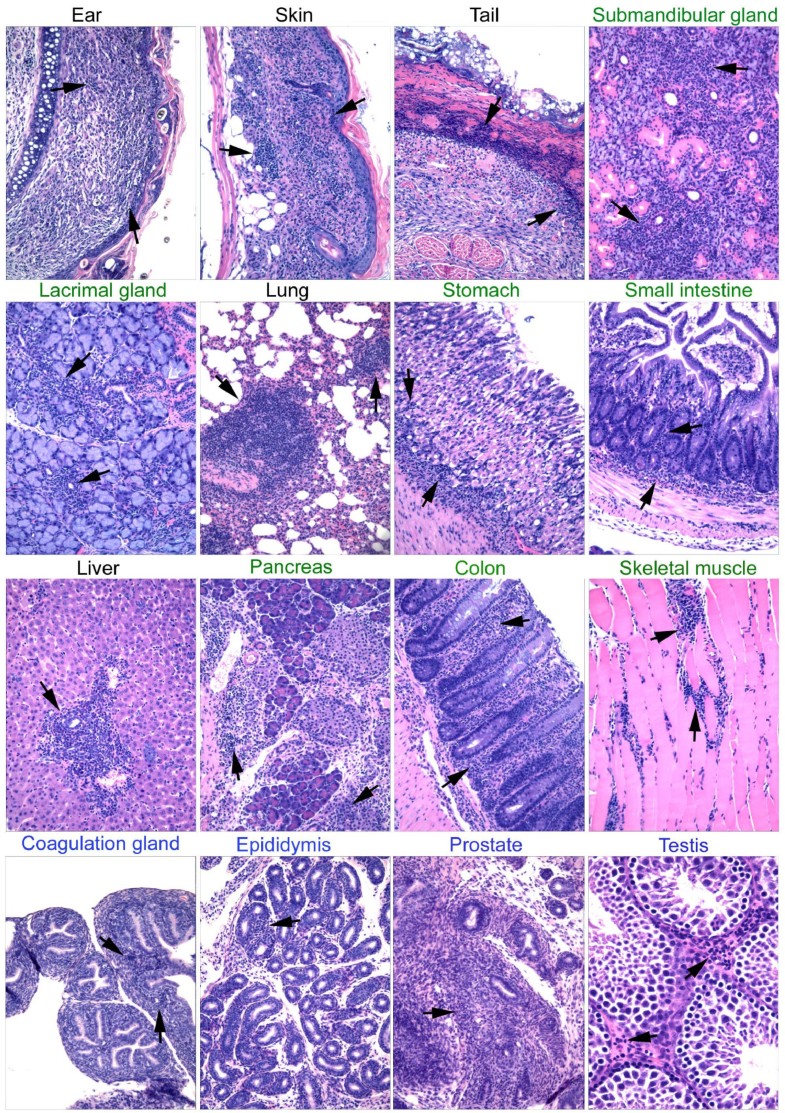 Concluding remark
By breeding and adoptive transfer experiments, Sf mice are shown to contain a large repertoire of inflammation-inducing T cells capable of inducing inflammation in a large number of organs and tissues. Polyclonal Treg can suppress the inflammation when tested, suggesting the presence of an equally large repertoire of functional Treg. An important issue is to determine whether inflammation in individual organs is organ-specific. If so, what are the organ-specific antigens? In this regard, Sf mice should be useful to identify organ-specific Treg either by transferring potential organ-specific Treg into Sf neonates or by co-transfer with Sf lymph node cells into Rag1-/- recipients. Sf mice are also useful to study the inflammation process important to the inflammation of various organs. For example, breeding specific an integrin or a chemokine receptor mutant gene into Sf mice could address the importance of the specific gene in the inflammation in various organs at the same time.
Declarations
Acknowledgements
This work is supported in part by NIH grants AR-051203 (STJ), DE-017579 (STJ), AR-045222 (SMF), AR-047988 (SMF), AR-049449 (SMF) and AI-079906 (SJS).
Authors' Affiliations
(1)
Center for Immunity, Inflammation, and Regenerative Medicine, and Department of Medicine, University of Virginia, Charlottesville, USA
Copyright
© Sharma et al; licensee BioMed Central Ltd. 2009
This article is published under license to BioMed Central Ltd. This is an Open Access article distributed under the terms of the Creative Commons Attribution License (http://creativecommons.org/licenses/by/2.0), which permits unrestricted use, distribution, and reproduction in any medium, provided the original work is properly cited.