Salvianolic acids: small compounds with multiple mechanisms for cardiovascular protection
Journal of Biomedical Science
2011
18:30
Received: 18 February 2011
Accepted: 11 May 2011
Published: 11 May 2011
Abstract
Salvianolic acids are the most abundant water-soluble compounds extracted from Radix Salvia miltiorrhiza (Danshen). In China, Danshen has been wildly used to treat cardiovascular diseases for hundreds of years. Salvianolic acids, especially salvianolic acid A (Sal A) and salvianolic acid B (Sal B), have been found to have potent anti-oxidative capabilities due to their polyphenolic structure. Recently, intracellular signaling pathways regulated by salvianolic acids in vascular endothelial cells, aortic smooth muscle cells, as well as cardiomyocytes, have been investigated both in vitro and in vivo upon various cardiovascular insults. It is discovered that the cardiovascular protection of salvianolic acids is not only because salvianolic acids act as reactive oxygen species scavengers, but also due to the reduction of leukocyte-endothelial adherence, inhibition of inflammation and metalloproteinases expression from aortic smooth muscle cells, and indirect regulation of immune function. Competitive binding of salvianolic acids to target proteins to interrupt protein-protein interactions has also been found to be a mechanism of cardiovascular protection by salvianolic acids. In this article, we review a variety of studies focusing on the above mentioned mechanisms. Besides, the target proteins of salvianolic acids are also described. These results of recent advances have shed new light to the development of novel therapeutic strategies for salvianolic acids to treat cardiovascular diseases.
Keywords
Rosmarinic AcidAortic Smooth Muscle CellSalvianolic AcidCardiovascular Protective EffectPolyphenolic Structure
Introduction
Salvianolic acid is one of the bioactive compounds of
S. miltiorrhiza
BGE extracted from the root of
S. miltiorrhiza
, commonly named "Danshen" in China. According to traditional Chinese medicine, Danshen can be used to promote blood flow and to resolve blood stasis. Therefore, it is wildly prescribed to patients with angina pectoris, hyperlipidemia, and acute ischemic stroke [
1
–
3
]. Using chromatographic fingerprinting method and mass spectrometry, there are more than eighteen components in Radix
S. miltiorrhiza
. They can be classified as water-soluble (hydrophilic) phenolic compounds and nonpolar (lipid-soluble) diterpenoidal compounds [
4
,
5
]. Salvianolic acids are the main water-soluble compound in
S. miltiorrhiza
. Among salvianolic acids, Sal A and Sal B are the most abundant components. The structures of salvianolic acids are shown in figure
1
.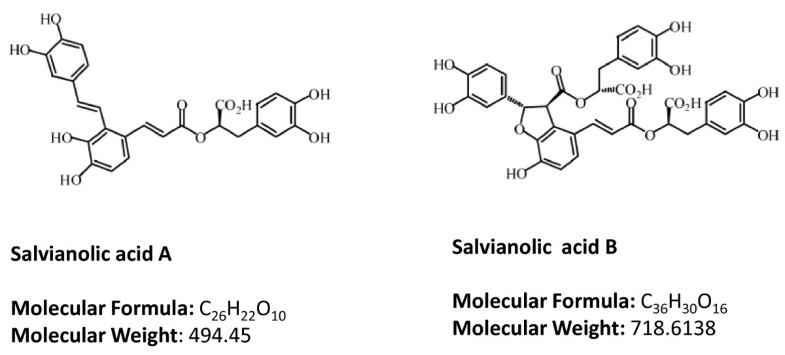 The bioavailability, pharmacodynamics as well as pharmacokinetics of salvianolic acids have been investigated. Due to first-order absorption, Sal B reaches the maximum plasma concentration within 0.5-1 hour and could be detected up to 180 minutes after oral administration [6, 7], and which undergoes hepatobiliary excretion [8]. In conscious and freely moving rat, Wu et al. demonstrates that Sal B shows the linearity over a plasma concentration range of 0.5-200 μg/ml and 83.78 ± 10.5% of plasma protein binding rate. By intravenous injection, 100 mg/kg Sal B reaches the maximal plasma concentration (Cmax) around 910 μg/ml, and the half life (t1/2) of Sal B is around 105 minutes [7]. For oral administration, the Cmax of 500 mg/kg Sal B is 1.5 μg/ml while 100 mg/kg Sal A is only 308 ng/ml; the t1/2 is around 248 minutes for Sal B and 3.29 hours for Sal A [7, 9]. The oral bioavailability of Sal B in a conscious rat is calculated to be 2.3% [7], which is higher than rats under general anesthesia reported by Zhang et al [10].
Although the therapeutic potential of salvianolic acids on hepatic protection [11, 12], neural protection [13, 14], and cancer treatment [15–17] have been proposed in recent years, the greatest clinical impact of salvianolic acids is cardiovascular protection. In the past few years, mechanism(s) of how salvianolic acids regulate endothelial cells, vascular smooth muscle cells and cardiomyocytes have been investigated. In this article, we summarize results of these studies on the cardiovascular protective effect of salvianolic acids and elucidate the multiple mechanisms of these small compounds in terms of reactive oxygen species (ROS) scavenging ability, leukocyte-endothelial adhesion regulation, inflammation inhibition and immune-modulation. In addition, intracellular signaling pathway regulated by salvianolic acids as well as putative proteins targeted by salvianolic acids are described in this article.
Cardiovascular Peotection of Salvianolic Acids
Conclusion
Salvianolic acids, which contain polyphenolic structure, are potent antioxidants. Salvianolic acids reduce intracellular as well as intravascular oxidative stress, which protects endothelial cells, arterial smooth muscle cells, cardiomyocyte, and LDL form free radical damage and peroxidation. In addition, salvianolic acids attenuate endothelial-leukocyte adhesion molecules expression on vascular endothelial cells through regulating intracellular kinase activity. Such kinase-associated signaling pathway inhibition by salvianolic acids also contributes their anti-inflammation effect. Salvianolic acids possess strong affinity to bind MMP-9, SH2 domain of the Src-family kinases and CD36, which inhibits protein-protein interaction. For clinical application, intravenous injection rather than oral administration of such a water-soluble compound is more easily to reach the therapeutic plasma concentration. Taken together, the cardiovascular protective effect of salvianolic acids is mediated through multiple molecular mechanisms. Such unique property makes salvianolic acids excellent candidates for future development of cardiovascular protective agents.
Authors' information
Dr. Jennifer Hui-Chun Ho is the Director of Center for Stem Cell Research and the Deputy Director of Medical Research and Education at Wan Fang Hospital, Taipei Medical University, and is also an Assistant Professor at Graduate Institute of Clinical Medicine, Taipei Medical University. Her main research theme is translational research of stem cells, especially stem cell transplantation.
Prof. Chuang-Ye Hong is the Superintendent of Wan Fang Hospital, Taipei Medical University and also a consultant cardiologist at Wan Fang Hospital. Prof. Hong is an expert in pharmacological research of medical herbs and cardiovascular diseases. Prof. Hong was the Director of Institute of Traditional Medicine at National Yang-Ming University from 1992 to 1997, when he led a research team working on translational research of traditional Chinese medicine, especially Danshen and magnolol.
List of abbreviations
S. miltiorrhiza :

Salvia miltiorrhiza
Sal A:

salvianolic acid A
Sal B:

salvianolic acid B
ROS:

reactive oxygen species
DPPH = 1:

1-diphenyl-2-picrylhydrazyl
ABTS = 2:

2-azino-bis-(3-ethylbenzothiazoline-6-sulfonic acid
NADPH:

nicotinamide adenine dinucleotide phosphate
H2O2:

hydrogen peroxide
HO·:

free hydroxyl radicals
O2·-:

superoxide anion radicals
LDH:

lactate dehydrogenase
LDL:

low-density lipoprotein
MALDI-TOF:

matrix assisted laser desorption ionization- time of flight
PKC:

protein kinase C
MAPK:

mitogen-activated protein kinase
α4-tropomyosin:

alpha-4-tropomyosin
GRP75:

glucose regulated protein 75
TNF-α:

tumor necrosis factor-alpha
VCAM-1:

vascular adhesion molecule-1
ICAM-1:

intercellular cell adhesion molecule-1
E-selectin:

endothelial cell selectin
HAECs:

human aortic endothelial cells
NFkB:

nuclear factor kappa B
HUVECs:

umbilical vein endothelial cells
VE-cadherin:

vascular endothelial cadherin
VEGF:

vascular endothelial growth factor
ERK:

extracellular signal-regulated kinase
β-catenin:

beta-catenin
PAI-1:

plasminogen activator inhibitor type 1
AP-1:

activating protein-1
COX-2:

cyclooxygenase-2
MMP:

metalloproteinases
LPS:

lipopolysaccharide
HASMCs:

human aortic smooth muscle cells
JNK:

c-Jun N-terminal kinases
PGE2:

prostaglandin E2
ApoE:

apolipoprotein E
SH2:

Src Homology 2
Lsk:

lymphocyte-specific protein tyrosine kinase
TCR:

T cell receptor
ELISA:

enzyme-linked immunosorbent assay
HTS:

high-throughput screening
oxLDL:

oxidized low-density lipoprotein
CD:

cluster of differentiation.
Declarations
Acknowledgements
The authors acknowledge Professor Oscar K. Lee for proof reading of this manuscript. The authors also acknowledge the financial supports from the Wan Fang Hospital, Taipei Medical University (99TMU-WFH-01-4 and 100swf03 to JHH), as well as the support of research grants from the National Science Council (NSC98-2314-B-038-010 and NSC99-2120-M-010-001, to JHH).
Authors' Affiliations
(1)
Graduate Institute of Clinical Medicine, Taipei Medical University, Taipei, Taiwan
(2)
Department of Ophthalmology, Wan Fang Hospital, Taipei Medical University, Taipei, Taiwan
(3)
Center for Stem Cell Research, Wan Fang Hospital, Taipei Medical University, Taipei, Taiwan
(4)
Department of Medicine, Wan Fang Hospital, Taipei Medical University, Taipei, Taiwan
Copyright
© Ho and Hong; licensee BioMed Central Ltd. 2011
This article is published under license to BioMed Central Ltd. This is an Open Access article distributed under the terms of the Creative Commons Attribution License (http://creativecommons.org/licenses/by/2.0), which permits unrestricted use, distribution, and reproduction in any medium, provided the original work is properly cited.