Molecular mechanisms of inflammation and tissue injury after major trauma-is complement the "bad guy"?
Journal of Biomedical Science
2011
18:90
Received: 8 October 2011
Accepted: 30 November 2011
Published: 30 November 2011
Abstract
Trauma represents the leading cause of death among young people in industrialized countries. Recent clinical and experimental studies have brought increasing evidence for activation of the innate immune system in contributing to the pathogenesis of trauma-induced sequelae and adverse outcome. As the "first line of defense", the complement system represents a potent effector arm of innate immunity, and has been implicated in mediating the early posttraumatic inflammatory response. Despite its generic beneficial functions, including pathogen elimination and immediate response to danger signals, complement activation may exert detrimental effects after trauma, in terms of mounting an "innocent bystander" attack on host tissue. Posttraumatic ischemia/reperfusion injuries represent the classic entity of complement-mediated tissue damage, adding to the "antigenic load" by exacerbation of local and systemic inflammation and release of toxic mediators. These pathophysiological sequelae have been shown to sustain the systemic inflammatory response syndrome after major trauma, and can ultimately contribute to remote organ injury and death. Numerous experimental models have been designed in recent years with the aim of mimicking the inflammatory reaction after trauma and to allow the testing of new pharmacological approaches, including the emergent concept of site-targeted complement inhibition. The present review provides an overview on the current understanding of the cellular and molecular mechanisms of complement activation after major trauma, with an emphasis of emerging therapeutic concepts which may provide the rationale for a "bench-to-bedside" approach in the design of future pharmacological strategies.
Keywords
Traumatic Brain InjuryAcute Lung InjuryComplement ActivationMajor TraumaClosed Head Injury
Introduction
Despite significant advances in injury prevention, prehospital resuscitation strategies, and modern intensive care, trauma remains the main cause of death in young people in the United States, resulting in more years of potential life lost before the age of 75 years than any other disease [1–4]. Until present, the pathophysiology of major trauma remains poorly understood [5, 6]. In principle, the pathophysiological sequelae of major injuries are characterized by the initial traumatic impact (so-called "first hit"), followed by a cascade of subsequent immunological reactions, which render the patient susceptible to a potentially detrimental "second hit" insult [7]. The activation of innate immune response mechanisms has been characterized as a crucial event initiating the early phase of hyperinflammation within hours to days after major trauma [6–8]. While innate immunity is classically considered to be the immediate "first line of defense" against non-self antigens (e.g. infectious pathogens), a traumatic insult can induce a similarly potent acute inflammatory response [9–13]. The trauma-induced immune response may be limited locally, as in isolated injuries, or result in a massive systemic immune activation, as in patients with multiple injuries [1]. The endogenous triggers of trauma-associated inflammation have been thoroughly investigated and characterized in recent years [7, 14]. The so-called "first hit" induced by a traumatic impact leads to the appearance of an arsenal of "damage-associated molecular patterns" (DAMPs) that are recognized by receptors of immune cells [15]. DAMPs represent a recently characterized large superfamily of danger signals which can activate innate immune responses after trauma or trauma-induced complications, such as infection and sepsis [7, 16]. The DAMP family of danger signals includes the so-called "pathogen-associated molecular patterns" (PAMPs) and molecules termed "alarmins" [17]. The list of molecules belonging to the DAMP family has been increasing dramatically in recent years, and their pathophysiological function in mediating trauma-induced inflammation is far from being fully understood [18]. PAMPs represent a heterogenic entity of recently described inflammatory molecules related to the innate immune system [17, 19]. These microbial molecules are recognized by the immune system as foreign due to their characteristic molecular patterns. In contrast, the so-called "alarmins" represent the correlate of PAMPs for all non-pathogen-derived danger signals which originate from tissue injury [17]. This heterogeneic group of danger molecules is capable of activating innate immune responses in response to tissue damage and cell injury. The alarmins comprise the "heat-shock proteins" (HSPs), annexins, defensins, as well as "classical" markers of tissue injury, such as the S100 protein and the high mobility group box 1 (HMGB1) protein [17, 20]. Immunologically competent cells recognize both PAMPs and DAMPs through multiligand receptors expressed on their surfaces, such as Toll-like receptors (TLRs) [21, 22].
The very early stage after tissue trauma is characterized by activation of cellular and molecular effectors of the innate immune system, including complement activation and recruitment and activation of neutrophils (polymorphonuclear leukocytes; PMNL) [
6
,
7
]. The complement system appears to represent the crucial effector of innate immune responses in the early phase after major trauma [
23
–
25
]. Once the cascade is activated through one of three (five) established pathways (Figure
1
), complement plays a critical role in the elimination of invading pathogens by opsonization for phagocytosis (C3b, C4b), chemotaxis of leukocytes (C3a, C5a), and by direct lysis of pathogens through the membrane attack complex (MAC, C5b-9) [
23
,
26
,
27
]. The generation of anaphylatoxins C3a and C5a provides potent chemoattractants for phagocytes and neutrophils, and recruit these immune cells to the site of injury [
24
,
28
,
29
]. The anaphylatoxins further induce degranulation of mast cells, basophils and eosinophils and mediate the hepatic acute-phase response [
30
,
31
]. Finally, the generation of C5b by cleavage of C5 initiates the terminal complement pathway with MAC formation. The MAC forms through the self-association of C5b along with C6 through C9 and leads to the formation of a large membranolytic complex capable of lysing prokaryotic and eukaryotic cells [
32
]. Multiple previous studies have unequivocally shown that trauma activates complement, both locally at the site of injury, and systemically. Early studies in the 1980s revealed that the complement cascade is activated at the level of C3 in serum of trauma patients, and the extent of activation correlates with the severity of injury [
33
,
34
].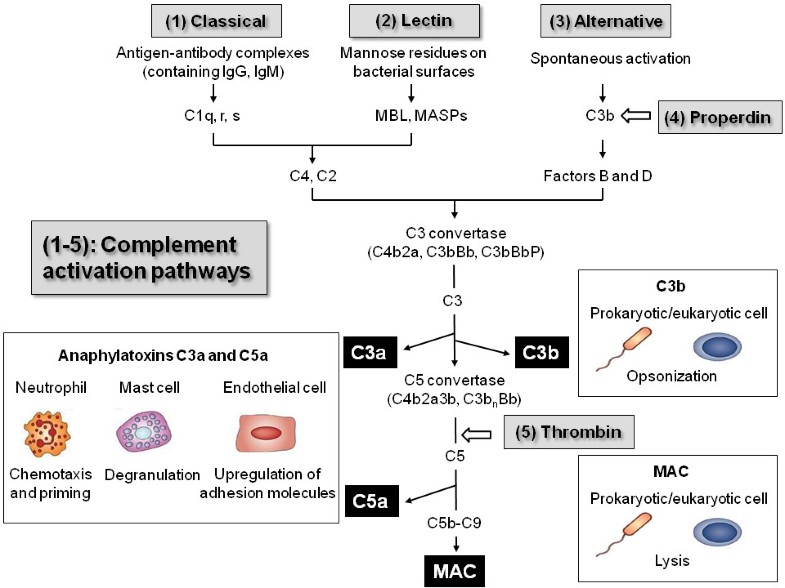 The neutrophil (or PMNL) has been established as the cellular counterpart to the humoral immune response mediated by complement activation, and represents a "key effector" cell of the early posttraumatic immune response. Within minutes, and up to several days after injury, neutrophils play an important role in mounting the immunological defense and the debridement of injured tissue. Primed neutrophils are capable of mediating an inflammatory response, characterized by release of cytokines, chemokines, reactive oxygen species, and tissue-toxic enzymes, such as myeloperoxidase and elastase [20, 35]. Aside from the beneficial role of neutrophils in host-defense and clearance of damaged tissue after trauma, excessive priming and cellular PMNL activation may lead to an overwhelming inflammatory response and "innocent bystander" injury to host tissue [35, 36]. Uninjured tissue may become damaged by the local release of toxic metabolites and enzymes, thus contributing to remote organ injury (e.g. to brain and lungs), by contributing to tissue edema and secondary tissue damage [12, 35, 37–39].
Based on the delicate balance between protection and harm, the posttraumatic inflammatory response has been rightfully termed a "double-edged sword" [40–42]. The present review will outline the current understanding of complement activation and regulation after major trauma, with a focus on specific injury patterns, including musculoskeletal trauma, ischemia/reperfusion, chest and brain injuries. We will furthermore discuss potential new pharmacological strategies related to the targeted inhibition of complement, which may shed some hope into the design of new immunomodulatory treatment modalities for severely injured patients in the future.
Conclusions
In recent years, multiple experimental and clinical studies have substantiated the notion of "key" role of complement activation after major trauma in contributing to the deleterious pathophysiological sequelae in the injured brain, lungs, and musculoskeletal system. Complement activation furthermore significantly contributes to the mechanisms of systemic post-injury complications, such as I/R injury, sepsis, and multiple organ failure. Therapeutic options aimed at attenuating the inflammatory complications of major trauma are currently unsatisfactory, and research strategies have largely failed in extrapolation from "bench to bedside". Experimental data from recent animal studies highlight the potential for complement inhibitors aimed at targeting central complement components and specific complement activation products, as promising future pharmacological agents in patients with major trauma. In this regard, site-targeted complement inhibition by new generation chimeric molecules which link pharmacological inhibitors to the local site of complement activation and tissue deposition may represent the future pharmacological "golden bullet". These chimeric molecules act locally at the site of injury and inflammation, and thus avoid the unwanted negative and adverse effects of a systemic complement blockade. Clearly, there is a tremendous need for well-designed experimental studies to shed some further light into our understanding of the complement-mediated pathology of major trauma, with the hope of designing and implementing new clinical treatment strategies for severely injured patients in the near future.
Authors' Affiliations
(1)
Department of Orthopaedic Surgery, University of Colorado Denver, School of Medicine, Denver Health Medical Center, Denver, USA
(2)
Department of Orthopaedic Trauma, Hand, Plastic, and Reconstructive Surgery, University Hospital Ulm, Ulm, Germany
(3)
Department of Neurosurgery, University of Colorado Denver, School of Medicine, Denver Health Medical Center, Denver, USA
Copyright
© Neher et al; licensee BioMed Central Ltd. 2011
This article is published under license to BioMed Central Ltd. This is an Open Access article distributed under the terms of the Creative Commons Attribution License (http://creativecommons.org/licenses/by/2.0), which permits unrestricted use, distribution, and reproduction in any medium, provided the original work is properly cited.