New insights of P2X7 receptor signaling pathway in alveolar functions
Journal of Biomedical Science
2013
20:26
Received: 1 March 2013
Accepted: 29 April 2013
Published: 1 May 2013
Abstract
Purinergic P2X7 receptor (P2X7R), an ATP-gated cation channel, is unique among all other family members because of its ability to respond to various stimuli and to modulate pro-inflammatory signaling. The activation of P2X7R in immune cells is absolutely required for mature interleukin -1beta (IL-1beta) and IL-18 production and release. Lung alveoli are lined by the structural alveolar epithelial type I (AEC I) and alveolar epithelial type II cells (AEC II). AEC I plays important roles in alveolar barrier protection and fluid homeostasis whereas AEC II synthesizes and secrete surfactant and prevents alveoli from collapse. Earlier studies indicated that purinergic P2X7 receptors were specifically expressed in AEC I. However, their implication in alveolar functions has not been explored. This paper reviews two important signaling pathways of P2X7 receptors in surfactant homeostatsis and Acute Lung Injury (ALI). Thus, P2X7R resides at the critical nexus of alveolar pathophysiology.
Keywords
Acute Lung InjuryCystic Fibrosis Transmembrane Conductance RegulatorP2X7 ReceptorP2Y2 ReceptorPurinergic Receptor
Review
Over the last two decades, a total of 19 different purinergic receptor subtypes (including 7 P2X receptors, 8 P2Y receptors, and 4 adenosine receptors) that can recognize extracellular ATP and adenosine have been cloned and characterized [1]. In addition, several families of ectonucleotidases that hydrolyse ATP to ADP, AMP and adenosine have been found [2]. These distinct sets of purinergic receptors and ectonucleotidases are expressed on the cell surface of the different mammalian cells and regulate cellular activities through cell-type specific purinergic signaling systems [3, 4].
Controlled ATP release from intact cells was first identified in neurons [5]. ATP is also released from non-neuronal cells through vesicular transport [6]. Additional mechanisms for ATP release has been reported including release through stretch-activated channels, voltage-dependent and multi-channel anion transporter or permeases [7], cystic fibrosis transmembrane conductance regulator (CFTR) [8], and P2X7 receptor associated connexin and pannexin hemichannels [9]. ATP release from mouse neutrophil occurs through connexin-43 hemi channels [10].
Extracellular ATP has two fates before being degraded by the ectonucleotidases. The released ATP either acts on the purinoceptors of the same cell (autocrine) or the neighboring cells (paracrine). Autocrine signaling through the purinergic receptors regulates the neutrophil chemotaxis via ATP release from polarized neutrophil in response to chemotactic mediators [11]. The activated T cells also induce the release of ATP through pannexin 1 channels. These hemichannels translocate with P2X receptors to the immune synapse, where they promote Ca2+ influx and cell activation through autocrine purinergic signaling [12, 13]. The activation of purinergic receptors in immune cells can elicit either positive or negative feedback mechanisms and thus tightly regulate immune responses.
Paracrine purinergic signaling regulates a wide range of physiological process, including immune cell functions [14, 15]. ATP released from damaged or stressed host cells serves as an important function in the recognition of 'danger signals' and guides phagocytes to inflammatory sites. Thus promotes clearance of damaged and apoptotic cells [16]. In response to damage-associated molecular patterns (DAMPs) and pathogen-associated molecular patterns (PAMPs), activation of inflammasome and the subsequent release of interleukin-1β (IL-1β) require purinergic singnalling. In the cytoplasm nucleotides are concentrated in the micomolar or even millimolar level, while the extracellular concentration is extremely low, usually in the nanomolar range [17]. ATP is rapidly released upon damage of plasma membrane and diffuses throughout the pericellular space and bind to specific receptors expressed by virtually all immune cells [18]. Diffusion of nucleotides is drastically controlled via degradation by ecto-nucleotidases expressed on the plasma membranes of most cells. Rapid metabolism of extracellular ATP generates the anti-inflammatory metabolite adenosine and terminates the alert-signal to a checkpoint [19].
Conclusions
P2X7 receptor plays important roles in immunity, inflammation, bone homeostasis, neurological function and neoplasia. There is increase body of evidence implicating P2X7 receptor in various pathological conditions of pulmonary, cardiac, renal, skeletal muscle and central nervous system (CNS) disorders, where inflammation is the corner stone of these disorders.
The involvement of P2X7 receptor in the pathogenesis of pulmonary emphysema [68], and COPD [69] has been well documented. Pulmonary fibrosis is characterized by inflammation and fibrosis of the interstitium and destruction of alveolar histoarchitecture. Recent animal studies have identified the importance of P2X7 receptor and pannexin-1 complex in IL-1β maturation, inflammation and evolution to pulmonary fibrosis [70].
AEC I play important roles in alveolar barrier protection and fluid homeostasis. Earlier studies indicated that purinergic P2X7 receptors were specifically expressed in AEC I. Although P2X7 receptor-mediated critical signaling pathways in immune cells have been identified, less is known about their functions in alveolar pathophysiology. Several line of evidence suggests that the pro-inflammatory P2X7 receptor signaling are druggable targets in lung inflammatory diseases. However, the mechanism of P2X7 receptor-mediated signaling pathways in alveolus in particular AEC I are not well understood.
Finally, we propose the following models for P2X7 receptor signaling in alveolus (Figure
1
).
(A)
In the normal alveolus, activation of P2X7 receptor in AEC I cell surface leads to ATP release. ATP in the extracellular space activates neighboring AEC II and stimulates surfactant secretion through P2Y2 receptor signaling pathway.
(B)
In the injured lung, there is sloughing of both bronchial and alveolar epithelial cells, denuded alveolar basement membrane. Alveolar macrophages secrete cytokines; IL-1β, IL-6, and TNF-α, that act locally on AEC I. This increases the VCAM-1 expression in AEC I membrane. P2X7 receptor stimulation on AEC I modulate ADAM17 activity through MAPK activation. ADAM17 shed VCAM-1 from the AEC I surface. sVCAM-1 in the alveolar space stimulate neutrophil chemotaxis and sequestrations. Thus, P2X7R resides at the critical nexus of surfactant regulation, cytokine modulation, neutrophil recruitment and inflammation in lung.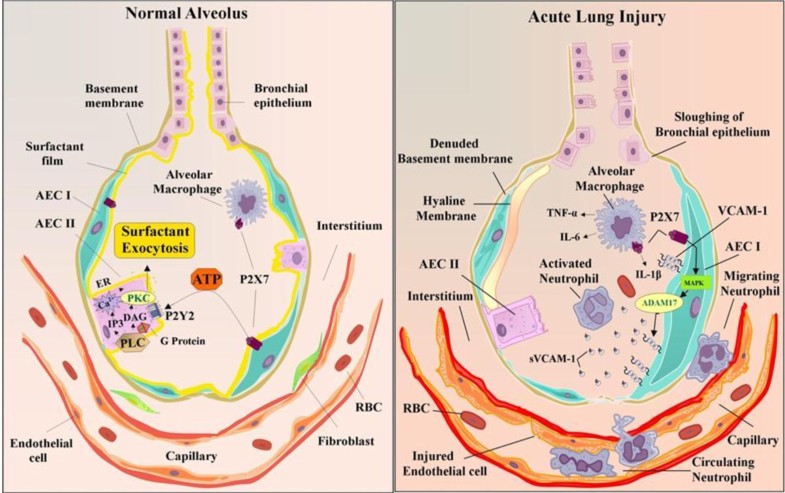 Declarations
Acknowledgements
This work was partly supported by Center for Veterinary Health Sciences, Oklahoma State University, Stillwater, USA.
Authors' Affiliations
(1)
National Institute of Health, Bethesda, USA
Copyright
© Mishra; licensee BioMed Central Ltd. 2013
This article is published under license to BioMed Central Ltd. This is an Open Access article distributed under the terms of the Creative Commons Attribution License (http://creativecommons.org/licenses/by/2.0), which permits unrestricted use, distribution, and reproduction in any medium, provided the original work is properly cited.