An emerging role for the anti-inflammatory cytokine interleukin-10 in dengue virus infection
Journal of Biomedical Science
2013
20:40
Received: 28 March 2013
Accepted: 18 June 2013
Published: 25 June 2013
Abstract
Infection with dengue virus (DENV) causes both mild dengue fever and severe dengue diseases, such as dengue hemorrhagic fever and dengue shock syndrome. The pathogenic mechanisms for DENV are complicated, involving viral cytotoxicity, immunopathogenesis, autoimmunity, and underlying host diseases. Viral load correlates with disease severity, while the antibody-dependent enhancement of infection largely determines the secondary effects of DENV infection. Epidemiological and experimental studies have revealed an association between the plasma levels of interleukin (IL)-10, which is the master anti-inflammatory cytokine, and disease severity in patients with DENV infection. Based on current knowledge of IL-10-mediated immune regulation during infection, researchers speculate an emerging role for IL-10 in clinical disease prognosis and dengue pathogenesis. However, the regulation of dengue pathogenesis has not been fully elucidated. This review article discusses the regulation and implications of IL-10 in DENV infection. For future strategies against DENV infection, manipulating IL-10 may be an effective antiviral treatment in addition to the development of a safe dengue vaccine.
Keywords
DENVAntibody-dependent enhancementInfectionIL-10Immunopathogenesis
Conclusions
IL-10 has immunomodulatory effects and is generally considered anti-inflammatory. Excessive or poorly timed IL-10 production may allow viruses to escape from immune surveillance during DENV pathogenesis. DENV-induced IL-10 production, which may be exacerbated by ADE through Fcγ receptor-mediated extrinsic and intrinsic pathways, leads to IL-10/SOCS3-mediated immunosuppression and enhanced viral replication (Figure
1
). The molecular basis for IL-10 induction should be investigated in cells during DENV infection and during the ADE of DENV infection. After DENV infection, the major IL-10-producing cells in the host should be identified, and the pathogenic roles of IL-10 must be clarified. In addition, the involvement of viral receptor- and Fcγ receptor-mediated signaling is key for exploring the regulation of IL-10. Targeting IL-10 regulation and signaling pharmacologically using neutralizing antibodies, antagonists, and inhibitors may represent a viable therapeutic strategy for combating the progression of severe dengue diseases.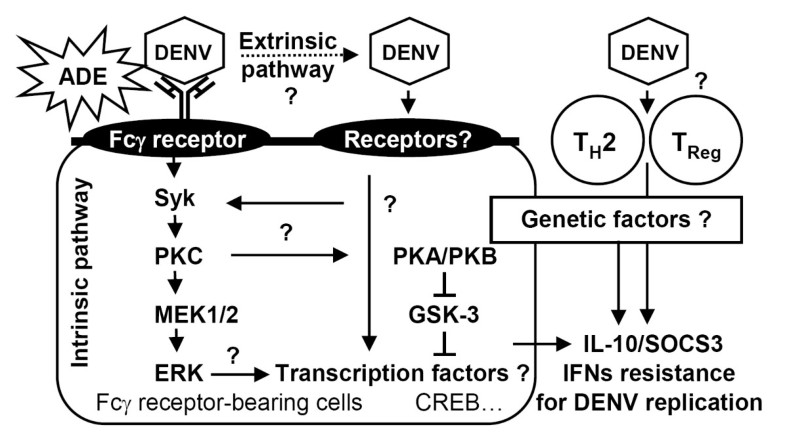 Abbreviations
ADE:

Antibody-dependent enhancement
CREB:

cAMP-responsive element-binding protein
DF:

Dengue fever
DHF:

Dengue hemorrhagic fever
DSS:

Dengue shock syndrome
DENV:

Dengue virus
E:

Envelope protein
ERK:

Extracellular signal-regulated kinase
GSK:

Glycogen synthase kinase
GM-CSF:

Granulocyte-macrophage colony-stimulating factor
IFN:

Interferon
IL:

Interleukin
LPS:

Lipopolysaccharide
MAPK:

Mitogen-activated protein kinase
NO:

Nitric oxide
NS:

Nonstructural
NF-κB:

Nuclear factor-κB
NTPase:

Nucleoside triphosphatases
prM:

Precursor membrane
PKA:

Protein kinase A
RTPase:

RNA 5′-triphosphatase
STAT:

Signal transducer and activator of transcription
sTNFR:

Soluble TNF-α receptor
SOCS:

Suppressor of cytokine signaling
TLR:

Toll-like receptor
TNF:

Tumor necrosis factor.
Declarations
Acknowledgements
We apologize to colleagues whose relevant contributions were not cited due to space limitations. This work was supported by grants from the National Health Research Institutes (NHRI-EX101-9917NC) and the National Science Council (NSC101-2321-B-006-029), Taiwan.
Authors' Affiliations
(1)
Institute of Basic Medical Sciences, College of Medicine, National Cheng Kung University, Tainan, Taiwan
(2)
Institute of Clinical Medicine, College of Medicine, National Cheng Kung University, Tainan, Taiwan
(3)
Department of Microbiology and Immunology, College of Medicine, National Cheng Kung University, Tainan, Taiwan
(4)
Center of Infectious Disease and Signaling Research, National Cheng Kung University, Tainan, Taiwan
Copyright
© Tsai et al.; licensee BioMed Central Ltd. 2013
This article is published under license to BioMed Central Ltd. This is an Open Access article distributed under the terms of the Creative Commons Attribution License (http://creativecommons.org/licenses/by/2.0), which permits unrestricted use, distribution, and reproduction in any medium, provided the original work is properly cited.