Re-evaluation of the pathogenic roles of nonstructural protein 1 and its antibodies during dengue virus infection
Journal of Biomedical Science
2013
20:42
Received: 23 March 2013
Accepted: 18 June 2013
Published: 27 June 2013
Abstract
Dengue virus (DENV) infection can cause life-threatening dengue hemorrhagic fever (DHF) and dengue shock syndrome (DSS). Vascular leakage and abnormal hemorrhage are the two major pathogenic changes found in these patients. From previous studies, it is known that both antibodies and cytokines induced in response to DENV infection are involved in the immunopathogenesis of DHF/DSS. However, the role of viral factors during DENV infection remains unclear. Nonstructural protein 1 (NS1), which is secreted in the sera of patients, is a useful diagnostic marker for acute DENV infection. Nevertheless, the roles of NS1 and its antibodies in the pathogenesis of DHF/DSS are unclear. The focus of this review is to evaluate the possible contributions of NS1 and the antibodies it induces to vascular leakage and abnormal hemorrhage during DENV infection, which may provide clues to better understanding the pathogenesis of DHF/DSS.
Keywords
EndotheliumPermeabilityHemorrhagePathogenesis
Conclusions
Not only is vascular leakage the hallmark of DHF/DSS, but there is evidence to suggest that damage during DENV infection may begin at endothelial surfaces. In clinical practice, plasma leakage-induced shock-related pathophysiological conditions are most often caused by bacterial infections such as sepsis or septic shock [
77
]. Regardless of the different causes, similar pathological changes are found in these patients. These are characterized by a systemic inflammatory response causing vascular hyperpermeability and leading to almost uncontrollable edema, coagulation changes and multi-organ failure. Bacterial cell wall components, such as lipopolysaccharide (LPS, or endotoxin), can induce septic shock. However, the viral factors in DHF/DSS remain unknown. Although it is premature to extrapolate from
in vitro
findings to human pathogenesis, it is possible that dengue NS1 may play a role similar to LPS for endotoxic shock patients to trigger the pathophysiological abnormalities in DHF/DSS [
78
]. However, it is the integrated effects of NS1, its antibodies, and the immunocomplexes they formed that may contribute to severe disease outcome (Figure
4
). Further studies to investigate the pathogenic roles of NS1 and its antibodies, and of course the contribution of their interaction, immunocomplexes to the overall disease process may improve our current understanding of the pathogenesis of DHF/DSS and uncover new vaccine strategies and therapeutic approaches.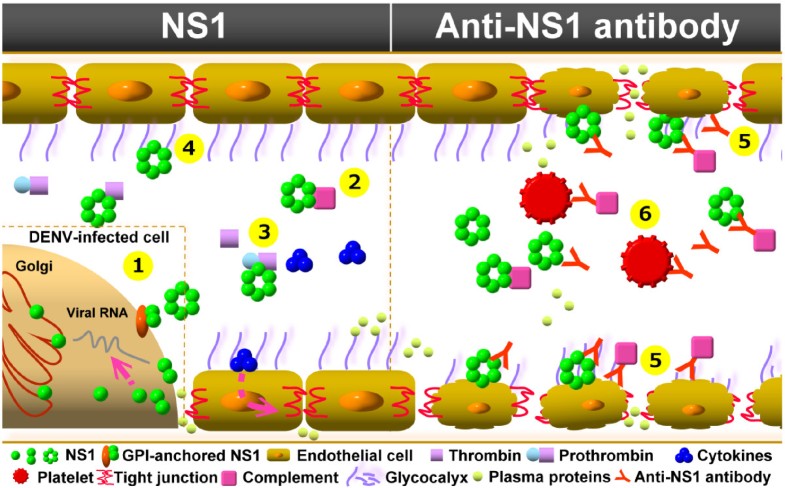 Abbreviations
ADE:

Antibody-dependent enhancement
APTT:

Activated partial thromboplastin time
DENV:

Dengue virus
DHF:

Dengue hemorrhagic fever
DSS:

Dengue shock syndrome
NS1:

Nonstructural protein 1
LPS:

Lipopolysaccharide.
Declarations
Acknowledgements
This work was supported by a grant from the National Science Council of Taiwan [NSC-101-2321-B-039-009-MY3]. We thank Michael M. C. Lai for help in the revision of this manuscript.
Authors' Affiliations
(1)
Center of Infectious Disease and Signaling Research, Medical College, National Cheng Kung University, Tainan, Taiwan
(2)
Department of Microbiology and Immunology, Medical College, National Cheng Kung University, Tainan, Taiwan
(3)
Institute of Basic Medical Sciences, Medical College, National Cheng Kung University, Tainan, Taiwan
(4)
Department of Medical Laboratory Science and Biotechnology, Medical College, National Cheng Kung University, Tainan, Taiwan
Copyright
© Chuang et al.; licensee BioMed Central Ltd. 2013
This article is published under license to BioMed Central Ltd. This is an Open Access article distributed under the terms of the Creative Commons Attribution License (http://creativecommons.org/licenses/by/2.0), which permits unrestricted use, distribution, and reproduction in any medium, provided the original work is properly cited.