Reduced quality and accelerated follicle loss with female reproductive aging - does decline in theca dehydroepiandrosterone (DHEA) underlie the problem?
Journal of Biomedical Science
2013
20:93
Received: 1 November 2013
Accepted: 11 December 2013
Published: 13 December 2013
Abstract
Infertility, spontaneous abortion and conception of trisomic offspring increase exponentially with age in mammals but in women there is an apparent acceleration in the rate from about age 37. The problems mostly commonly occur when the ovarian pool of follicles is depleted to a critical level with age but are also found in low follicular reserve of other etiologies. Since recent clinical studies have indicated that dehydroepiandrosterone (DHEA) supplementation may reverse the problem of oocyte quality, this review of the literature was undertaken in an attempt to find an explanation of why this is effective?
In affected ovaries, oxygenation of follicular fluid is low, ultrastructural disturbances especially of mitochondria, occur in granulosa cells and oocytes, and considerable disturbances of meiosis occur. There is, however, no evidence to date that primordial follicles are compromised. In females with normal fertility, pre-antral ovarian theca cells respond to stimulation by inhibin B to provide androgen-based support for the developing follicle. With depletion of follicle numbers, inhibin B is reduced with consequent reduction in theca DHEA. Theca cells are the sole ovarian site of synthesis of DHEA, which is both a precursor of androstenedione and an essential ligand for peroxisome proliferator-activated receptor alpha (PPARα), the key promoter of genes affecting fatty acid metabolism and fat transport and genes critical to mitochondrial function. As well as inducing a plethora of deleterious changes in follicular cytoplasmic structure and function, the omega 9 palmitate/oleate ratio is increased by lowered activity of PPARα. This provides conditions for increased ceramide synthesis and follicular loss through ceramide-induced apoptosis is accelerated.
In humans critical theca DHEA synthesis occurs at about 70 days prior to ovulation thus effective supplementation needs to be undertaken about four months prior to intended conception; timing which is also suggested by successful interventions to date. In humans and primates that undergo adrenarche, the adrenal zona reticularis (ZR) is the major site of DHEA production, however this is also reduced with age. Concomitant loss in function of the ZR might account for the acceleration in the rate of aging seen in humans in the late thirties' age group.
Keywords
AgeingAgingDHEAFat metabolismTrisomyAneuploidyFollicular reserveThecaPPARαCeramide
Review
Maternal aging is associated with a dramatic increase in infertility, a high risk of miscarriage and of giving birth to live-born infants with Down's syndrome. As women increasingly defer child bearing, this biological problem is becoming a growing social and health economic issue. Reproductive aging has been extensively studied during the last fifty years, initially most intensively by human geneticists and more recently by scientists and clinicians working with assisted conception. Nevertheless despite the huge input no one explanation has fitted all the data.
Part of the problem in trying to explain a biological phenomenon of this type is that the evidence crosses many sub-disciplines. Today, as research techniques become more refined and the evidence generated more complex, silos of knowledge are generated and experts find it difficult to cross between sub-disciplines. This paper will attempt to coordinate the information from several areas to find a logical model from the data that is currently available.
Conclusions
From the collective studies summarised in this review, it is concluded that mammalian female reproductive aging is caused by the gradual depletion of follicles which, through actions of lowered levels of inhibin B acting on the theca cells at the advanced secondary follicle stage, results in lowered levels of ovarian synthesis of DHEA. This in turn leads to reduction in the activity of many key metabolic systems. Both androgens and estrogens are affected but it is proposed here that lowered activation of PPARα is paramount because of its role in the activation of key enzymes affecting fatty acid synthesis and mitochondrial oxidative phosphorylation. Its effect on the down-regulation of the fatty acid enzyme delta-9 desaturase accounts for increased production of ceramide with aging and consequent increased rates of atresia. The model, which has been developed from the findings is depicted in Figure
2
. It accounts for both the loss of follicles, and correlated decrease in quality that occur at a consistent exponential rate with aging in most mammals. Consequently, as well as increasing steroid levels, treatment with DHEA both reduces ovarian oxidative stress and rates of atresia.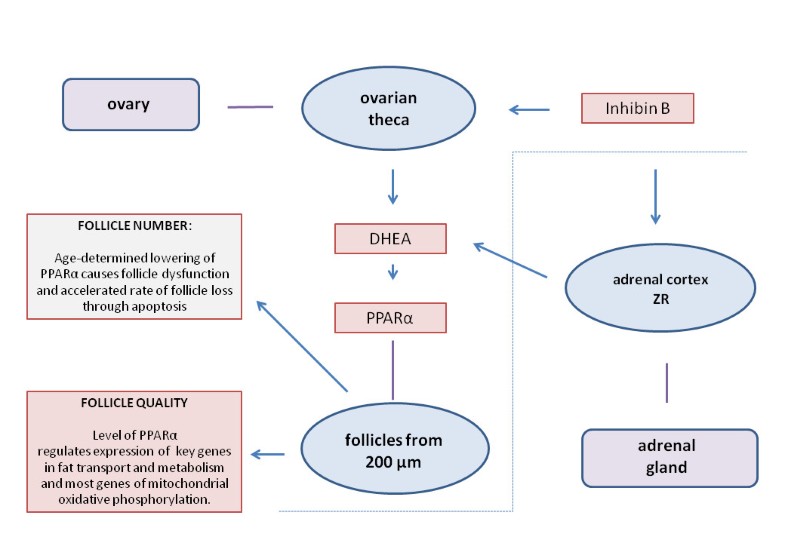 In humans and some primates that undergo adrenarche, DHEA is also produced by the specialised area of the adrenal cortex known as the zona reticularus (ZR). The number of ZR cells declines markedly with age and the synthesis of adrenal DHEA is greatly affected by aging. Whether the lowered levels of inhibin B play a role in the age-related reduction of synthesis of adrenal DHEA or whether this is entirely independent and caused only by the reduction of ZR cells needs to be determined. As outlined in Figure 2, it is proposed that the decline in ZR function in humans with aging accounts for the accelerated decline in the quality of reproduction and increased rate of follicle loss that occurs in women after about age 37.
Authors' Affiliations
(1)
Centre for Rural Health and Community Development, University of South Australia, Adelaide, South Australia
Copyright
© Ford; licensee BioMed Central Ltd. 2013
This article is published under license to BioMed Central Ltd. This is an Open Access article distributed under the terms of the Creative Commons Attribution License (http://creativecommons.org/licenses/by/2.0), which permits unrestricted use, distribution, and reproduction in any medium, provided the original work is properly cited. The Creative Commons Public Domain Dedication waiver (http://creativecommons.org/publicdomain/zero/1.0/) applies to the data made available in this article, unless otherwise stated.