Hyaluronan and cardiac regeneration
Journal of Biomedical Science
2014
21:100
Received: 6 August 2014
Accepted: 16 October 2014
Published: 30 October 2014
Abstract
Hyaluronan (HA) is abundantly expressed in several human tissues and a variety of roles for HA has been highlighted. Particularly relevant for tissue repair, HA is actively produced during tissue injury, as widely evidenced in wound healing investigations. In the heart HA is involved in physiological functions, such as cardiac development during embryogenesis, and in pathological conditions including atherosclerosis and myocardial infarction. Moreover, owing to its relevant biological properties, HA has been widely used as a biomaterial for heart regeneration after a myocardial infarction. Indeed, HA and its derivatives are biodegradable and biocompatible, promote faster healing of injured tissues, and support cells in relevant processes including survival, proliferation, and differentiation. Injectable HA-based therapies for cardiovascular disease are gaining growing attention because of the benefits obtained in preclinical models of myocardial infarction. HA-based hydrogels, especially as a vehicle for stem cells, have been demonstrated to improve the process of cardiac repair by stimulating angiogenesis, reducing inflammation, and supporting local and grafted cells in their reparative functions. Solid-state HA-based scaffolds have been also investigated to produce constructs hosting mesenchymal stem cells or endothelial progenitor cells to be transplanted onto the infarcted surface of the heart. Finally, applying an ex-vivo mechanical stretching, stem cells grown in HA-based 3D scaffolds can further increase extracellular matrix production and proneness to differentiate into muscle phenotypes, thus suggesting a potential strategy to create a suitable engineered myocardial tissue for cardiac regeneration.
Keywords
HyaluronanMyocardial infarctionCardiac regenerationAdult stem cells
Introduction
Hyaluronan (or hyaluronic acid, HA) is a naturally occurring polysaccharide widely distributed from lower organisms, such as bacteria [1],[2], to complex eucariotes [3]. Together with collagen, HA is one of the most abundant component of the extracellular matrix (ECM). It is a non-sulfated, high molecular-weight glycosaminoglycan composed of repeating polymeric glucuronic acid and N-acetyl-glucosamine disaccharides conjugated by a glucuronidic β(1→3) bond and hexosaminidic β(1→4) linkages [4]. The polymeric structure of HA contains up to 25,000 disaccharide repeats in length and reaches a molecular weight of ~4,000 kDa. In cells, HA is produced by membrane-bound synthases (HAS-1 [5], HAS-2 [6], HAS-3 [7]) at the inner surface of plasma membrane and the chains are released in the ECM through pore-like structures.
The hydrolysis of the linkage between N-acetyl-glucosamine and glucuronic acid residues, thus HA degradation, is driven by hyaluronidases (hyaluronidases 1-5 and HYALP1), that also hydrolyze the glycosidic bonds of chondroitin and dermatan sulfates [8].
HA is present in ECM both in a soluble form and covalently bond to a variety of proteins such as proteoglycans (brevican, neurocan, versican) [9] and SHAP (serum-derived hyaluronan-associated protein) [10], often referred to as hyaladherins. Moreover, HA forms reversible linkages with water giving a specific contribution to lubrication and strength in compression in joints and soft tissues [11].
HA is also the ligand of several membrane receptors activating intracellular signaling cascades. Among them are CD44, RHAMM (receptor for hyaluronan-mediated motility expressed protein), LYVE-1 (lymphatic vessel endothelial hyaluronan receptor-1), HARE (hyaluronan receptor for endocytosis) [12], and Toll-like receptors [13]. CD44 is the major cell surface HA receptor, although it can bind also other ECM proteins, growth factors, and cytokines [14]. Most cells express CD44, including fibroblasts, smooth muscle cells, epithelial cells, and immune cells such as neutrophils, macrophages, and lymphocytes. HA-CD44 interactions play an essential role by modulating cellular growth, development, adhesion, and migration activities. Mainly through Toll-like receptors, fragmented HA is also involved in the regulation of inflammation and in immunological processes [15].
In humans, HA is abundantly expressed in several tissues and its different roles have been extensively reviewed, with special emphasis about those related to angiogenesis [
16
] and cancer [
17
]. HA is actively produced upon tissue injury and is significantly involved in tissue repair [
18
],[
19
]. Under these conditions, HA is more polydisperse, fragmented, with a preponderance of lower-molecular-mass forms. Low-sized fragments of HA (LMW, 100-500 kDa), but not the native high-molecular-mass HA molecules (HMW, ~4,000 kDa), stimulate inflammatory cells [
20
],[
21
]. Monocytes, macrophages, and dendritic cells migrate and home in damaged tissues thanks to the LMW stimulation of Toll-like receptors and the induction of cytokines and chemokines. These receptor-activated signaling cascades involve the nuclear factor kappa-light-chain-enhancer of activated B cells (NF-kB)/matrix metalloproteinases (MMPs) system and myeloid differentiation primary response gene (MyD88) [
22
] (Figure
1
). LMW can also induce fibroblasts and myofibroblasts to proliferate and generate a fibrotic scar via a synergic CD44 and growth factors receptor (GFsR) -mediated signal transduction. Specifically, the ERM (ezrin, radixin and moesin) protein family/merlin system has been described to be responsible of increased cell proliferation through the organization of actin and other cytoskeletal proteins that, in turn, activate extracellular signal-regulated protein kinases 1 and 2 (ERK1/2) leading to the enhanced expression of cell cycle proteins [
23
].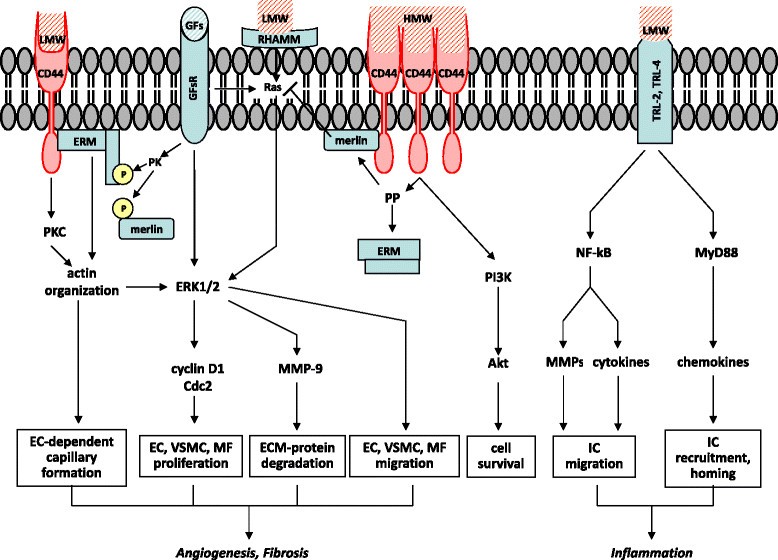 LMW can also be considered as proangiogenic factors [24]. Indeed, vascular endothelial cells (ECs) and vascular smooth muscle cells (VSMCs) express both CD44 and RHAMM receptors and can interact with LMW stimulating both Ras/Raf/ERK1/2 and protein kinase C (PKC) pathways, then promoting cell migration, proliferation, and vessel formation [25] (Figure 1). Native HA exerts opposite effects because of its antiangiogenic properties and the block of the proinflammatory effects of LMW [26]. It has been suggested that HMW can cluster HA receptors whose intracellular signaling is different from that induced by LMW [27]. Native HA presumably activates a protein phosphatase (PP) that dephosphorylates ERM and merlin, the latter inhibiting the Ras/ERK1/2 pathway [23]. Cell survival can also be improved by native HA, e. g. through phosphoinositide 3-kinase (PI3K)/Akt stimulation downstream of CD44 [27] (Figure 1).
The molecular size of HA influences its activity in neoplastic cells. For example, only 6- to 40-mers, but not native HA, can induce CD44 cleavage [28], promote tumor cell motility in a CD44-dependent manner [29], or activate MMPs [30].
HA is abundant in the heart where it is involved in physiological functions, such as cardiac development during embryogenesis [31], and in pathological conditions including atherosclerosis [32] and myocardial infarction (MI) [33]. In the infarcted region a significant inflammatory reaction increases CD44 expression in infiltrating leukocytes, wound myofibroblasts, and vascular cells [34]. It is known that cardiac healing after a MI is paralleled by connective tissue replacement resulting in a scar. During this process an early increase of HA can be detected in the injured tissue [33]. The amount of water also gradually increased and correlated with HA accumulation. After about one month the scar was well formed and only six months later the HA content began to decrease [35]. Although these changes serve at reducing the risk of wall rupture, they usually predispose to pathological left ventricle (LV) remodeling and heart failure [36].
Review
Chemically modified HA for tissue engineering applications
Due to the poor mechanical properties of native HA, the clinical use of the unmodified molecule is generally limited to viscosurgery applications. Thus, several approaches are followed to improve the structural features of HA by providing chemical modifications to the HA molecule [37].
The most common structural changes in HA derive from crosslinkings performed under either acidic, neutral or alkaline conditions [38]. HA autocrosslinking occurs in the absence of potentially toxic crosslinkers and produces hydrogels through quite simple reactions. Despite the electrostatic repulsion due to its negative groups, HA can autoaggregate via hydrophobic interactions and/or hydrogen bonds between acetamido and carboxylate groups [39]. These non-covalent interactions are rather weak, so the aggregate easily forms and dissociates, depending on temperature and other environmental conditions.
Besides autocrosslinkable HA, other HA hydrogels employed in tissue engineering have been produced through added crosslinkers. More stable crosslinked HA can be obtained by means of S-S bridges, using HA-benzoyl cystein derivatives [40]. Adipic dihydrazide has also been frequently conjugated to HA through its carboxyl group to further link amine groups and peptides [41]. Water insoluble gels have been produced by crosslinking HA with glutaraldehyde (GTA), likely through hemiacetal linkages [42]. The crosslinking of the hydroxyl groups of HA using divinylsulfone provides resistant gels (hylans) through a very fast reaction in alkaline solution [43]. HA crosslinking with carbodiimides starts instead through a first reaction with carboxyl groups to form anhydrides that then interact with the hydroxyl groups. Specifically, 1-ethyl-3-(3-dimethyl aminopropyl)carbodiimide (EDC) has been widely used for this purpose, giving either biocompatible scaffolds of crosslinked HA [44] or HA conjugated with collagen or other glycosaminoglycans [45],[46]. Crosslinked HA-based scaffolds suitable for further molecular modifications have been produced with polyfunctional epoxides forming ester and ether bonds [47].
Differently from the aforementioned pre-formed chemically modified HA biomaterials, some HA-derivatives show to be crosslinked in situ. Such materials are in a cooled liquid form during their injection into soft tissues, hence reducing the damage due to the filling maneuver, while a rapid gelation is subsequently induced by the body temperature [48]. Light-based systems have been also described to produce photopolymerizable HA [49].
Other HA conjugates have been employed for tissue engineering applications. For example, different degrees of esterification of the HA carboxylic groups with several types of alcohols have allowed the production of both woven and non-woven meshed scaffolds with a variety of degradation times and strength resistance [50]. When HA is oxidized to form a dialdehyde, it can react with amino groups giving rise to Schiff bases, as described for HA-chitosan conjugates [51].
Finally, new drugs can be produced through different functionalizations of the HA side groups. One of the earliest HA derivatives with pharmacological properties is a HA sulfate ester showing heparin-like anticoagulant activity and high resistance to hyaluronidase [
52
]. Another example is a superoxide-dismutase HA-conjugate exerting anti-inflammatory activity through its antioxidant activity [
53
]. Butyrate and retinoate have also been esterified with HA hydroxyl groups to provide pro-differentiating properties towards grafted stem cells [
54
] (Figure
2
).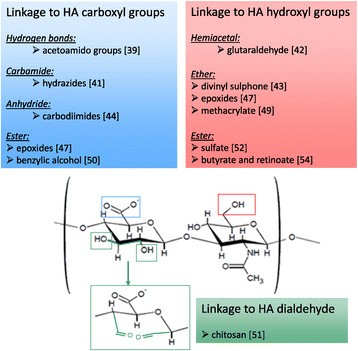 Despite the above-mentioned modifications, HA-based materials maintain most of the biological properties of native HA, useful for tissue regeneration. Scaffolds in form of HA-hydrogels, -sponges, or -meshes [
55
] usually:
Treatment of the infarcted heart with HA-based biomaterials
Conclusions
Regeneration of the infarcted region of the myocardium represents a challenge to reduce the risk of contractile failure that usually follows the pathological remodeling of the scarred area. Tissue engineering approaches employing biomaterials and/or stem cells represent the hope to heal a damaged heart after MI. HA can be used in its native form as a vehicle for repairing cells, but more useful derivatives are preferred due to their lower degradability and increased mechanical strength. When grafted in the infarcted heart, HA-based scaffolds improved myocardial structure and functional parameters by promoting cell survival, reducing inflammatory reaction, increasing neovascularization, and favoring cardiovascular commitment of resident or transplanted stem cells (Figure
3
), although to a lower extent. HA-based hydrogels show the advantage to be injected by transcatheter technologies, while the solid-state counterpart usually needs open-heart surgery. However, care must be taken in modulating hydrogel density to avoid laceration of myocardial tissue network in the injected area, especially when cells are simultaneously delivered. On the other hand, HA in both form of woven or non-woven mesh can be applied as a patch on the myocardial surface reinforcing the cardiac scar and providing conveyed stem cells for a sustained process of repair. Adult stem cells transplanted with HA-based scaffolds increased their viability and improved retention in the grafted region and a CD44-dependent mechanism has been often invoked like possible responsible for this benefits. Stem cell differentiation into cardiomyocyte phenotype was also advantaged by the presence of HA-based scaffolds, especially when conjugated with other factors which offer synergistic effects for cardiac gene expression.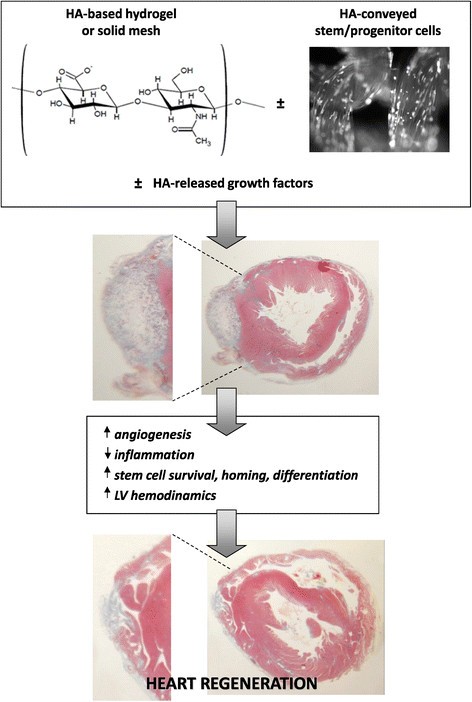 Clinical trials using HA-based materials alone or with cellular components have been performed in the attempt to obtain a regenerative action mainly as wound healing and osteo-articular repair. Indeed, most of these studies underlined the benefits that the HA derivatives, either as hydrogel or solid mesh, exerted in human diseases such as venous ulcers [107],[108], decubitus ulcers [109], oral mucosal lesions [110], surgical ablation of nevi/cutaneous tumors and cicatritial outcomes [111], talar dome and knee osteochondral lesions [112],[113], and cranial bone regeneration [114]. So far, no clinical trial started to verify whether such biomaterial can be useful also to repair the infarcted myocardium. However, the cumulative literature here reviewed suggests that HA-based compounds represent a safe biomaterial for cardiac tissue engineering, providing a suitable environment able to improve the survival and the functions of resident and grafted cells.
Authors' contributions
All authors designed the concept and collected information. FB elaborated the figures. CM wrote the manuscript and MG, EG particularly contributed to the section on the effects of mechanical stretch. All authors read, revised critically, and approved the final manuscript.
Authors' Affiliations
(1)
Department of Biomedical and Neuromotor Sciences (DIBINEM), University of Bologna, Bologna, Italy
(2)
BioEngLab, Health Science and Technology, Interdepartmental Center for Industrial Research (HST-CIRI), University of Bologna, Ozzano Emilia, Italy
(3)
Laboratory of Cellular and Molecular Engineering "Silvio Cavalcanti", DEI, University of Bologna, Cesena, Italy
(4)
National Institute for Cardiovascular Research (INRC), Bologna, Italy
Copyright
© Bonafè et al.; licensee BioMed Central Ltd. 2014
This article is published under license to BioMed Central Ltd. This is an Open Access article distributed under the terms of the Creative Commons Attribution License (http://creativecommons.org/licenses/by/4.0), which permits unrestricted use, distribution, and reproduction in any medium, provided the original work is properly credited. The Creative Commons Public Domain Dedication waiver (http://creativecommons.org/publicdomain/zero/1.0/) applies to the data made available in this article, unless otherwise stated.