Influence of gestational salt restriction in fetal growth and in development of diseases in adulthood
Journal of Biomedical Science
2016
23:12
Received: 24 July 2015
Accepted: 12 January 2016
Published: 20 January 2016
Abstract
Recent studies reported the critical role of the intrauterine environment of a fetus in growth or the development of disease in adulthood. In this article we discussed the implications of salt restriction in growth of a fetus and the development of growth-related disease in adulthood. Salt restriction causes retardation of fatal growth or intrauterine death thereby leading to low birth weight or decreased birth rate. Such retardation of growth along with the upregulation of the renin angiotensin system due to salt restriction results in the underdevelopment of cardiovascular organs or decreases the number of the nephron in the kidney and is responsible for onset of hypertension in adulthood. In addition, gestational salt restriction is associated with salt craving after weaning. Moreover, salt restriction is associated with a decrease in insulin sensitivity. A series of alterations in metabolism due to salt restriction are probably mediated by the upregulation of the renin angiotensin system and an epigenetic mechanism including proinflammatory substances or histone methylation. Part of the metabolic disease in adulthood may be programmed through such epigenetic changes. The modification of gene in a fetus may be switched on through environment factors or life style after birth. The benefits of salt restriction have been assumed thus far; however, more precise investigation is required of its influence on the health of fetuses and the onset of various diseases in adulthood.
Keywords
Salt restrictionLow birth weightLow birth rateProgramingGrowth retardationHypertensionSalt sensitivityInsulin resistanceDyslipidemia
Background
Salt is an essential nutrient for all cells and a reduction in salt intake results in the collapse of cardiovascular circulation. Humans possess more salt-retaining systems, e.g., hemodynamic, hormonal and renin angiotensin systems than salt-excreting mechanisms. Therefore, an imbalance between salt intake and salt-retaining systems is believed to be responsible for the onset of cardiovascular disease in adulthood.
With regard to the intrauterine environment, however, the effects of salt intake by mothers on the fetal growth have not yet been addressed. In fact, the fetal mechanisms for coping with a low-salt environment or the impact of excessive salt restriction on the fetal growth and health have not been investigated. Given their intrauterine status, fetuses are more subject than adults to a low-salt environment and are influenced by salt restriction-related hemodynamic and hormonal alterations in their mothers as well as by their own homeostatic changes.
Recent studies have found an association between intrauterine growth retardation and cardiovascular dysfunction with structural changes in both animals and humans. In this sense, it would be intriguing to determine the pathophysiological role of maternal salt metabolism in the fetal growth and to examine whether growth retardation due to excessive salt restriction is associated with diseases in adulthood.
Accordingly, this review focuses on recent studies concerning the effects of excessive salt restriction on fetal growth and reviews the possible mechanism underling this risk. It is also within our scope to discuss the association of growth retardation due to salt restriction with hypertension and metabolic diseases in adulthood, with special reference to epigenetic and gene-related mechanisms.
Conclusions
Excess salt intake is believed to be a human health risk, however, recent studies have drawn attention to the role of intrauterine environment of fetuses in growth of babies and development of diseases in adulthood. There has been an increasing number of studies suggesting that salt restriction during pregnancy has a critical influence on the intrauterine growth and development of organs of fetuses and probably switches on important factors involved in the onset of adult-type diseases through anatomical changes and hemodynamic or hormonal control including intracellular signal transduction and gene modification. These links are illustrated in Fig.
3
. Salt is one of the integral components for normal growth of fetuses. Salt restriction during pregnancy is connected to IURD or death, low birth weight, organ underdevelopment and dysfunction in adulthood probably through gene-mediated mechanism. Currently, the hypothesis appears more complicated, yet, understanding the mechanisms that program fetuses that leads to adult diseases is expected to provide a new insight for pathogenesis of cardiovascular and metabolic diseases.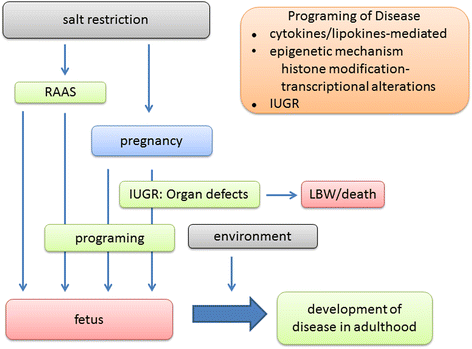 Declarations
Open AccessThis article is distributed under the terms of the Creative Commons Attribution 4.0 International License (http://creativecommons.org/licenses/by/4.0/), which permits unrestricted use, distribution, and reproduction in any medium, provided you give appropriate credit to the original author(s) and the source, provide a link to the Creative Commons license, and indicate if changes were made. The Creative Commons Public Domain Dedication waiver (http://creativecommons.org/publicdomain/zero/1.0/) applies to the data made available in this article, unless otherwise stated.
Authors' Affiliations
(1)
Division of Clinical Nutrition, Faculty of Home Economics, Kyoritsu Women's University, Chiyoda, Japan
(2)
The Centre for Chronic Disease Prevention & Management (CCDPM), Western CHRE, Victoria University, St Albans, Australia
(3)
2nd Department of Internal Medicine, Faculty of Medicine, Masaryk University, Brno, Czech Republic
(4)
Laboratory of Structural Biology and Proteomics, Central Laboratories, Faculty of Pharmacy, University of Veterinary and Pharmaceutical Sciences, Brno, Czech Republic