Hypoxia and its implications in rheumatoid arthritis
Journal of Biomedical Science
2016
23:62
Received: 16 March 2016
Accepted: 9 August 2016
Published: 22 August 2016
Abstract
Alterations in tissue oxygen pressure contribute to a number of diseases, including rheumatoid arthritis (RA). Low partial pressure of oxygen, a condition known as hypoxia, is a relevant feature in RA since it is involved in angiogenesis, inflammation, apoptosis, cartilage degradation, energy metabolism, and oxidative damage. Therefore, alterations in hypoxia-related signaling pathways are considered potential mechanisms of disease pathogenesis. The objective of this review is to highlight and update our current knowledge of the role of hypoxia in the pathogenesis of RA. We describe the experimental evidence that RA synovial tissue exists in a hypoxic state, as well as the origin and involvement of synovial hypoxia in different aspects of the pathogenic process.
Keywords
Hypoxia-inducible factor (HIF)Autoimmune diseaseInflammation
Background
Rheumatoid arthritis (RA) is a severe chronic autoimmune disease characterized by joint inflammation and destruction and the presence of autoantibodies (rheumatoid factor and anti-citrullinated protein antibodies). RA affects 1 % of the world's population [1], and its prevalence among Mexicans is 1.6 % [2]. RA inflames the synovial membrane of diarthrodial joints and damages the articular tissues, leading to severe functional disarrangement of the entire joint. The initial stages of RA synovitis are characterized by proliferation of the microvasculature and secondary edema. Eventually, this process matures into a progressive infiltration of immune cells, including B cells, T cells, and monocytes, from the bloodstream. These immune cells are activated in the joint, differentiate, and acquire mature phenotypes. The influx of immune cells is also associated with phenotypic changes in synoviocytes, the typical resident cells. Both fibroblast- and monocyte-derived synoviocytes proliferate extensively and participate in the inflammatory process. In the latter stages of disease, the synovium becomes a mass of growing tissue, called pannus, which has the capacity to overlay, degrade, and invade the cartilage and resorb the bone [3]. In addition, RA patients develop systemic complications such as vasculitis and cardiovascular, pulmonary, skeletal, and psychological disorders. The etiology of RA remains elusive; however, there is evidence that both genetic and environmental factors are involved [4].
Unexpectedly, synovial hypoxia (defined as low oxygen partial pressure, pO2) is a constant feature of RA. Hypoxia can induce angiogenesis, inflammation, apoptosis, cartilage erosion, abnormal energy metabolism, and oxidative damage. Synovial hypoxia is thus considered a potential pathogenic factor in RA.
The aim of this review is to highlight and update our understanding of the potential roles of hypoxia in the pathogenesis of RA. We describe the evidence supporting the existence of hypoxia in the synovial tissue, its origin, and the potential connections between synovial hypoxia and the cells, soluble mediators, and processes currently considered relevant to the pathogenesis of RA.
Review
Hypoxia and signaling mediators
Atmospheric oxygen is extracted and transported to tissues via the blood. Under normal circumstances, the pO2 is not uniform across tissues but varies in the different body compartments. The pO2 can reach 100 mm Hg (16 % O2) in the pulmonary alveoli but decreases to ~40 mm Hg (6 % O2) in most tissues [5].
Tissue hypoxia occurs when there is an imbalance between the supply and demand for oxygen and can result in cell dysfunction and even death. Under hypoxic conditions, cells activate mechanisms to respond and adapt to this environment. One of the key regulators of the response is the transcription factor hypoxia-inducible factor (HIF) [6], which regulates genes related to angiogenesis, apoptosis, cell migration, vasomotor control, erythropoiesis, pH regulation, energy metabolism, and many other processes [7].
HIF was first detected in a nuclear extract from the human hepatoma cell line Hep3B [
6
] and was later described as a heterodimeric transcription factor composed of a HIF-1α subunit, which is regulated by oxygen levels, and a HIF-1β subunit, which is expressed constitutively [
8
]. Both subunits are members of a subfamily of factors with a basic helix-loop-helix (bHLH) domain and a Per, ARNT, and Sim (PAS) domain [
9
]. To date, three isoforms of the HIF-α subunit have been described—HIF-1α, HIF-2α, and HIF-3α—of which HIF-1α is the most studied. The three isoforms are characterized by the presence of bHLH, PAS, and oxygen-dependent degradation (ODD) domains. HIF-1α and HIF-2α share a number of structural and functional similarities, but HIF-1α is ubiquitously expressed, whereas HIF-2α is restricted to certain cell types and, in some cases, mediates different biological functions [
10
]. HIF-α protein levels are regulated at the stability and synthesis levels. Under normoxic conditions, HIF-α is modified by prolyl hydroxylases (PHD), which require ferrous iron (Fe
2+
) as an enzymatic cofactor and α-ketoglutarate and oxygen as substrates. The three forms of PHD (PHD-1, -2, and -3) differ in their affinities for the 1α, 2α, and 3α isoforms of HIF [
11
,
12
]. PHD hydroxylates proline residues in the ODD domain of HIF-α [
13
]. The hydroxylated residues are subsequently recognized by the tumor suppressor von Hippel Lindau (vHL) protein, which recruits the Elongin-C–Elongin-B–Cullin 2–E3 ubiquitin ligase complex, leading to polyubiquitination and proteasomal degradation of HIF-α [
14
]. The activity of HIF-α is also regulated through hydroxylation of asparagine residues in its C-terminal transactivation domain by asparagyl β-hydroxylases (factor-inhibiting HIF), which are also dependent on oxygen, α-ketoglutarate and Fe
2+
. In this case, hydroxylation prevents HIF-α from interacting with its coactivator [
15
–
17
]. During hypoxia, these oxygen-dependent hydroxylation reactions are not performed, and HIF-α does not bind to vHL. HIF-α is thus stabilized and concentrates in the cytoplasm, subsequently translocating to the nucleus where it dimerizes with HIF-β. The HIF-αβ heterodimer binds to specific DNA sequences known as hypoxia response elements, and finally, recruitment of coactivators enables transcription of HIF-dependent genes (Fig.
1
). Recent work has shown that PHD-2 is the major hydroxylase regulating HIF-α levels and the expression of angiogenic genes in fibroblasts derived from patients with RA [
18
].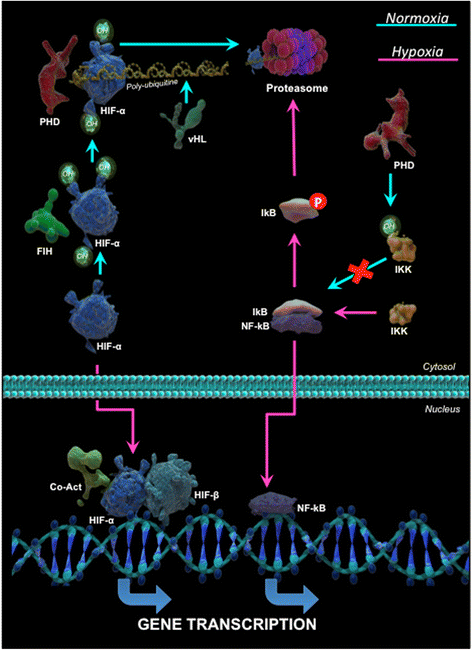 Although a role for HIF in RA pathogenesis has been inferred, the precise mechanisms by which this occurs remain to be defined. In the past, little was known about the contributions of the different HIF-α isoforms, but recent studies have shown that HIF-2α plays a fundamental role in RA independently of HIF-1α. HIF-2α is mainly overexpressed in fibroblasts, where it enhances their osteoclastogenic potential and regulates cell proliferation, expression of receptor activator of nuclear factor kB ligand, and induction of several catabolic factors [19]. The HIF-2α isoform is also involved in cartilage destruction. In a mouse arthritis model, HIF-2α–induced chemokine production by chondrocytes stimulated the migration and invasion of synovial fibroblasts, leading to cartilage erosion [20].
Hypoxia is not the only condition to activate and stabilize HIF-α. Physical factors such as heat and low pH, and biochemical factors such as hormones, cytokines, growth factors, and reactive oxygen species (ROS), may also induce and activate HIF-α. Bacterial lipopolysaccharides have been reported to induce HIF-1α activation in human monocytes and macrophages via nuclear factor-kappa B (NF-kB) and p44/42 mitogen-activated protein kinase (MAPK) pathways [21]. Under normoxic conditions, proinflammatory cytokines such as tumor necrosis factor (TNF)-α and interleukin (IL)-1β can increase HIF expression at the mRNA and protein levels in synovial and gingival fibroblasts through the MAPK and phosphoinositide 3-kinase pathways [22, 23].
In addition to its effects on HIF-1α, hypoxia can activate signaling through members of the NF-kB family, which are considered the main proinflammatory transcription factors. NF-kB is overexpressed in RA synovial tissue [24] and regulates the expression of genes such as TNF-α, IL-6, IL-8, various chemokines, vascular endothelial growth factor (VEGF), and matrix metalloproteinase (MMP) 1, 3, and 13, which are associated with inflammation, angiogenesis, and tissue destruction [25]. NF-kB therefore acts in an additive and synergistic manner with HIF to contribute to the maintenance of the inflammatory response [26, 27]. In the classical pathway of NF-kB activation, NF-kB is retained in the cytoplasm by binding to the inhibitory protein IkB. Cell stimulation activates IkB kinase (IKK), which phosphorylates IkB and promotes its degradation. The release from IkB thus allows NF-kB to translocate to the nucleus where it binds to specific DNA sequences (kB sites) to activate transcription of genes appropriate to the activating stimulus. It has been proposed that PDHs hydroxylate and inhibit IKK activity under normoxic conditions [27], but under hypoxic conditions, the lack of hydroxylation permits IKK to phosphorylate and promote the degradation of IkB, leading to activation of NF-kB (Fig. 1).
Conclusions
The pathogenesis of RA is incompletely understood. Although inflammatory and autoimmune phenomena are believed to be the central abnormalities, the precise etiology remains elusive. Synovial hypoxia is a consistent finding and can be linked to several pathogenic processes through direct and indirect effects on angiogenesis, cartilage damage, bone resorption, oxidative damage, and inflammation. It should be noted, however, that hypoxia is not the only promoter of inflammation in RA, and it can be induced and perpetuated by diverse stimuli. Nevertheless, the induction of an anaerobic glycolytic phenotype in the synovium is specifically induced by hypoxia. Once anaerobic glycolysis is established in the synovium, several of the enzymes induced by this metabolic shift may become antigenic. Hypoxia modifies the metabolic environment in the synovium, but in the context of cellular stress, presentation of the upregulated antigenic enzymes could initiate an autoimmune response. For example, glucose phosphate isomerase, a glycolytic enzyme induced by hypoxia, is autoantigenic. The possible involvement of hypoxia in the citrullination process has also been proposed.
Overall, hypoxia is an interesting condition with effects that reflect a complex mechanism of action in RA. This requires further study, especially in the pre-arthritic stages when hypoxia is already present, according to the results of Jeon and colleagues. These findings provide new perspectives to understand the pathogenesis of RA and to identify new therapeutic targets.
Abbreviations
ACADVL:

Very long acyl-CoA dehydrogenase
ACE:

Angiotensin converting enzyme
ACSL:

Long chain fatty acid-CoA ligase
ANGPTL:

Angiopoietin-like
ATP:

Adenosine triphosphate
bHLH:

Basic helix-loop-helix
CIA:

Collagen-induced arthritis
CO:

Mitochondrial cytochrome
CO2:

Carbon dioxide
CS:

Citrate synthase
DLST:

Oxoglutarate dehydrogenase complex component E2
ENO:

Enolase
Fe2+:

Ferrous iron
FIH:

Factor-inhibiting HIF
GAPDH:

Glyceraldehyde 3-phosphate dehydrogenase
GLUT:

Glucose transporter
GPI:

Glucose phosphate isomerase
HADHA:

Hydroxyacyl-CoA dehydrogenase/3-ketoacyl-CoA thiolase/enoyl-CoA hydratase
HIF:

Hypoxia inducible factor
HMGB:

High-mobility group box
Hxk:

Hexokinase
IKK:

IkB kinase
IL:

Interleukin
LDH:

Lactate dehydrogenase
MAPK:

Mitogen-activated protein kinase
MMP:

Metalloproteinase
NADPH:

Nicotinamide adenine dinucleotide phosphate
NF-kB:

Nuclear factor-kappa B
NOX:

NADPH oxidase enzyme
ODD:

Oxygen-dependent degradation
PAS:

Per, ARNT and Sim
PFKP:

Phosphofructokinase
PGD:

Phosphugluconate dehydrogenase
PHD:

Prolyl hydroxylases
PIGF:

Placental growth factor
pO2:

Oxygen partial pressure
RA:

Rheumatoid Arthritis
ROS:

Reactive oxygen species
SDF:

Stromal cell-derived factor
TIM:

Tissue inhibitors of metalloproteinases
TLR:

Toll-like receptors
TNF:

Tumor necrosis factor
VEGF:

Vascular endotelial growth factor
vHL:

von Hippel Lindau
Declarations
Acknowledgments
The authors express their gratitude to Consejo Nacional de Ciencia y Tecnología (CONACYT) for financial support to CMQF, student enrolled in a PhD program during the preparation of this review.
Availability of data and material
Not applicable.
Authors' contributions
CMQF prepared the manuscript, collected the information, prepared the figures, and provided overall supervision. SAGC prepared the manuscript and collected the information. CPT prepared the figures and provided overall supervision. All authors read and approved the final manuscript.
Competing interests
The authors declare that they have no competing interests.
Consent for publication
Not applicable.
Ethics approval and consent to participate
Not applicable.
Open AccessThis article is distributed under the terms of the Creative Commons Attribution 4.0 International License (http://creativecommons.org/licenses/by/4.0/), which permits unrestricted use, distribution, and reproduction in any medium, provided you give appropriate credit to the original author(s) and the source, provide a link to the Creative Commons license, and indicate if changes were made. The Creative Commons Public Domain Dedication waiver (http://creativecommons.org/publicdomain/zero/1.0/) applies to the data made available in this article, unless otherwise stated.
Authors' Affiliations
(1)
Facultad de Medicina y Ciencias Biomédicas, Universidad Autónoma de Chihuahua, Chihuahua, México
(2)
Facultad de Ciencias de la Cultura Física, Universidad Autónoma de Chihuahua, Chihuahua, México