Role of mitochondrial dysfunction and dysregulation of Ca2+ homeostasis in the pathophysiology of insulin resistance and type 2 diabetes
Journal of Biomedical Science
2017
24:70
Received: 19 April 2017
Accepted: 29 August 2017
Published: 7 September 2017
Abstract
Metabolic diseases such as obesity, type 2 diabetes (T2D) and insulin resistance have attracted great attention from biomedical researchers and clinicians because of the astonishing increase in its prevalence. Decrease in the capacity of oxidative metabolism and mitochondrial dysfunction are a major contributor to the development of these metabolic disorders. Recent studies indicate that alteration of intracellular Ca2+ levels and downstream Ca2+-dependent signaling pathways appear to modulate gene transcription and the activities of many enzymes involved in cellular metabolism. Ca2+ uptake into mitochondria modulates a number of Ca2+-dependent proteins and enzymes participating in fatty acids metabolism, tricarboxylic acid cycle, oxidative phosphorylation and apoptosis in response to physiological and pathophysiological conditions. Mitochondrial calcium uniporter (MCU) complex has been identified as a major channel located on the inner membrane to regulate Ca2+ transport into mitochondria. Recent studies of MCU complex have increased our understanding of the modulation of mitochondrial function and retrograde signaling to the nucleus via regulation of the mitochondrial Ca2+ level. Mitochondria couple cellular metabolic state by regulating not only their own Ca2+ levels, but also influence the entire network of cellular Ca2+ signaling. The mitochondria-associated ER membranes (MAMs), which are specialized structures between ER and mitochondria, are responsible for efficient communication between these organelles. Defects in the function or structure of MAMs have been observed in affected tissue cells in metabolic disease or neurodegenerative disorders. We demonstrated that dysregulation of intracellular Ca2+ homeostasis due to mitochondrial dysfunction or defects in the function of MAMs are involved in the pathogenesis of insulin insensitivity and T2D. These observations suggest that mitochondrial dysfunction and disturbance of Ca2+ homeostasis warrant further studies to assist the development of therapeutics for prevention and medication of insulin resistance and T2D.
Keywords
Ca2+ homeostasisInsulin resistanceMetabolic diseaseMitochondrial calcium uniporterMitochondria-associated ER membranesType 2 diabetes
Conclusion
This review has provided an overview of recent advances in the role of mitochondrial dysfunction and dysregulation of intracellular Ca
2+
homeostasis in the pathogenesis of metabolic diseases such as insulin resistance and T2D (Fig.
2
). We have especially focused on the dysregulation of intracellular Ca
2+
homeostasis caused by functional defects in the MCU complex, which is located on the inner membrane of mitochondria. Although overproduction of ROS and defects in lipid metabolism have been established as a common cause of T2D and insulin resistance, the defects in the maintenance of intracellular Ca
2+
levels by mitochondria deserves proper attention. In addition, mitochondrial Ca
2+
has been well documented in the contribution of ROS production within mitochondria [
75
]. Given that mitochondria are intracellular organelles involved in the execution of many cellular functions and that there are multiple pathways involved in the regulation of metabolism, in-depth studies of the effects of mitochondrial dysfunction on Ca
2+
homeostasis are warranted to gain a better understanding of the complex pathophysiology of metabolic disorders.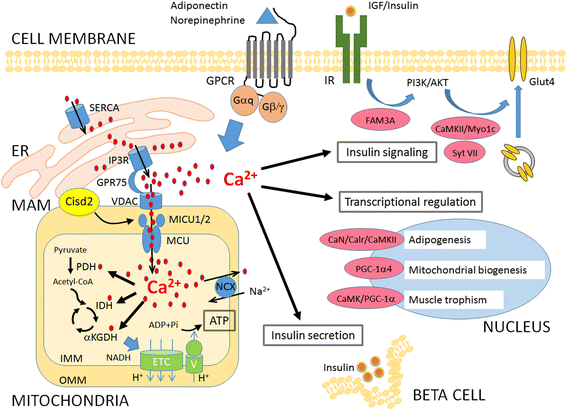 After identification of the MCU complex, the key regulator of the mitochondrial Ca2+ signaling, a new area of research has emerged. Molecular genetic manipulation and development of transgenic animal models have allowed us to directly address exciting issues of mitochondrial Ca2+ signaling in the pathophysiology of diseases associated with mitochondrial dysfunction. In the past decade, we have witnessed the advances in a better understanding of the roles of Ca2+ transporters in the regulation of Ca2+ homeostasis, mitochondrial bioenergetics and even in metabolic reprogramming. However, many aspects of mitochondrial dysfunction in the pathogenesis of diseases await further investigation. Until now, the stoichiometry and oligomeric state of each of the components of the MCU complex, the major mitochondrial Ca2+ uniporter, and the dynamic change of their stoichiometry have remained unknown. Elucidation of the composition of the MCU complex in different cell types at distinct developmental stages is most important. The expression levels of specific component in the MCU complex have been determined in different tissues and cell lines. Some studies have shown that the relative expression levels of MCU and its interaction partner proteins are in line with the predicted mitochondrial Ca2+ uptake behavior. However, we do not exclude the possibilities that other regulatory systems may contribute to the regulation of the MCU activity. In addition, what kinds of signaling or stimuli that contribute to transcriptional regulation of genes in the MCU complex are still unclear. Interestingly, the alteration in the expression ratio between MCU and its negative-dominant MCUb in different types of tissues suggests that it might contribute to the spatiotemporal control of mitochondrial uptake of Ca2+ ions and Ca2+-dependent activation of mitochondrial function. Given that protein modification can rapidly regulate the function, interaction, and conformational change of proteins, work has to be done in the future on the post-transcriptional regulation of the function of the MCU complex, which certainly plays an important role in the cellular response to external stimuli and physiological signals.
Most importantly, we discuss in this review the importance of mitochondria-ER cross-talk in the maintenance of Ca2+ homeostasis and suggest that dysregulation of this inter-organelle communication may play a key role in the pathogenesis of insulin insensitivity and T2D. Lack of Cisd2, an iron-sulfur protein localized in the MAMs, significantly affects this inter-organelle communication and alters the Ca2+ buffering capacity of mitochondria in adipocytes. Moreover, recent studies demonstrated that ER-mitochondria interactions were decreased in diabetic mice and in primary culture of hepatocytes and in HuH7 cells that had been cultured in a high-glucose medium or treated with palmitate. These findings indicate that the structural integrity of MAMs may contribute to the maintenance of Ca2+ homeostasis. It is thus important to determine the dynamic properties of MAMs in different type of cells under different cellular context and physiological conditions. When addressing the communication between the two organelles, the reciprocal effects on Ca2+ homeostasis from each other should be considered. Further studies are warranted to elucidate the cross-talk and responses between defective mitochondria and ER. It is imperative to clarify whether there are concomitant beneficial effects for ER when adipocytes are treated with mitochondria-targeting antioxidants (such as mito-CoQ10). The insight gained from studies of the inter-organelle communications can help us better understand the pathogenesis of the complicated and multifactorial disorders such as T2D. This line of research will also provide us novel information for the development of therapeutic agents to improve the function and/or structural integrity of MAMs. We have demonstrated that dysregulation of Ca2+ homeostasis is a novel mechanism underlying the mitochondrial dysfunction-related insulin insensitivity of adipocytes and possibly an etiology factor of T2D. We believe that simultaneous improvement of the structure and function of mitochondria and ER may be a useful strategy to restore and maintain glucose homeostasis in the human and animals.
Abbreviations
2-APB:

Aminoethoxydiphenyl borate
AAVs:

Adeno-associated viral vectors
AdipoR:

Adiponectin receptor
BMI:

Body mass index
Calr:

Calreticulin
CaM:

Calmodulin
CaMKII:

Ca2+/CaM-dependent protein kinase II
CaMKKβ:

Ca2+/CaM-dependent protein kinase kinase β
CaN:

Calcineurin
EMRE:

Essential MCU regulator
GWASs:

Genome-wide association studies
IDH:

Isocitrate dehydrogenase
IMM:

Inner mitochondrial membrane
IP3R:

Inositol 1,4,5-trisphosphate receptors
LTC4:

Leukotriene C4
MAMs:

Mitochondria-associated ER membranes
MCU:

Mitochondrial calcium uniporter
MICU:

Mitochondrial calcium uptake proteins
mPTP:

Mitochondrial permeability transition pore
NCX:

Na+/Ca2+ exchangers
NLRP3:

NLR family pyrin domain containing 3
OMM:

Outer mitochondrial membrane
PDH:

Pyruvate dehydrogenase
PDP:

PDH phosphatase
ROS:

Reactive oxygen species
RyR:

Ryanodine receptor
SERCA:

Sarco/ER Ca2+ ATPase
SNPs:

Polymorphisms
SOCE:

Store-operated calcium entry
Syt VII:

Synaptotagmin VII
T2D:

Type 2 diabetes
TCA cycle:

Tricarboxylic acid cycle
αKGDH:

α-ketoglutarate dehydrogenase
Declarations
Acknowledgements
We would like to acknowledge partial financial support from the intramural research fund of Changhua Christian Hospital and Mackay Medical College.
Funding
This review has been prepared on the basis of research work supported by research grants (MOST 104-2320-B-715-MY2, MOST 105-2627-M-715-001 and MOST 106-2627-M-371-001) from the Ministry of Science and Technology, Executive Yuan, Taiwan.
Availability of data and materials
Not applicable.
Authors' contributions
CH Wang collected references and prepared the first draft of the manuscript and organized the figures and Table. YH Wei conceived the idea and outlined the review and revised the manuscript and suggested modifications for the figures and the table.
Ethics approval and consent to participate
Not applicable.
Consent for publication
Not applicable.
Competing interests
The authors declare that they have no competing interests.
Publisher's Note
Springer Nature remains neutral with regard to jurisdictional claims in published maps and institutional affiliations.
Open AccessThis article is distributed under the terms of the Creative Commons Attribution 4.0 International License (http://creativecommons.org/licenses/by/4.0/), which permits unrestricted use, distribution, and reproduction in any medium, provided you give appropriate credit to the original author(s) and the source, provide a link to the Creative Commons license, and indicate if changes were made. The Creative Commons Public Domain Dedication waiver (http://creativecommons.org/publicdomain/zero/1.0/) applies to the data made available in this article, unless otherwise stated.
Authors' Affiliations
(1)
Center for Mitochondrial Medicine and Free Radical Research, Changhua Christian Hospital, Changhua City, Taiwan
(2)
Institute of Biochemistry and Molecular Biology, National Yang-Ming University, Shih-Pai, Taiwan
(3)
Institute of Biomedical Sciences, Mackay Medical College, New Taipei City, Taiwan