Repositioning drugs for traumatic brain injury - N-acetyl cysteine and Phenserine
Journal of Biomedical Science
2017
24:71
Received: 20 April 2017
Accepted: 30 August 2017
Published: 9 September 2017
Abstract
Traumatic brain injury (TBI) is one of the most common causes of morbidity and mortality of both young adults of less than 45 years of age and the elderly, and contributes to about 30% of all injury deaths in the United States of America. Whereas there has been a significant improvement in our understanding of the mechanism that underpin the primary and secondary stages of damage associated with a TBI incident, to date however, this knowledge has not translated into the development of effective new pharmacological TBI treatment strategies. Prior experimental and clinical studies of drugs working via a single mechanism only may have failed to address the full range of pathologies that lead to the neuronal loss and cognitive impairment evident in TBI and other disorders. The present review focuses on two drugs with the potential to benefit multiple pathways considered important in TBI. Notably, both agents have already been developed into human studies for other conditions, and thus have the potential to be rapidly repositioned as TBI therapies. The first is N-acetyl cysteine (NAC) that is currently used in over the counter medications for its anti-inflammatory properties. The second is (−)-phenserine ((−)-Phen) that was originally developed as an experimental Alzheimer's disease (AD) drug. We briefly review background information about TBI and subsequently review literature suggesting that NAC and (−)-Phen may be useful therapeutic approaches for TBI, for which there are no currently approved drugs.
Keywords
Traumatic brain injuryN-acetyl cysteinePhenserine
Background
Traumatic brain injury
Traumatic brain injury (TBI) is the leading cause of death and long-term disability in the developed world. Annually, an estimated 10 million people suffer a TBI event worldwide [1, 2]. Projections indicate that TBI will comprise the third largest portion of the total global disease burden by 2020 [1]. Within the US, an estimated 1.7 million people per year sustain a TBI, and approximately 5.3 million people live with a TBI-induced disability [3, 4]. By far the majority of TBIs are mild to moderate in nature and account for 80–95% of cases, with severe TBI comprising the remainder [5]. With increases in survival rate following initial injury, TBI can result in substantial and lifelong cognitive, physical, and behavioral impairments that require long-term access to health care and disability services [5, 6]. Particularly vulnerable are the elderly, in which the same insult results in greater disability and can lead to a dramatic increase in the risk of neurodegenerative [7, 8] and neuropsychiatric disorders. TBI symptoms can occasionally resolve within the first year following injury, but some 70% to 90% of patients continue to exhibit prolonged and often permanent neurocognitive dysfunctions. It is now recognized that TBI is a time-dependent process, rather than a single static event. Emerging evidence indicates that this process can lead to early onset of dementia [7, 8]. From a clinical perspective, TBI is one of the most powerful environmental risk factors for development of Alzheimer's disease (AD). Recent gene expression studies have defined the up-regulation of pathways leading to AD and Parkinson's disease induced by mild, let alone moderate or severe forms of TBI [9–12]. In light of the lack of any available therapeutic options, it is important to understand the mechanisms that underlie head injury and the neuronal dysfunction and loss that ensue as well as possible therapeutics.
TBI-associated brain damage can be classified into two major phases. First, an initial primary damage phase occurs at the moment of insult. This includes contusion and laceration, diffuse axonal injury and intracranial hemorrhage, and results in instantaneous (necrotic) cell death [9, 13]. This period is followed by an extended second phase that encompasses cascades of biological processes initiated at the time of injury that may persist over much longer times consequent to ischemia, neuroinflammation, glutamate toxicity, astrocyte reactivity, axonal shearing and apoptosis [14–17]. Increasing evidence suggests that secondary brain injury may be reversible; depending on the biological cascades that drive the delayed secondary phase that occurs following TBI and how quickly and effectively these can be interrupted or mitigated [9, 18]. These cascades involve neuroinflammation, oxidative stress, generation of reactive oxygen species, inhibition of neurogenesis, apoptosis, loss of cholinergic circuits, and glutamate excitotoxicity. Importantly, these cascades occur in combination, rather than alone. Indeed, such combinations are likely complexed by time dependence, the nature of the TBI, the nature of the recipient and environmental factors. In the light of this, it perhaps not surprising that so many experimental therapeutics directed towards a single mechanism whose inhibition demonstrates promise in an animal model of TBI in a homogeneous rodent strain have failed to demonstrate efficacy in the human condition. In the section below, we summarize how NAC and (−)-Phen might alter these TBI-induced cascades and provide efficacy.
N-acetyl cysteine
There is considerable literature on NAC as a neuroprotective agent in preclinical models of central and peripheral nervous system injury. NAC has been shown to have antioxidant and neurovascular-protective effects after preclinical TBI [19, 20]. NAC treatment following controlled cortical impact (CCI) increased levels of anti-inflammatory M2 microglia in white matter tracts [21]. Specifically, there is neuroprotective efficacy of a single dose of NAC in ameliorating biochemical and histological endpoints in a rat weight drop model [22] and of multiple doses in ameliorating inflammatory sequelae in an open skull dural impact rat model [19]. The antioxidant and anti-inflammatory effects of NAC [23–27] may be downstream consequences of inhibition of NAC-induced nuclear factor-κB-activated pathways that include cytokine cascades and phospholipid metabolism [28], which may also underlie the broader efficacy of NAC in rodent ischemia-reperfusion cerebral stroke models [24, 27, 29], a rodent sensory nerve axotomy model, and prevention of mitochondrial damage with loss of dendritic spines in hippocampal neurons [30]. Both NAC treatment alone and NAC treatment with topiramate ameliorate behavioral signs of mild weight drop TBI in rodent models [31].
The up-regulation of brain levels of glutathione (GSH) by systemic administration of NAC represents another potential neuroprotective mechanism. NAC is a precursor for GSH, which is a tripeptide derived by linking the amine group of cysteine to a glycine and to the carboxyl group of the glutamate side-chain. GSH is a critical intracellular antioxidant that prevents damage caused by reactive oxygen and nitrogen species (ROS and RNS). GSH is generated within its target cells from the amino acids, L-cysteine, L-glutamic acid and glycine. Importantly, the sulfhydryl (thiol) group (SH) of cysteine acts as a proton donor, and in this role is responsible for the antioxidant activity of GSH (Fig.
1
). This cysteine represents the rate-limiting factor in cellular GSH production, since cysteine is relatively scarce, except in specific foods. Supporting the potential role of GSH in the effects of NAC, it has been reported that, in spite of its poor penetration into the central nervous system, NAC can significantly elevate GSH levels in the brain following oxidative stress [
32
,
33
] and GSH deficiency [
34
]. Moreover, it has recently been demonstrated in a unique animal model of mTBI, involving thinning of the skull and compression, that GSH from the periphery can enter the brain and exert neuroprotective activity [
35
]. The cellular basis for memory and regulation of motivation associated with the nucleus accumbens may also be improved via NAC-induced neuronal activation of cysteine-glutamate exchange, augmented by the indirect effects of NAC on the metabolic glutamate receptors, mGluR2/3 and mGluR5, as reported for amelioration of cocaine-induced disruption of memory and regulation of motivation in rodents [
36
].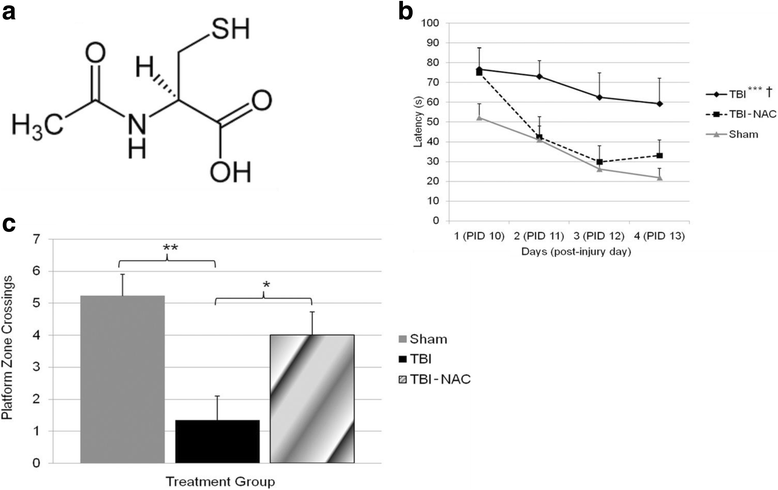 We have also been evaluating NAC as a countermeasure for the neurosensory sequelae of mTBI in military personnel [
37
]. The rationale underpinning this approach is based on the fact that NAC's mechanism of action can ameliorate or prevent the cascade of pathological events seen after mTBI, as noted above. In addition, NAC is the active ingredient in the brand name medication Mucomyst, a compound with a thirty-year safety history in U.S. hospitals, used for cystic fibrosis, acetaminophen poisoning, and high dye load x-rays as both an oral and an intravenous treatment. As such, our work represents repositioning of a "proven" medication whose tolerability/safety is well characterized, as opposed to introducing previously non-utilized or non-FDA approved pharmaceuticals. Historically, this has represented a more rapid and successful translational strategy than developing new previously untested drug candidates. Notably, we have demonstrated NAC to be efficacious in reducing the sequelae of mTBI in a randomized, double-blind, placebo-controlled study examining mTBI after blast injury [
37
]. Mild traumatic brain injury (mTBI) secondary to blast exposure is the most common battlefield injury in the Middle East. There has been little prospective work in the combat setting to test the efficacy of new countermeasures. The goal of our study was to compare the efficacy of NAC versus placebo on the symptoms associated with blast exposure mTBI in a combat setting. This study was a randomized double blind, placebo-controlled study that was conducted on active duty service members at a deployed field hospital in Iraq. All symptomatic U.S. service members who were exposed to significant blast and who met the criteria for mTBI were offered to participate in the study, and 81 individuals agreed. Individuals underwent a baseline evaluation and then were randomly assigned to receive either NAC or placebo for seven days. Each subject was re-evaluated at 3 and 7 days. Outcome measures were the presence of the following symptoms of mTBI: dizziness, hearing loss, headache, memory loss, sleep disturbances, and neurocognitive dysfunction. The resolution of these symptoms 7 days after the blast exposure was the main outcome measure in this study. Logistic regression on the outcome of 'no day 7 symptoms' indicated that NAC treatment was significantly better than placebo (OR = 3.6,
p
 = 0.006). Secondary analysis revealed subjects receiving NAC within 24 h of blast had an 86% chance of symptom resolution with no reported side effects versus 42% for those seen early who received placebo. This study demonstrates that NAC, a safe pharmaceutical countermeasure, has beneficial effects on the severity and resolution of symptoms of blast induced mTBI. This was the first demonstration of an effective short-term countermeasure for mTBI (Fig.
2
). Further work on long term outcomes and the potential use of NAC in civilian mTBI is warranted focusing on sports head injuries and traffic accidents. To highlight the value of work on NAC, the U.S. Army recently published its new strategic research plan for developing improved drug therapy for TBI [
38
]. In this document, the authors clearly indicate that NAC is one of the only safe medicines that has reasonable pilot data for the treatment of mTBI in a human, clinical setting and strongly recommend expanded clinical trials.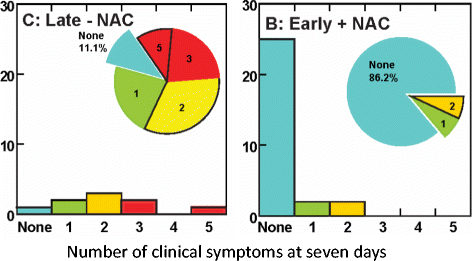 (−)-Phenserine
Studies of experimental TBI models as well as post mortem human TBI samples have demonstrated losses in key features of the cholinergic system [39–42]. Cholinesterase inhibitors have, for example, been appraised in preclinical and clinical TBI studies, but have generated largely mixed results [43–46, 14, 47]. Paradoxically, rapid elevations in acetylcholine (ACh) levels within CSF of animal models and humans have been reported following TBI [48–51], with higher levels associated with greater injury [52]. This trend supported the early experimental and clinical use of anticholinergic agents, particularly muscarinic antagonists, for the mitigation of ACh-related toxicity to ameliorate TBI-induced deficits [53–57].
We evaluated the actions of an experimental and reversible anti-acetylcholinesterase (AChE) agent, (−)-phenserine tartrate ((−)-Phen) [58] in a well-characterized mild concussive model of TBI in mouse [59–64]. Notably, in addition to its anti-AChE activity, (−)-Phen is able to inhibit the synthesis of amyloid precursor protein (APP) and alpha-synuclein (α-syn), proteins of consequence in the pathology of AD and PD, respectively, and of currently increasing relevance to TBI in light of the up regulation of pathways leading to AD and PD in animal models of TBI [9–12] and in light of increased risk for early onset dementia and PD in humans suffering TBI [7, 8, 65–67]. In addition, (−)-Phen possesses anti-inflammatory properties [68], also a phenomenon of significance in TBI [69], although the majority of anti-inflammatory approaches have failed [70]. Furthermore, (−)-Phen possesses an array of trophic and anti-apoptotic actions via mechanisms that are now being characterized, as detailed below.
The potential mechanisms for (−)-Phen to be repositioned for TBI are summarized as follows
(−)- (−)-Phen, developed as a drug candidate for AD at the NIA, is a low molecular weight (mw 487.5), (−)- chirally pure, lipophilic (Log D 2.2) orally bio-available agent. The compound was originally developed as an acetyl- cholinesterase selective inhibitor with a high brain delivery [
71
–
73
]; importantly it is administered in the form of its tartrate salt to support its required aqueous solubility for pharmacological action [
9
]. In this regard, (−)-Phen and three active first-pass hepatic metabolites readily enter brain (approx. 7:1 to 1.25:1 brain/plasma ratios (Fig.
3
) and, in dose-dependent relationships (EC
50
 = 26 to 100 nM), produce a broad range of pharmacological benefits of relevance to the effective treatment of disorders such as TBI and AD. The actions include anti-inflammatory; neutralizing oxidative stress; neuroprotection from anecrotic cell death and neuronal stem cell augmentation, as well as AChE, APP and α-syn inhibitions.
(−)-Phenserine's active metabolites
Preclinical and clinical studies have recently demonstrated that the broad range of beneficial pharmacological actions provided by (−)-Phen administration derive from the combined actions of (−)-Phen together with its stepwise metabolism to it primary metabolites (−)-N1- and/or (−)-N8-norphenserine to (−)-N1, N8-bisnorphenserine (also called (−)-N1,N8-bisnorphenylcarbamoyl-eseroline) [74, 75]. The differing plasma concentrations, brain:plasma distributions, t1/2 elim rates, and ranges of EC50s of (−)-Phen and these key metabolites have been evaluated.
(−)-Phenserine pharmacology
There is strong evidence of several relevant activities:
Conclusion
This overview provides a broad horizon of mechanisms linked to animal models and human data supportive of drug interventions having potential clinical efficacy against TBI. Many problems hinder progress identifying the mechanisms behind the interesting potential of these and other drugs and their efficacy. The criteria for identifying that a concussion has occurred does not necessarily capture head injuries with even more minor symptomatology, which may be associated with later unfavorable consequences. The duration of impairments from concussions prove highly variable and only some affected persons go on to display a post concussive syndrome, later neurological impairments, or the serious complication of chronic traumatic encephalopathy. In spite of these and other difficulties, the availability of diverse animal models with face validity for human concussions/TBI, the many affected patients, and the responsiveness of animal models and humans to the drugs we have reviewed give medical research a chance to help resolve the conundrum of TBI decisively and hopefully better define the pathologies most closely associated with the neuronal dysfunction and deaths behind post-concussive/ TBI injuries. Perhaps it is time to develop new peripheral, blood accessible, markers of TBI pathologies so that investigators can recruit human subjects for studies of TBI mechanisms. In that way we may answer why many species, used as animal models, benefit from candidate treatments for concussions while these drugs fail to meet regulatory requirements for registration for use in humans.
Abbreviations
(−)-Phen:

(−)−Phenserine
MWM:

Morris Water maze
NAC:

N-acetyl cysteine
TBARS:

Thiobarbituric Acid Reactive Substances
TBI:

Traumatic brain injury
Declarations
Acknowledgements
Partial support by MOST 104-2923-B-038-004-MY2.
Larimee R. Cortnik for her editorial assistance.
Funding
The data in this review article came from studies supported by the US Public Health Service and Department of Defense, the Sackler School of Medicine, Tel-Aviv University, and Taipei Medical University.
Availability of data and materials
Not applicable.
Classification
Neuroscience.
Authors' contributions
BJH and NHG organized and wrote most of this article. CGP, MEH, REB, and YC revised the paper and supplied additional data and figures. All authors read and approved the final manuscript.
Ethics approval and consent to participate
Not applicable.
Consent for publication
Not applicable.
Competing interests
Robert E. Becker does not have a competing interest but a conflict of interest. For disclosure, Robert E. Becker holds a patent on the use of phenserine in concussion/TBI and Alzheimer's disease assigned to Aristea Translational Medicine Corporation of Utah. None of the other authors have any competing interests.
Publisher's Note
Springer Nature remains neutral with regard to jurisdictional claims in published maps and institutional affiliations.
Open AccessThis article is distributed under the terms of the Creative Commons Attribution 4.0 International License (http://creativecommons.org/licenses/by/4.0/), which permits unrestricted use, distribution, and reproduction in any medium, provided you give appropriate credit to the original author(s) and the source, provide a link to the Creative Commons license, and indicate if changes were made. The Creative Commons Public Domain Dedication waiver (http://creativecommons.org/publicdomain/zero/1.0/) applies to the data made available in this article, unless otherwise stated.
Authors' Affiliations
(1)
Department of Neurosurgery, Case Western Reserve University School of Medicine, Cleveland, USA
(2)
Department of Anatomy and Anthropology, Sackler School of Medicine, Tel-Aviv University, Tel-Aviv, Israel
(3)
Department of Otolaryngology, University of Miami Miller School of Medicine, Miami, USA
(4)
Aristea Translational Medicine, Park City, USA
(5)
Department of Neurosurgery, Taipei Medical University, Taipei, Taiwan
(6)
Intramural Research Program, National Institute on Aging, National Institutes of Health, Baltimore, USA