A biophysical elucidation for less toxicity of Agglutinin than Abrin-a from the Seeds of Abrus Precatorius in consequence of crystal structure
Journal of Biomedical Science
2010
17:34
Received: 4 January 2010
Accepted: 30 April 2010
Published: 30 April 2010
Abstract
X-ray crystal structure determination of agglutinin from abrus precatorius in Taiwan is presented. The crystal structure of agglutinin, a type II ribosome-inactivating protein (RIP) from the seeds of Abrus precatorius in Taiwan, has been determined from a novel crystalline form by the molecular replacement method using the coordinates of abrin-a as the template. The structure has space group P41212 with Z = 8, and been refined at 2.6 Å to R-factor of 20.4%. The root-mean-square deviations of bond lengths and angles from the standard values are 0.009 Å and 1.3°. Primary, secondary, tertiary and quaternary structures of agglutinin have been described and compared with those of abrin-a to a certain extent. In subsequent docking research, we found that Asn200 of abrin-a may form a critical hydrogen bond with G4323 of 28SRNA, while corresponding Pro199 of agglutinin is a kink hydrophobic residue bound with the cleft in a more compact complementary relationship. This may explain the lower toxicity of agglutinin than abrin-a, despite of similarity in secondary structure and the activity cleft of two RIPs.
Keywords
Molecular Replacement MethodActivity CleftCritical Hydrogen BondHydrophobic EnergyInvariant Amino Acid Residue
Background
Ribosome inactivating proteins (RIPs) are enzymes that can inactivate ribosomes. The molecular mechanism of inhibitory effect on protein synthesis has been shown that RIPs act as a RNA N-glycosidase hydrolyzing the C-N glycosidic bond of the adenosine residue at position 4324 in rat 28S rRNA [1, 2]. They can cleave the synthetic RNA structure having a short double-helical stem and a loop containing a centered GAGA sequence, the first A being the cleavage site [3]. The depurination inactivates the ribosomes for binding to elongation factor 2 catalyzing GTP hydrolysis and translocation of peptidyl-tRNA to the P site [4], with a consequence inhibiting the protein synthesis. There are three categories of RIPs according to the physical composition and characteristics. Most commonly RIPs are type I RIPs, only single polypeptide chain proteins composed of the toxophoric A subunit with a molecular mass around 30 kDa [5–8] such as curcin [9] and trichomislin [10]. Some are type II RIPs consisting of two types of polypeptide subunits, A chain of homologous and functionally similar to type I RIPs and B chain with a galactose-specific lectin domain that binds to cell surfaces, such as ricin [11] abrin and abrus agglutinin (AAG) [12]. A chain and B chain are from one gene and link through disulfide bond after post-translation modification [13]. Type III RIPs are derived from inactive pro-protein and activated after proteolysis [14]. The mature type III RIPs are two polypeptide subunits acting as an N-glycosidase jointly.
Various RIPs can be isolated from the same plants [15, 16]. Some type II RIPs have been isolated from the beans of the tropical and subtropical leguminous plant Abrus precatorius, jequirity. They are lectins and have an inhibitory effect on the growth of experimental animal tumors [17, 18]. They can be classified as abrins and AAG by oligomerization. Abrins are potent toxic heterodimeric glycoproteins with an LD50 of 20 μg/kg body weight; while AAG is a relatively less toxic heterotetrameric glycoprotein of which the LD50 is 5 mg/kg body weight [12]. But their therapeutics indexes are similar [18].
The primary structures of abrin-a and AAG were determined [19–21]. AAG had high homology to the extremely toxic ABRa, with 44 (8.0%) similar amino acid residues and 382 (69.8%) invariant amino acid residues. In the A chain of AAG, the 13 amino acid residues with catalytic function among RIPs were completely conserved [21]. The cDNAs of the RIPs isolated from Abrus precatorius have been cloned and their A chains were expressed in Escherichia. coli [21–23]. The amino acid residues at proposed active sites and Pro199 of AAG, which corresponding to Asn200 of abrin-a, were analyzed with site-directed mutagenesis for studying the structure and function of these RIPs [21, 23, 24]. And the results showed that Pro199 in A- (or C-) chain of AAG impair the activity of protein synthesis inhibition because of steric hindrance [21]. According to the biochemical experiments, the mutation of Asn200 on abrin a-chain to Pro200 dramatically decreases the activity than other kind of mutation, including those residues without side-chain, such as Gly [23, 24]. These peculiar results motivate us to crystallize AAG, and make comparison with abrin, since both contains almost identical active pocket, and most important of all, different at Asn200 (the corresponding residue is on AAG Pro199). Bagaria et al., [25] reported a 3.5 Å X-ray crystal structure, and proposed the less toxic nature is because of the fewer interactions involved with the substrate adenine.
Bagaria et al., [25] assigned their low resolution of AAG crystal to belong to the space group of P42212, instead of our present and previous P41212 [26], to analyze the crystal structure based on a mixture of indigenous and alien data. They crystallized their Indian AAG material in a condition similar to, but different from ours [25, 26]. Strange to us, they did not determine their own Indian AAG amino acid sequence, but adopted the Taiwanese primary structure [21, 25]. Indian AAG molecular packing may be different from our Taiwanese that could manifest itself some way in different space group. Although they published the controversial paper of 60 kDa structure in advance [25], this detail worthwhile work of more complicated and precise 120 kDa heterotetramer agglutinin structure spurs the continuous study of our last research [26].
Results and Discussion
As shown in figure
1
, the AAG AB-chains are very similar to the abrin-a molecule, the structure of which has been described in detail [
31
]. A conserved disulfide bond between Cys246 of A (or C)-chain and Cys8 of B (or D)-chain holds the two chains tightly as shown in figure
1
. An asymmetric unit of AAG crystal contains four peptide chains, AB- and non-crystallographical-symmetric related CD-chains, as shown in figure
1
. The two heterodimers AB and CD are bonded together through hydrogen bonds by using the water molecules between them as intermediate bridges. They are identical except two N-acetylglucosamines (NAGs) are found in AB-chains, and one in CD-chains. An AAG molecule is a tetramer, consisting of AB (or CD) and symmetry-related A'B' (or C'D').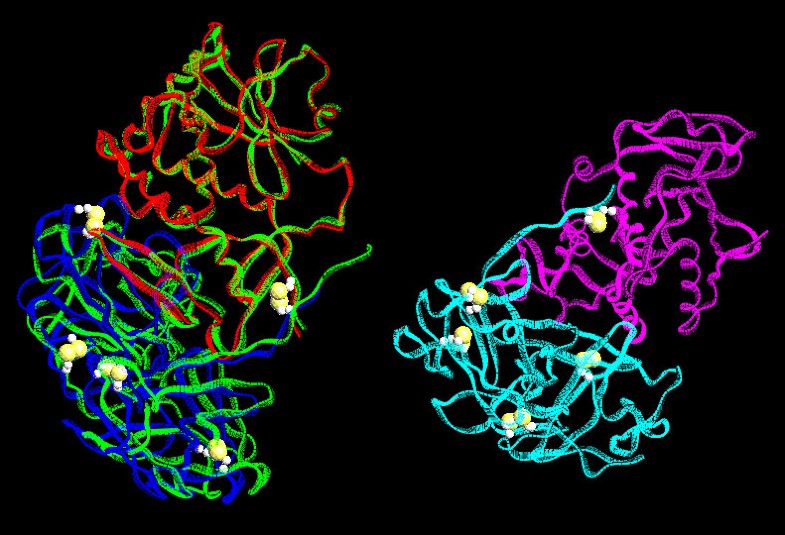 Conclusion
We have successfully solved the structure of 120 kDa heterotetramer agglutinin AB and CD chains, and reduced the R-factor to 20.4% at 2.6 Å resolution data. Ten disulfide bonds, three N-acetylglucosamines, and 169 water molecules were found in the successive (2Fo-Fc) map. 22 hydrogen bonds between A (or C)-chain and symmetry-related A' (or C') were found. Water molecules were not found in the Bagaria's paper and no subsequent hydrogen bond lengths were listed based on their lower resolution structure [25]. Docking study revealed that due to Pro199, agglutinin is unable to form a critical hydrogen bond with G4323 of 28SRNA, which is found in the docking result of abrin-a. This may explain the lower toxicity of agglutinin than abrin-a, despite of similarity in secondary structure and the activity cleft of two RIPs.
Abbreviations
RIP:

ribosome-inactivating protein
AAG:

agglutinin
NAG:

N-acetylglucosamine
Fo:

observed structure factor
Fc:

calculated structure factor
PDB:

protein data bank.
Declarations
Acknowledgements
The authors thank Mr Shyh-Ming Chen for setting up the computing programs. They also thank to the National Science Council of Taiwan for financial support. They are indebted to SPring-8 and the National Synchrotron Radiation Research Center for data collection.
Authors' Affiliations
(1)
Department of Physics, National Tsing Hua University, Hsinchu, Taiwan
(2)
Graduate School of Biochemical Engineering, Ming Chi University of Technology, Taishan, Taipei, Taiwan
(3)
Institute of Biochemistry, College of Medicine, National Taiwan University, Taipei, Taiwan
Copyright
© Cheng et al; licensee BioMed Central Ltd. 2010
This article is published under license to BioMed Central Ltd. This is an Open Access article distributed under the terms of the Creative Commons Attribution License (http://creativecommons.org/licenses/by/2.0), which permits unrestricted use, distribution, and reproduction in any medium, provided the original work is properly cited.