An update on targeted gene repair in mammalian cells: methods and mechanisms
Journal of Biomedical Science
2011
18:10
Received: 20 October 2010
Accepted: 2 February 2011
Published: 2 February 2011
Abstract
Transfer of full-length genes including regulatory elements has been the preferred gene therapy strategy for clinical applications. However, with significant drawbacks emerging, targeted gene alteration (TGA) has recently become a promising alternative to this method. By means of TGA, endogenous DNA repair pathways of the cell are activated leading to specific genetic correction of single-base mutations in the genome. This strategy can be implemented using single-stranded oligodeoxyribonucleotides (ssODNs), small DNA fragments (SDFs), triplex-forming oligonucleotides (TFOs), adeno-associated virus vectors (AAVs) and zinc-finger nucleases (ZFNs). Despite difficulties in the use of TGA, including lack of knowledge on the repair mechanisms stimulated by the individual methods, the field holds great promise for the future. The objective of this review is to summarize and evaluate the different methods that exist within this particular area of human gene therapy research.
Keywords
Nucleotide Excision RepairPeptide Nucleic AcidCorrection EfficiencyGlobal Genome RepairGenetic Correction
Introduction
In the middle of the nineties, the field of targeted gene alteration (TGA) emerged as a possible method to correct diseases caused by single-base mutations [1, 2]. Initially, the approach focused on stimulating the endogenous gene repair mechanisms using various single- or double-stranded oligonucleotides. These are complementary to part of the targeted gene except for one mismatched base specifically located at the site of the endogenous mutation. Upon cellular introduction these molecules will interact with the targeted gene sequence by different mechanisms. The mismatch is then recognized by components of the gene repair pathways, which subsequently can be stimulated to correct the mismatch by the use of the introduced targeting molecule [3–6].
Using TGA, mutated genes can be targeted and corrected without interfering with the endogenous promoter as well as enhancer/silencer elements and reading frames [7]. Such an impact has otherwise been seen with certain aspects of gene therapy introducing a complete gene sequence including all its associated elements [8, 9]. Several methods have been developed in order to optimize and effectively implement the TGA strategy in vitro as well as in vivo. These methods all constitute different structures of targeting molecules, pathways of integration and gene repair pathways stimulated, resulting in variable success rates [4, 10–12].
Mammalian gene repair pathways
Mammalian cells utilize a variety of genetic repair pathways to ensure genomic stability of the genome. Understanding these pathways is essential for the further optimization of TGA [
13
–
16
]. A brief introduction to the pathways including their most central molecular factors is provided here (Figure
1
). For detailed reviews see [
17
–
23
].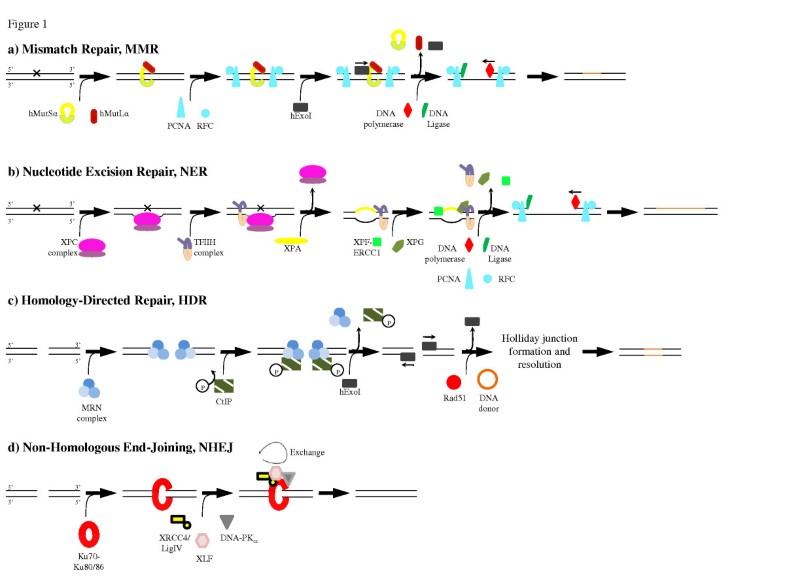 Targeted gene alteration
As previously mentioned, several different techniques can be used for altering mammalian genes through the activation of gene repair pathways. Overall, they can be divided into five categories, all of which will be discussed in the following. An overview of correlations between gene repair pathways and TGA techniques is illustrated in Figure
2
and a summary of important features of the TGA methods is supplied in table
1
.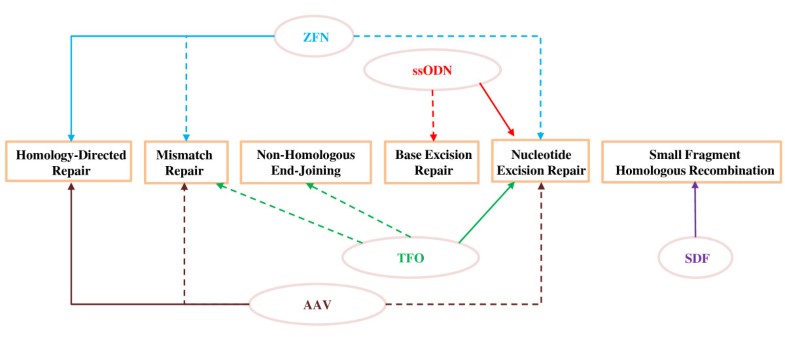 Table 1
Characteristics of TGA-mediating methods
Method:

ssODNs

SDF

TFO

AAV

ZFN

Repair pathways involved

NER, HDR? (MMR and NHEJ are suppressive)

SFHR

NER, NHEJ? MMR? HDR?

HDR, NHEJ

HDR, NHEJ

Correction efficiency a

0.1-5% (somatic cells) ~0.1% (ESCs)

0.2-20% (somatic cells) 0.025% (ESCs)

0.1-1.5% (somatic cells)

9.86%-65% (somatic cells) ~1% (ESCs and iPSCs)

~18-30% (somatic cells) 0.15-5% (iPSCs + ESCs)

Advantages

No integration of exogenous DNA, synthesis, stable, reproducible results

Reproducible results, potent episomal repair, artifacts can be circumvented

Synthesis, low toxicity, target specific, functional in hHPCs, stable target-complex formation

High efficiency and fidelity, effective in vivo delivery, broad cell type target field, low pathogenicity

High efficiency, known repair mechanism, normal cell cycle profiles, low background integrations, target silent genes

Disadvantages

Unknown repair mechanism, limited sequence size, PCR artifacts, genotoxicity, cell replication dependency

SFHR mechanism unknown, depend on HDR-like mechanism, synthesis (PCR)

Unknown repair mechanism, homopurine target restriction, G-C-rich sequences, weak DNA-binding, cellular death

Safety concerns, size limitation, integration of exogenous DNA, random integrations, cellular death

Synthesis, off-target cleavage, integration of exogenous DNA, multiple transductions

Targeted disease genes

Dystrophin

α-D-glucosidase

β-PDE

TYR

CFTR

DNA-PKcs

Dystrophin

β-globin

SMN1

β-globin

COL1A1

COL1A2

FANCA

Fah

CFTR

CCR5

IL2Rγ

CFTR

HoxB13

TYR

References b
The polymerase chain reaction frequently forms the basis of assays involved in revealing effects of TGA-mediating methods and the reaction is furthermore used for production of small DNA fragments (SDFs) [35]. However, PCR is an error-prone reaction and even using highly accurate enzymes the DNA misincorporation frequency during a PCR reaction is high (~0.0035-0.02/bp) [36]. This may lead to uncertainty about whether unwanted mutations are introduced into the target gene when the desired mismatch is being corrected. Furthermore, the risk of PCR artifacts caused by priming of the corrective oligodeoxyribonucleotide (ODN) or SDF to the DNA can lead to false positives and produce an incorrect estimate of the correction efficiency [8, 37]. Earlier this lead to criticism especially of SDF- and ODN-mediated gene targeting [37]. In order to avoid this, novel protocols have recently been developed. These include the use of analytical PCR-primers located outside the region of SDF/ODN-homology as well as gel purification of heat-denatured genomic target DNA [38–40]. Both of these methods contribute to an increased reliability of PCR-based assays. However, the lack of standardized, non-PCR-based assays of gene repair can make it difficult to compare the different methods directly [8, 39]. Next generation sequencing methods will probably be used increasingly in order to document the repair frequencies and the integrity of the genome.
Conclusion
The ability to correct genomic mutations and repairing cellular defects has been the centre of extensive research for several decades. Successful studies have been made with the transfer of full-length genes, but a constantly emerging problem concerns the regulatory elements of the gene of interest. However, this problem has been circumvented with the emerging of targeted gene alteration, which is based on the stimulation of endogenous cellular repair mechanisms, i.e. no interfering with any regulatory elements whatsoever. Targeted gene alteration functions via the addition of a variety of oligonucleotides including single-stranded oligonucleotides, small DNA fragments, pseudo-complementary peptide nucleic acids, adeno-associated virus vectors and zinc-finger nucleases. The former techniques rely on target-complementary oligonucleotides constructed by the use of standardized or synthetic nucleic acids. They have mainly received attention due to the ease and low cost with which they are synthesized as well as the stability of the molecules. However, gene correction efficiencies have generally been low in somatic cells (0.1-20%) and extremely low in various stem cells (~0.1%). Furthermore, the lack of knowledge concerning the different genetic repair mechanisms stimulated by one of these methods complicates optimization of the techniques. Conversely, the latter techniques are based on target-homology and stimulate genetic repair efficiency by the activation of the homology-based repair mechanism, HDR. However, the error-prone NHEJ is an unwanted side effect of this stimulation for which reason focus has been put on the cellular shut-down of this pathway in order for HDR to dominate. This has proven to be successful and AAVs and ZFNs obtain gene correction efficiencies as high as 65% in somatic cells and 5% in stem and progenitor cells. Despite their difficulty in synthesis and potential safety concerns regarding viral pathogenicity these techniques appear very promising for future studies on targeted gene alteration.
In this article, we have reviewed the methods currently used in targeted gene repair and the underlying mechanisms. Although clinical gene therapy has been undergoing extensive progress within the last two decades, gene repair for clinical applications is still in its infancy. The level of chromosomal gene correction efficiencies has, until recently, been too low for clinical translation. The key to enhanced gene correction efficiency currently lies with an in-depth understanding of mammalian gene repair mechanisms involved in the different TGA techniques. Furthermore, development of robust assays to compare the efficiencies is necessary.
Efficient gene correction in progenitor cells is required to permanently correct heritable genetic diseases. The rapid evolution of efficient methods for generating pluripotent stem cells and improved ex vivo culture methods will certainly improve our possibilities. Furthermore, the development of Zinc-finger nucleases and the use of adeno-associated virus vectors for gene repair have made it possible to induce efficient gene correction both in vitro and in vivo. This certainly has shortened the distance to clinical trials. However, safety issues concerning ZFN-mediated genotoxicity, off-target cleavages, AAV-based viral concerns and random integrations still remain to be solved, but high throughput sequencing methods to check the outcome of the repair efforts are already available. Thus, we are not in doubt that clinical applications of gene repair techniques have a great future - initially for monogenic disorders.
Abbreviations
AAV:

adeno-associated virus
BNA:

bridged nucleic acid
CAK:

cyclin-activated kinase
CSA:

Cockayne syndrome group A
CSB:

Cockayne syndrome group B
ds:

double-stranded
DSB:

double-stranded break
ENA:

ethylene nucleic acid
HDAC:

histone deacetylase
HR:

homologous recombination
ITR:

inverted terminal repeat
LNA:

locked nucleic acid
MDB4:

methyl-CpG binding domain protein 4
MRN:

Mre11-Rad50-Nbs1 complex
PCNA:

proliferating cell nuclear antigen
Pc-PNA:

pseudo-complementary peptide nucleic acid
PNA:

peptide nucleic acid
RDO:

chimeric RNA/DNA oligonucleotide
RFC:

replication factor C
RI:

random integrations
RPA:

replication protein A
SDF:

small DNA fragment
ss:

single-stranded
SSB:

single-stranded break
ssODN:

single-stranded oligo-deoxyribonucleotide
Tdp-ICL:

TFO-directed psoralen interstrand crosslinks
TFO:

triplex-forming oligonucleotide
TFIIH:

transcription factor II H
TGA:

targeted gene alteration
XPA/XPB/XPC/XPD/XPF/XPG:

xeroderma pigmentosum A, B, C, D, F and G, respectively
ZFN:

zinc-finger nuclease.
Declarations
Acknowledgements
Work in the laboratory of TGJ is supported by the Lundbeck Foundation and the Karen Elise Jensen Foundation.
Authors' Affiliations
(1)
Institute of Human Genetics, University of Aarhus, Aarhus C, Denmark
Copyright
© Jensen et al; licensee BioMed Central Ltd. 2011
This article is published under license to BioMed Central Ltd. This is an Open Access article distributed under the terms of the Creative Commons Attribution License (http://creativecommons.org/licenses/by/2.0), which permits unrestricted use, distribution, and reproduction in any medium, provided the original work is properly cited.