Cardiac and vascular phenotypes in the apolipoprotein E-deficient mouse
Journal of Biomedical Science
2012
19:22
Received: 14 December 2011
Accepted: 13 February 2012
Published: 13 February 2012
Abstract
Cardiovascular death is frequently associated with atherosclerosis, a chronic multifactorial disease and a leading cause of death worldwide. Genetically engineered mouse models have proven useful for the study of the mechanisms underlying cardiovascular diseases. The apolipoprotein E-deficient mouse has been the most widely used animal model of atherosclerosis because it rapidly develops severe hypercholesterolemia and spontaneous atherosclerotic lesions similar to those observed in humans. In this review, we provide an overview of the cardiac and vascular phenotypes and discuss the interplay among nitric oxide, reactive oxygen species, aging and diet in the impairment of cardiovascular function in this mouse model.
Keywords
Hypercholesterolemiaatherosclerosismousecardiac functionvascular senescence
Introduction
Over the last two decades, the mouse has become a very important experimental animal in studies of physiology and a growing number of pathophysiologies due to its easy breeding, short generation time and the availability of inbred strains. The limitations of the small size of the mouse for studying cardiac and vascular hemodynamics and function have been overcome in our and other laboratories due to advances in surgical techniques, as in Borst et al. [1], who described detailed procedures for the analysis of cardiac functional parameters in the mouse.
As a consequence of the progressive advancement of molecular biology techniques, it is possible to knockout and restore endogenous genes or add exogenous genes into the mouse, allowing the development of mouse models for human diseases. Two decades ago, the first gene-targeted murine model of atherosclerosis was created by the inactivation of the apolipoprotein E (apoE) gene by homologous recombination [2, 3]. Among the genetically engineered models, the apoE-deficient (apoE-/-) mouse is considered to be one of the most relevant models because it develops spontaneous hypercholesterolemia and arterial lesions similar to those observed in humans.
In the apoE-/- mouse, most of the plasma cholesterol (PC) is found in the atherogenic lipoprotein fractions, namely the very-low-density lipoprotein (VLDL), intermediate-density lipoprotein (IDL) and low-density lipoprotein (LDL) fractions, and this profile is aggravated by a Western-type diet. On a chow diet, apoE-/- mice exhibit increased total PC (~8-fold), triglycerides (1.7-fold), VLDL+IDL (18-fold) and LDL (14-fold) compared to C57BL/6J (C57) mice. When fed a Western-type diet, a dramatic increase in the proportions of these lipids is observed in total PC (~14-fold), particularly in the VLDL+IDL lipoprotein fraction (~30-fold) [2, 4–10].
The combination of the availability of mouse models of atherosclerosis and the technology to perform hemodynamic measurements in mice has enabled the study of the effects of hypercholesterolemia and/or atherosclerosis on cardiac vascular function. In this review, we focus on studies from our laboratory and from other investigators regarding the vascular and cardiac phenotypes in the apoE-/- mouse. We also discuss the underlying mechanisms that have been shown to contribute to cardiac and vascular dysfunction in this mouse model.
Vascular phenotypes in apoe-/- mice
Cardiac phenotypes in apoe-/- mice
Resting HR
The mouse has a high resting heart rate (HR), which is related to its high metabolism. Hemodynamic measurements have shown that the resting HR in the conscious wild-type C57 mouse ranges from 520 to 650 bpm [42, 80, 81]. Similar values have been observed with acute measurements in conscious apoE-/- mice [32, 41, 42, 46, 80, 82, 83]. Interestingly, some studies have shown that HR is preserved even when the BP is high in apoE-/- mice fed either a standard chow diet [46] or a Western-type diet [84]. However, others have evaluated HR by continuous recording over 24 hours and observed a significantly increased mean HR and a total abolition of its circadian cycles in the apoE-/- mouse compared with wild-type control mice [47]. Moreover, apoE-/- mice exhibited decreased HR variability associated with abnormal neurohumoral control of HR and a defective parasympathetic drive to the heart, which were further exacerbated under a high-fat diet regimen [47, 71]. It has also been observed that chronic treatment of apoE-/- mice with a statin reduced their HRs to control levels and restored their circadian variations, despite persistent elevations in PC levels [47]. Although further studies are needed to clarify the mechanisms involved in the abnormal cardiac rhythm in the apoE-/- mouse, there is evidence that the imbalance in NO/•O2- production may play a pivotal role [47, 71].
Cardiac hypertrophy
Cardiac hypertrophy is also an important parameter to evaluate because it can be related to cardiac dysfunction (see the illustration in Figure
2
). In studies with apoE
-/-
mice in our laboratory, we regularly evaluate cardiac hypertrophy, which can be determined by measuring the cardiac weight-to-body weight ratio [
42
,
81
]. In apoE
-/-
mice fed a normal diet, the cardiac weight has been reported as normal at different ages in several studies [
42
,
46
,
61
,
83
,
85
], but others have observed myocardial hypertrophy in adult [
46
] and aged [
80
,
85
] animals. However, there are some controversies regarding the possible factors determining cardiac hypertrophy in aged animals. For example, it has been reported that the animals were normotensive and that the cardiac hypertrophy could be related to an elevated blood velocity and wave reflections close to the heart [
80
]. On the contrary, others reported both hypertension and myocardial hypertrophy in aged apoE
-/-
mice [
46
]. In this case, cardiac hypertrophy could be the consequence of an increased afterload, as has been observed in non-atherosclerotic hypertensive mice [
42
,
81
]. Importantly, the cardiac hypertrophy in response to the aortic coarctation-induced pressure overload is higher in apoE
-/-
mice than in C57 mice [
83
], leading to the hypothesis that apolipoprotein E may play an important role in modulating cardiac hypertrophy, even in wild-type mice. On a Western-type diet, apoE
-/-
mice show cardiac hypertrophy that is worsened with aging [
86
]. Thus, despite certain controversies, studies have provided important evidence that the apoE
-/-
mouse develops cardiac hypertrophy, which appears to be influenced by several factors, including increased aortic stiffness, arterial hypertension, and a Western-type diet combined with the aging process (see the schematic illustration in Figure
2
).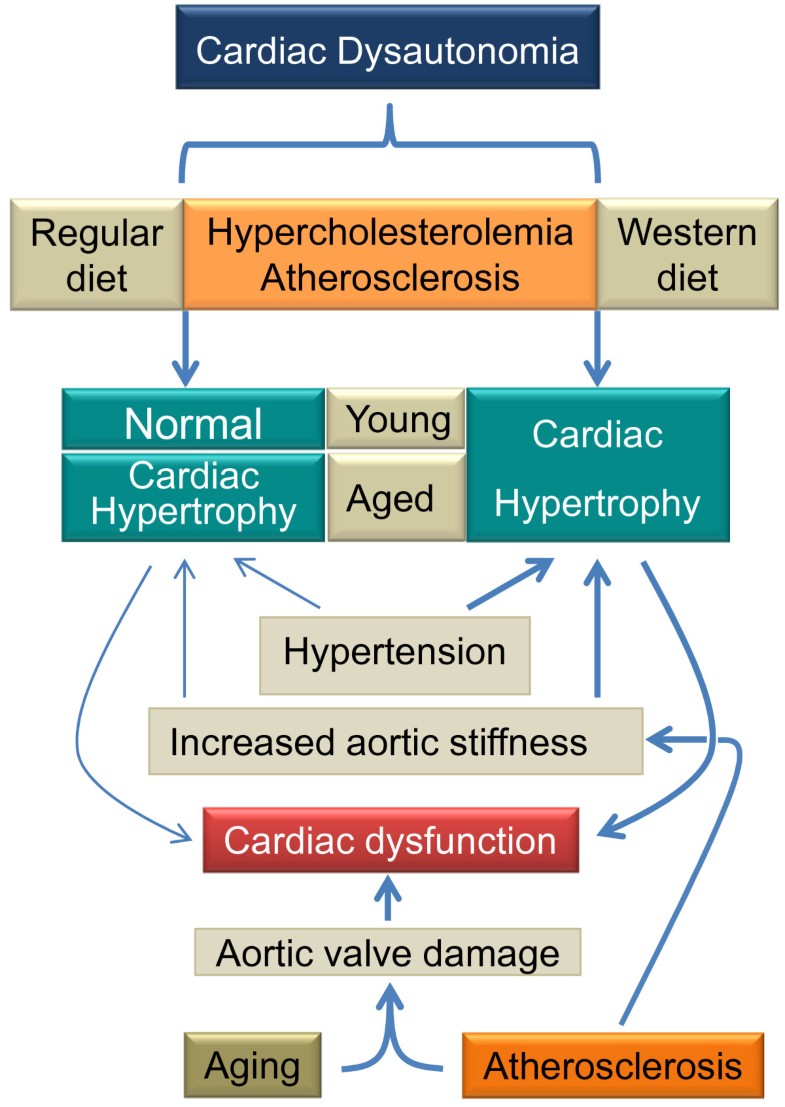 Cardiac function
Technical progress has resulted in the ability to perform arterial and cardiac catheterization; in vivo imaging in the mouse is then utilized, with the aim of understanding cardiac function and dysfunction. Recently, Borst et al. [1] published an extraordinary review about methods employed for the induction and analysis of myocardial infarction in mice. However, murine models of atherosclerosis have coronary arteries that are relatively resistant to the consequences of atherosclerosis and usually do not exhibit myocardial infarction or other cardinal features of human coronary heart disease or reduced lifespan [22, 87]. Hemodynamic analysis in young apoE-/- mice fed a standard chow diet shows normal left ventricular end diastolic pressure and systolic pressure, cardiac output, fractional shortening, and other cardiac functional parameters [87, 88]. Some studies show that feeding young animals an atherogenic diet does not seem to affect cardiac function [25], and these animals rarely show occlusive coronary artery disease and myocardial infarction under this diet [89]. However, others have reported changes in the left ventricular geometry, elevated cardiac outflow velocities, decreased distensibility of the ascending aorta and increased pulse-wave velocity, even when apoE-/- mice are fed a regular chow diet [80, 90, 91]. In aged apoE-/- mice, it has been reported that increased cardiac afterload due to increased aortic stiffening appears to contribute to a reduced cardiac reserve, indicating a reduced cardiac functional reserve in this animal [92].
Interestingly, while recently measuring the diameter of the aorta through contrast angiography, we incidentally observed aortic regurgitation associated with a larger (~3-fold) valvular thickness in elderly apoE-/- mice [61]. Aortic regurgitation was observed in the elderly (hypercholesterolemic and atherosclerotic) apoE-/- mouse but neither in the young (hypercholesterolemic) apoE-/- mouse nor in the elderly C57 control mouse (normocholesterolemic), indicating that this cardiac dysfunction is dependent on the concurrence of hypercholesterolemia and aging [61]. In that study, the authors showed that the aortic valve damage was characterized by diffuse acellularity and myxoid thickening of the spongy layer, as well as valve fibrosis with dense collagen formation in the apoE-/- mouse.
Among the animal models of heart failure, the major limitation of the apoE-/- mouse is the infrequency of coronary plaques and thrombosis, two common complications of human atherosclerosis, as recently reviewed [93]. Cardiac function has also been evaluated by inter-breeding apoE-/- and renin-angiotensinogen transgenic (R+A+) mice; in this animal model, heart failure develops with aging, as indicated by the decreased ejection fraction and increased lung weight in aged mice [94].
Conclusion
Since its creation two decades ago, the apoE-/- mouse, which spontaneously develops hypercholesterolemia and vascular atherosclerotic lesions on a regular chow diet, has greatly contributed to the understanding of the atherosclerosis disease process. Excess production of ROS responding to internal or environmental stress triggers several signaling steps culminating with lipid oxidation, DNA damage, senescence and production of proinflammatory substances. The renin-angiotensin system also appears to play an important role, contributing additively with ROS to changes in vascular function. Long-term recordings of HR and BP show evidence that apoE-/- mice exhibit hypertension and tachycardia and abolition of their circadian cycles, primarily when under the influence of aging and a Western-type diet. Studies also provide evidence of impaired cardiac function in apoE-/- mice, which is related to and/or aggravated by aging and a Western-type diet. Therefore, the studies in apoE-/- mice have contributed new insights into the mechanisms underlying the cardiac and vascular dysfunction that occur in this chronic inflammatory disease.
Declarations
Acknowledgements
ECV and SSM are supported by the National Council for the Development of Science and Technology (CNPq, Ref. 302113/2008-8 Grant) and the State Agency for the Development of Science and Technology (FAPES, Ref. FAPES/PRONEX 012/2009).
Authors' Affiliations
(1)
Department of Physiological Sciences, Health Sciences Center, Federal University of Espirito Santo, Vitoria, Brazil
(2)
Emescam School of Health Sciences, Vitoria, Brazil
(3)
The University of Iowa, Iowa City, USA
(4)
Biotechnology Graduate Program, Health Sciences Center, Federal University of Espirito Santo, Vitoria, Brazil
(5)
Federal Institute of Education, Science and Technology (IFES), Vila Velha, Brazil
Copyright
© Vasquez et al; licensee BioMed Central Ltd. 2012
This article is published under license to BioMed Central Ltd. This is an Open Access article distributed under the terms of the Creative Commons Attribution License (http://creativecommons.org/licenses/by/2.0), which permits unrestricted use, distribution, and reproduction in any medium, provided the original work is properly cited.