Cardiovascular protection of magnolol: cell-type specificity and dose-related effects
Journal of Biomedical Science
2012
19:70
Received: 13 April 2012
Accepted: 26 June 2012
Published: 31 July 2012
Abstract
Magnolia officinalis has been widely used in traditional Chinese medicine. Magnolol, an active component isolated from Magnolia officinalis, is known to be a cardiovascular protector since 1994. The multiplex mechanisms of magnolol on cardiovascular protection depends on cell types and dosages, and will be reviewed and discussed in this article. Magnolol under low and moderate dosage possesses the ability to protect heart from ischemic/reperfusion injury, reduces atherosclerotic change, protects endothelial cell against apoptosis and inhibits neutrophil-endothelial adhesion. The moderate to high concentration of magnolol mainly acts on smooth muscle cells and platelets. Magnolol induces apoptosis in vascular smooth muscle cells at moderate concentration and inhibits proliferation at moderate and high concentration. High concentration of magnolol also abrogates platelet activation, aggregation and thrombus formation. Magnolol also serves as an smooth muscle relaxant only upon the high concentration. Oral intake of magnolol to reach the therapeutic level for cardiovascular protection is applicable, thus makes magnolol an agent of great potential for preventing cardiovascular diseases in high-risk patients.
Keywords
MagnololCardiomyocytesVascular endothelial cellsSmooth muscle cellsInflammationAntioxidant
Review
Magnolol is an active component isolated from
Magnolia officinalis
(
Magnolia
bark).
Magnolia officinalis
is a traditional Chinese medicine widely used in facilitating bowel movement and ameliorate abdominal fullness. The bark is stripped from the stems, branches, and roots of Magnolia tree, and which is highly aromatic and polyphenolic components containing magnolol and honokiol (Figure
1
) [
1
,
2
]. In addition to purification of magnolol from Magnolia-bark, preparation of synthetic magnolol/honokiol, its analogues and derivatives has been well established [
3
–
6
]. In the past decades, magnolol has been characterized as an anti-oxidant , anti-depressant, anti-allergic, anti-cancer and anti-microbial agent [
7
–
11
].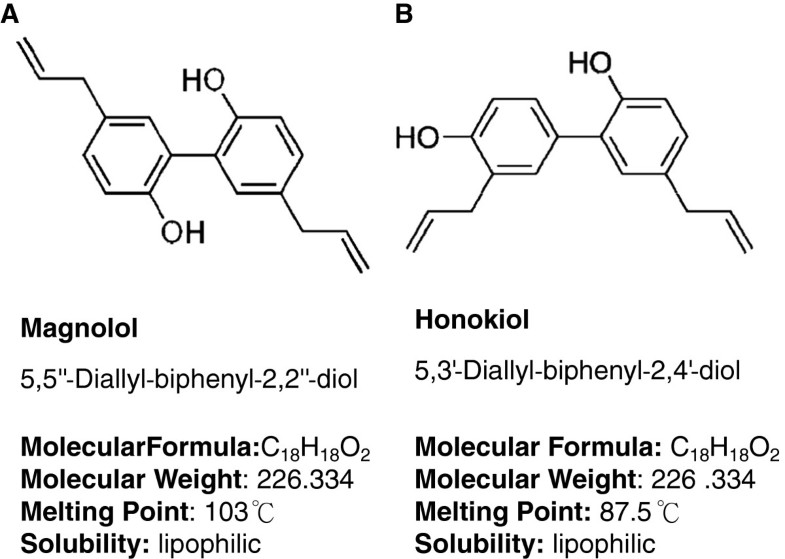 Using isolated rat heart mitochondria as an ex vivo model, Hong et al. demonstrated that magnolol exhibited free radical scavenging activities shown by the diphenyl-p-picrylhydrazyl assay, which was less potent than alpha-tocopherol (vitamin E) [12]. However, the ability of inhibiting ADP- or ferrous sulfate-induced heart mitochondrial lipid peroxidation from magnolol was 1000 times higher than which from alpha-tocopherol [12]. The lipid peroxidation inhibition ability by magnolol was not only found in isolated heart mitochondria, but also shown in preventing or treating rat from cecal ligation-induced sepsis by a dose-dependent manner from 10-6 to 10-2 mg/kg of magnolol via intravenous injection [13].
The potent antioxidant activities of magnolol and honokiol are thought to be the contribution of hydroxyl and allylic groups on a biphenolic moiety. The hydroxyl group on biphenolic moiety results in magnolol/honokiol against reactive oxygen species, inhibiting cell proliferation and antimicrobial activity [3, 6, 14]. It has been reported that most of allylated biphenolic magnolol/honokiol analogues possessed anti-proliferative activity and anti-MRSA capacity while magnolol analogues with flexible allylated biphenolic structure showed a better anti-virus activity than simple allylated ones [4, 5]. In addition, the derivatives of honokiol with the biaryl structure bearing a hydroxyl and a allyl groups at the 4'-hydroxyl shown to be essential for neurite outgrowth-promoting activity [15].
The multiplex functional regulation by magnolol is a cell type specific effect. In this article, we will focus on tissues/cells involved in cardiovascular diseases, i.e. cardiomyocytes, endothelial cells, neutrophils, macrophages, platelets and smooth muscle cells in coronary artery and aorta. Literatures of magnolol research on cardiovascular protection, including our efforts, in the past 20 years will be reviewed and summarized in this article.
Conclusion
Multifunction of magnolol on cardiovascular system suggests the great potential of such a traditional Chinese medicine in treating or preventing cardiovascular diseases. From the clinical point of view, all the cardiovascular protection in vivo by magnolol can be observed under or below the dosage of 0.1 mg/kg via intravenous injection according to those above research achievements. To reach the therapeutic level through oral administration with 5% of oral bioavailability, 2 mg/kg per day, i.e. daily 120 mg of magnolol for a 60-kg adult, may be sufficient for cardiovascular protection, and such a dosage is applicable. We conclude that magnolol is a non-steroid and non-aspirin compound with strong cardiovascular protection ability, which has a great potential of preventing cardiovascular insults under daily intake in high-risk patients. Further clinical trials for investigation of safety and therapeutic range of magnolol in a healthy and a high-risk group should be warranted.
Authors' information
Dr. Jennifer Hui-Chun Ho is the Director of Center for Stem Cell Research and the Deputy Director of Medical Research and Education at Wan Fang Hospital, Taipei Medical University, and is also an Associate Professor at Graduate Institute of Clinical Medicine, Taipei Medical University. The main research work in her lab is using small molecule or physical stimulus to modify stem cell activity and enhance the efficacy of stem cell transplantation.
Dr. Chuang-Ye Hong was the formal Superintendent of Wan Fang Hospital, Taipei Medical University and also the Professor at Graduate Institute of Clinical Medicine, Taipei Medical University and a consultant cardiologist at Wan Fang Hospital. Prof. Hong is an expert in pharmacological research of medical herbs on cardiovascular diseases. Prof. Hong was the Director of Institute of Traditional Medicine at National Yang-Ming University from 1992 to 1997, when he led a research team working on translational research of traditional Chinese medicine, especially magnolol and honokiol.
Abbreviations
MRSA:

Methicillin Resistant Staphylococcus Aureus
GABA:

γ-aminobutyric acid
LTB4:

Leukotriene B4
LTC4:

Leukotriene C4
IgE:

Immunoglobulin E
S. aureus:

Staphylococcus aureus
DNA:

Deoxyribonucleic acid
ADP:

Adenosinediphosphate
L-NAME:

L-N G-nitro-arginine methyl ester
ERK1/2:

Extracellullar signal-regulated kinase 1/2
Bcl-xl:

B-cell lymphoma-extra large
ROS:

Reactive oxygen species
MCP-1:

Monocyte chemotactic protein-1
LDL:

Low density lipoprotein
ox-LDL:

Oxidized low density lipoprotein
Bcl-2:

B-cell lymphoma 2
TNFα:

Tumor necrosis factor-alpha
NF-κB:

Nuclear factor kappa-light-chain-enhancer of activated B cells
CDK:

Cyclin-dependent kinase
MMP-9:

Matrix metalloproteinase-9
AP-1:

Activation protein-1
K:

Potassium
Ca:

Calcium
COX-2:

Cyclooxygenase-2
PMA:

Phorbol-12-myristate-13-acetate
PKC:

Protein kinase C
f-MLP:

N-formylmethionyl-leucyl-phenylalanine
VACM-1:

Vascular cell adhesion molecule-1
ICAM-1:

Intercellular cell adhesion molecule-1
IL-6:

interleukin-6
LPS:

Lipopolysaccharide
iNOS:

Inducible nitric oxide synthetase
STAT3:

Signal transducer and activator of transcription protein 3
TCA:

Trichloroacetic acid
PMNs:

Polymorphonuclear leukocytes
HPLC:

High-performance liquid chromatographic
LC/MS:

Liquid chromatography tandem mass spectrometry
Cmax:

Maximal plasma concentration.
Declarations
Acknowledgements
The authors acknowledge the financial supports of research grants from the National Science Council (NSC98-2314-B-038-010-MY3 and NSC99-2120-M-010-001-MY2, to JHH).
Authors' Affiliations
(1)
Graduate Institute of Clinical Medicine, Taipei Medical University, Taipei, Taiwan
(2)
Center for Stem Cell Research, Wan Fang Hospital, Taipei Medical University, Taipei, Taiwan
(3)
Institute of Engineering in Medicine, University of California, San Diego, La Jolla, USA
(4)
Department of Medicine, Wan Fang Hospital, Taipei Medical University, Taipei, Taiwan
(5)
Department of Medicine, Wan Fang Hospital, Taipei Medical University, Taipei, Taiwan
Copyright
© Ho and Hong; licensee BioMed Central Ltd. 2012
This article is published under license to BioMed Central Ltd. This is an Open Access article distributed under the terms of the Creative Commons Attribution License (http://creativecommons.org/licenses/by/2.0), which permits unrestricted use, distribution, and reproduction in any medium, provided the original work is properly cited.