The role of PML ubiquitination in human malignancies
Journal of Biomedical Science
2012
19:81
Received: 22 August 2012
Accepted: 27 August 2012
Published: 30 August 2012
Abstract
Tumor suppressors are frequently downregulated in human cancers and understanding of the mechanisms through which tumor cells restrict the expression of tumor suppressors is important for the prognosis and intervention of diseases. The promyelocytic leukemia (PML) protein plays a critical role in multiple tumor suppressive functions, such as growth inhibition, apoptosis, replicative senescence, suppression of oncogenic transformation, and inhibition of migration and angiogenesis. These tumor suppression functions are recapitulated in several mouse models. The expression of PML protein is frequently downregulated in diverse types of human tumors and this downregulation often correlates with tumor progression. Recent evidence has emerged that PML is aberrantly degraded in various types of tumors through ubiquitination-dependent mechanisms. Here, we summarize our current understanding of the PML ubiquitination/degradation pathways in human cancers. We point out that multiple pathways lead to PML ubiquitination and degradation. Furthermore, the PML ubiquitination processes are often dependent on other types of posttranslational modifications, such as phosphorylation, prolylisomerization, and sumoylation. Such feature indicates a highly regulated nature of PML ubiquitination in different cellular conditions and cell contexts, thus providing many avenues of opportunity to intervene PML ubiquitination pathways. We discuss the potential of targeting PML ubiquitination pathways for anti-cancer therapeutic strategies.
Keywords
PMLUbiquitinationTumor suppression
Conclusions
The ubiquitin-proteasome system plays a key role in maintaining cellular homeostasis and aberrant ubiquitin-dependent degradation of tumor suppressor proteins contributes to human tumorigenesis. The PML tumor suppressor protein is frequently downregulated in human cancers through a proteasome-dependent mechanism. Recent studies have revealed multiple pathways that lead to PML ubiquitination and degradation. These pathways involve distinct ubiquitin ligases and are often primed by different PML posttranslational modifications. Thus, it is conceivable that each PML ubiquitination pathway is stimulated under distinct cellular conditions, such as hypoxia, ROS, growth factors, and cell stress (Figure 
1
). Although aberrant regulation of some of these PML ubiquitination pathways has been observed in certain types of cancers, the prevalent PML degradation in cancers suggest the existence of additional ubiquitination pathways and/or regulatory mechanisms. Furthermore, the mechanism of PML deubiquitination, a process opposing ubiquitination, remains unexplored. It is important to further elucidate the regulatory mechanisms of PML ubiquitination in human cancers. As our understanding of this event progresses, more specific inhibitors targeting a particular pathway will be discovered to antagonize a particular subset of human cancers displaying aberrant PML degradation.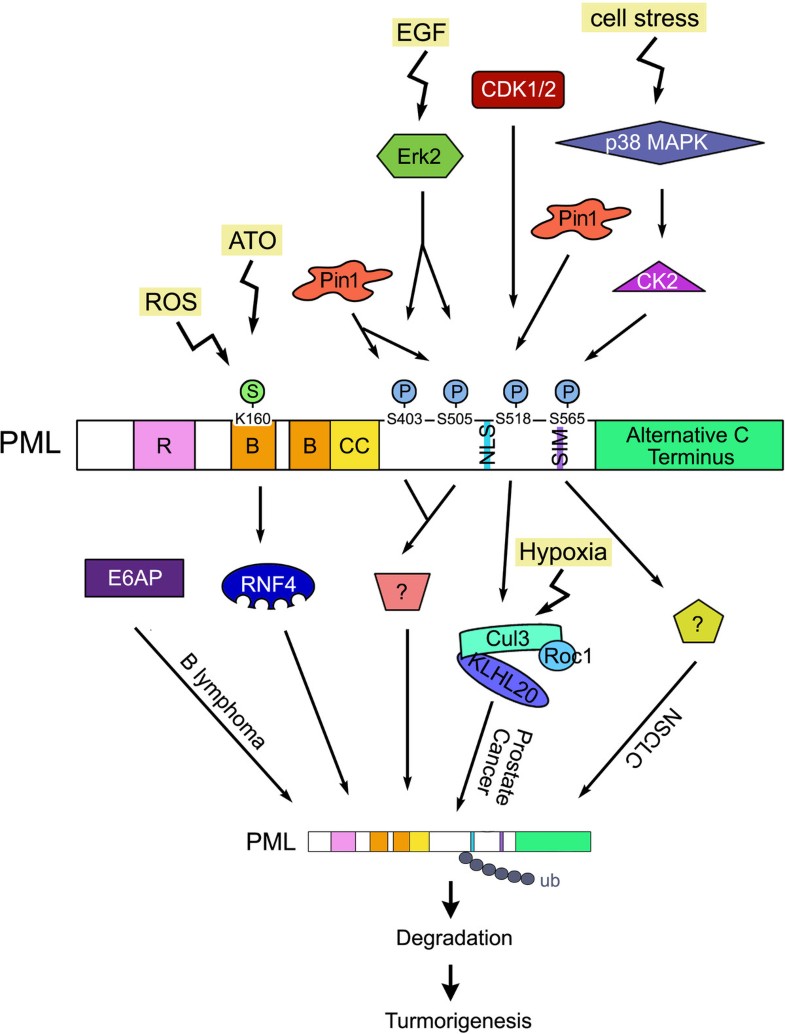 Abbreviations
APL:

acute promyelocytic leukemia
ATO:

arsenic trioxide
CK2:

casein kinase 2
IP3R:

inositol 1,4,5-triphosphate receptor
PML:

promyelocytic leukemia
PML-NBs:

: PML-nuclear bodies
RBCC:

Ring, B-box, and coiled-coil
SAHF:

senescence-associated heterochromatin foci
SIMs:

SUMO-interacting motifs
STUbLs:

SUMO targeted ubiquitin ligases.
Declarations
Acknowledgements
This work was supported by Academia Sinica Investigator Award and National Science Council Frontier Grant (NSC101-2321-B-001-007).
Authors' Affiliations
(1)
Institute of Biological Chemistry, Academia Sinica, Taipei, Taiwan
(2)
Institute of Biochemical Sciences, College of Life Science, National Taiwan University, Taipei, Taiwan
Copyright
© Chen et al.; licensee BioMed Central Ltd. 2012
This article is published under license to BioMed Central Ltd. This is an Open Access article distributed under the terms of the Creative Commons Attribution License (http://creativecommons.org/licenses/by/2.0), which permits unrestricted use, distribution, and reproduction in any medium, provided the original work is properly cited.