Folic acid supplementation in pregnancy and implications in health and disease
Journal of Biomedical Science
2014
21:77
Received: 5 April 2014
Accepted: 11 August 2014
Published: 19 August 2014
Abstract
Maternal exposure to dietary factors during pregnancy can influence embryonic development and may modulate the phenotype of offspring through epigenetic programming. Folate is critical for nucleotide synthesis, and preconceptional intake of dietary folic acid (FA) is credited with reduced incidences of neural tube defects in infants. While fortification of grains with FA resulted in a positive public-health outcome, concern has been raised for the need for further investigation of unintended consequences and potential health hazards arising from excessive FA intakes, especially following reports that FA may exert epigenetic effects. The objective of this article is to discuss the role of FA in human health and to review the benefits, concerns and epigenetic effects of maternal FA on the basis of recent findings that are important to design future studies.
Keywords
Folic acidDNA methylationEpigeneticImprintingPrenatal nutritionNeural tube defectsAutism
Conclusion
The clinical application of FA supplementation/intake to prevent NTDs has been well proven for the last 20–25 years (Additional file
1
: Table S1). However considering the concern with the level of folate concentration following post-fortifications, it is of interest to explore if FA exposure in significant sections of the population is influencing other normal biological processes, such as the brain's development (Figure
2
). Determining the level and distribution of the methylation profile of the brain epigenome may reveal the mechanism and downstream consequences of various neuropsychiatric and imprinted disorders including autism. Moreover as the level of folate status can influence methylation, in the future more studies are needed to explore the systemic differences in the DNA methylation profile in relation to timing and dose between different populations and between genders. Studies and careful monitoring of the consequences of FA intake in global perspectives will help clinicians to determine a proper therapeutic strategy and the best preventive measures to improve the overall public health, moreover to precisely differentiate the evaluation of this vitamin in nutrition, in fortification and in supplementation.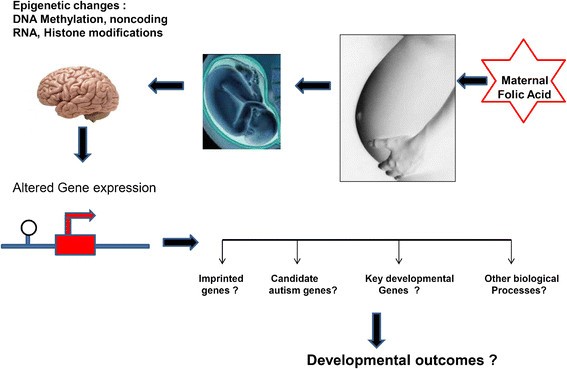 Abbreviations
FA:

Folic acid
NTD:

Neural tube defect
CDC:

Centers for disease control and prevention
RCT:

Randomized control trial
SAM:

S-adenosyl- methionine
SAH:

S-adenosylhomocysteine
DNMTs:

DNA methyltransferase
5-methylTHF:

5-methyl tetrahydrofolate
THF:

Tetrahydrofolate
MTHFR:

Methylenetetrahydrofolate reductase
MTRR:

Methionine synthase reductase
MTR:

Methionine synthase
RFC:

Reduced folate carrier
SNPs:

Single-nucleotide polymorphisms
IGF2:

Insulin-like growth factor 2 gene
BMI:

Body mass index
TRoCA:

Tabriz registry of congenital anomalies
LiST:

Live saved tool
PTB:

Preterm birth
SGA-W:

Small-for-gestational age for weight
SGA-H:

Small-for-gestational age for height
ALL:

Acute lymphoblastic leukemia
AML:

Acute myeloid leukemia
CBT:

Childhood brain tumors
Declarations
Acknowledgements
Financial support from the March of Dimes Research Foundation (12-FY12-170) and the New York State Office for People With Developmental Disabilities is gratefully acknowledged.
Authors' Affiliations
(1)
Department of Developmental Biochemistry, New York State Institute for Basic Research in Developmental Disabilities, Staten Island, USA
Copyright
© Barua et al.; licensee BioMed Central 2014
This article is published under license to BioMed Central Ltd. This is an Open Access article distributed under the terms of the Creative Commons Attribution License (http://creativecommons.org/licenses/by/4.0), which permits unrestricted use, distribution, and reproduction in any medium, provided the original work is properly credited. The Creative Commons Public Domain Dedication waiver (http://creativecommons.org/publicdomain/zero/1.0/) applies to the data made available in this article, unless otherwise stated.