Expression profile and down-regulation of argininosuccinate synthetase in hepatocellular carcinoma in a transgenic mouse model
Journal of Biomedical Science
2015
22:10
Received: 27 October 2014
Accepted: 12 January 2015
Published: 23 January 2015
Abstract
Background
Argininosuccinate synthetase (ASS) participates in urea and nitric oxide production and is a rate-limiting enzyme in arginine biosynthesis. Regulation of ASS expression appears complex and dynamic. In addition to transcriptional regulation, a novel post-transcriptional regulation affecting nuclear precursor RNA stability has been reported. Moreover, many cancers, including hepatocellular carcinoma (HCC), have been found not to express ASS mRNA; therefore, they are auxotrophic for arginine. To study when and where ASS is expressed and whether post-transcriptional regulation is undermined in particular temporal and spatial expression and in pathological events such as HCC, we set up a transgenic mouse system with modified BAC (bacterial artificial chromosome) carrying the human ASS gene tagged with an EGFP reporter.
Results
We established and characterized the transgenic mouse models based on the use of two BAC-based EGFP reporter cassettes: a transcription reporter and a transcription/post-transcription coupled reporter. Using such a transgenic mouse system, EGFP fluorescence pattern in E14.5 embryo was examined. Profiles of fluorescence and that of Ass RNA in in situ hybridization were found to be in good agreement in general, yet our system has the advantages of sensitivity and direct fluorescence visualization. By comparing expression patterns between mice carrying the transcription reporter and those carrying the transcription/post-transcription couple reporter, a post-transcriptional up-regulation of ASS was found around the ventricular zone/subventricular zone of E14.5 embryonic brain. In the EGFP fluorescence pattern and mRNA level in adult tissues, tissue-specific regulation was found to be mainly controlled at transcriptional initiation. Furthermore, strong EGFP expression was found in brain regions of olfactory bulb, septum, habenular nucleus and choroid plexus of the young transgenic mice. On the other hand, in crossing to hepatitis B virus X protein (HBx)-transgenic mice, the Tg (ASS-EGFP, HBx) double transgenic mice developed HCC in which ASS expression was down-regulated, as in clinical samples.
Conclusions
The BAC transgenic mouse model described is a valuable tool for studying ASS gene expression. Moreover, this mouse model is a close reproduction of clinical behavior of ASS in HCC and is useful in testing arginine-depleting agents and for studies of the role of ASS in tumorigenesis.
Keywords
Argininosuccinate synthetase
Transgenic mouse model
Hepatocellular carcinoma
Embryo expression map
Brain expression map
Ventricular zone
Subventricular zone
Post-transcriptional regulation
Bacterial artificial chromosome
GFP reporter gene
Background
Argininosuccinate synthetase (ASS; EC 6.3.4.5) catalyzes the conversion of citrulline and aspartate to argininosuccinate, which is subsequently converted to arginine by argininosuccinate lyase. Arginine plays an important role in the synthesis of urea, nitric oxide (NO) and polyamines, among other metabolites [1]. In the process, ASS fine-tunes NO production to maintain cellular homeostasis in response to cellular and environmental stimuli. ASS is ubiquitously expressed but the highest enzyme activities are found in the urea cycle in the liver to eliminate ammonia [2,3].
Regulation of ASS expression is complex and dynamic. Hormones, including glucocorticoid, glucagon and insulin, are major regulators of the expression of urea cycle enzymes, including ASS, in the liver [2]. We have reported an upstream cAMP response element (CRE) targeted by the CRE-binding protein (CREB) to mediate glucagon action [4]. On the other hand, ASS expression in non-hepatic cells has been shown to be induced by interleukin-1β through NF-κB activation via a putative NF-κB binding site in the ASS promoter [5]. ASS gene expression also involves interactions between positive transcriptional factors c-Myc and Sp4 and negative factor HIF-1α in the proximal promoter [6]. Furthermore, we have described a novel post-transcriptional event in a canavanine-resistant variant of a human epithelial cell line that regulates the stability of ASS nuclear precursor RNA, resulting in elevated ASS activities [7,8]. In addition, our recent study showed that the formation of the 3′-end of the human ASS mRNA is modulated by a highly polymorphic GT microsatellite located downstream of the poly (A) signal [9]. The identified post-transcriptional regulation events may have physiological relevance and is an added mechanism for tight regulation of ASS expression. Of clinical significance is the finding that ASS transcription is stimulated by glutamine and repressed by arginine in mammalian tissue cultures [10–12].
A number of tumor types, including hepatocellular carcinoma (HCC), melanoma, prostate, pancreatic and renal cancers, clearly show down-regulated ASS expression and are auxotrophic to arginine [13–15]. In HCC, down-regulated ASS expression has been linked to clinicopathological features and post-resectional patient survival [16,17]. Loss of ASS expression has been exploited as a predictive biomarker for cancers including malignant pleural mesothelioma and epithelial ovarian tumor, to name a few [18,19]. Clinical applications of an arginine-depleting enzyme, such as arginine deaminase (ADI), to treat ASS-deficient tumors have been tested, opening up new venues for further development of auxotrophic cancer therapy [15].
To investigate transcriptional and post-transcriptional regulation of the
ASS
gene, we established a transgenic mouse system using a modified bacterial artificial chromosome (BAC) carrying the human
ASS
gene tagged with the enhanced green fluorescent protein (
EGFP
) reporter gene [
20
]. Two transgenic mouse lines were generated. One line was
Tg (ASS-Ex3-EGFP)
which carries the transcription reporter BAC (ASS-Ex3-EGFP) (Figure
1
A), where
EGFP
was knocked-in at the initiation codon of the human
ASS
gene and
EGFP
transcription is terminated by a SV40 poly (A) signal. EGFP activities of
Tg (ASS-Ex3-EGFP)
mainly reflect promoter activities of the
ASS
gene. Another line
Tg (ASS-Ex16-EGFP)
carries the transcription/post-transcription couple reporter BAC (ASS-Ex16-EGFP) (Figure
1
A), where
EGFP
with an internal ribosome entry site (IRES) is inserted into the terminal exon at site between the stop codon and the polyA signal of the
ASS
gene; in such a configuration, translation of
EGFP
in the bicistronic transcript is regulated by the IRES mechanism. EGFP activities thus expressed are subjected to both transcriptional and post-transcriptional regulation as that of the endogenous
ASS
mRNA. Using these transgenic mouse lines, we have taken liver, the organ for urea production, intestine and kidney that are responsible for arginine biosynthesis as a model for temporal and spatial expression analyses [
20
]. We found the expression of the
EGFP
reporter gene in the transgenic mice faithfully reproduced that of the endogenous gene, suggesting that sufficient
ASS
regulatory elements are included in the transgene. Moreover, comparison between the
EGFP
expression profiles of the two transgenic lines indicated the developmental and tissue-specific regulation is mainly controlled at the transcriptional level [
20
].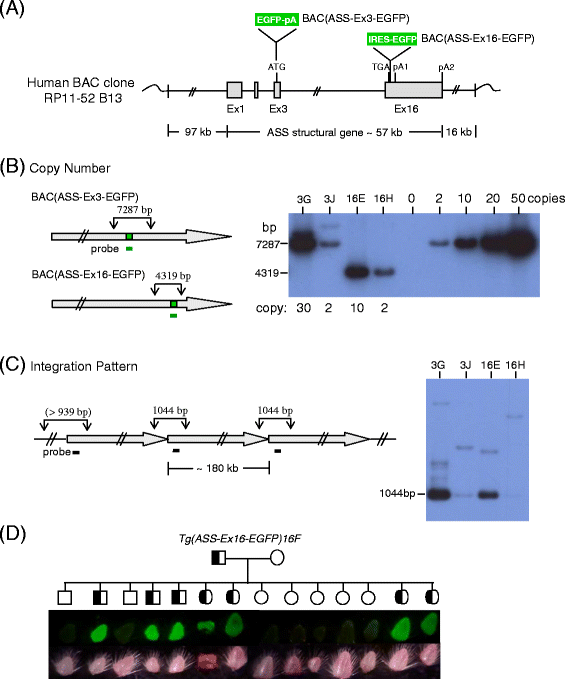 To demonstrate the merit of this transgenic mouse system in studying ASS gene expression, we further characterized the copy numbers and integration patterns of transgenes. We then examined the EGFP expression pattern in the embryo and in adult tissues, including the brain. Furthermore, to mimic clinical features of affected ASS gene expression in tumor tissues, the BAC (ASS-EGFP) transgenic mice were crossed to transgenic mice carrying the HBx gene of hepatitis B virus to induce HCC.
Methods
Animals
The mice were maintained in specific pathogen-free area of the animal holding facilities and were treated according to protocols approved by the Animal Care and Use Committee of the Taipei Veterans General Hospital. The transgenic mouse lines Tg (ASS-Ex3-EGFP) Tsu and Tg (ASS-Ex16-EGFP) Tsu have been deposited in the Rodent Model Resource Center, National Laboratory Animal Center, Taiwan, and are available for researchers upon requests.
Construction of BAC (ASS-EGFP) reporters and generation of Tg (ASS-EGFP) transgenic mice
The human BAC clone, RP11-52B13, carrying ~170 kb of the human genome including the entire human ASS structural gene of ~57 kb and its 5′ and 3′ flanking sequences of 97 kb and 16 kb, respectively, was obtained from Genome Center, National Yang-Ming University, Taiwan. To construct the BAC transgene reporters, an in vivo recombination technique developed by Gust et al. [21] was used.
Purified BAC DNA was linearized by PI-SceI and was used in pronucleus microinjection of FVB/N fertilized eggs (Level Biotechnology Inc., Taiwan). Transgenic mice were identified by PCR detection of the EGFP sequence in tail DNA. The PCR forward primer, 5′-CGACCACTACCAGCAGAACAC-3′, was used for both lines while the reverse primers, 5′-GAGCAGACAGGCTGACAACC-3′ and 5′-AGGATGCTGGCTAGGATCG-3′, were for Tg (ASS-Ex3-EGFP) and Tg (ASS-Ex16-EGFP), respectively. All founders were bred independently with wild-type FVB/N mice to obtain progenies.
Generation of Tg (ASS-Ex3-EGFP, HBx) and Tg (ASS-Ex16-EGFP, HBx) double transgenic mice
A male transgenic mouse of the C57BL/6 strain carrying the hepatitis B virus X protein (HBx) transgene, i.e., Tg (HBxA0106) [22], was mated with female transgenic mice of the FVB/N strain of Tg (ASS-Ex3-EGFP) or Tg (ASS-Ex16-EGFP) to obtain double transgenic lines of Tg (ASS-Ex3-EGFP, HBx) and Tg (ASS-Ex16-EGFP, HBx). Progenies carrying the HBx transgene were identified by PCR analysis of the presence of transgene sequence in tail DNA using primers 5′-CCTCCTTGGGCAACCTGTTCAG-3′ and 5′-ATGTGGCACTGAGGGACATGGC-3′. EGFP progenies were identified by PCR or by visualization of tail fluorescence of two week-old littermates under a fluorescence dissecting microscope.
Southern blot analysis
DNA from mouse tails was purified using standard method. Tail DNA was digested with EcoRI or PstI and subjected to Southern blot analysis using random primed-labeled EGFP probe or other probes as indicated in the text, and analyzed by autoradiography.
Northern blot analysis
To isolate total RNA, tissues were grinded to powder in liquid nitrogen. The frozen powder was transferred to TRIzol reagent (Invitrogen, Carlsbad, CA) in a MagNA Lyser tube (Roche Applied Science, Indianapolis, IN) and was homogenized. Supernatant was obtained for RNA isolation following manufacturer's instructions. For northern blot analysis, RNA was denatured in glyoxal before electrophoresis on a 1.2% agarose gel. RNA was transferred to Hybond N+ nylon membrane (GE Healthcare Life Sciences, UK), hybridized to an EGFP or an ASS cDNA probe and analyzed by a phosphorimager (Molecular Dynamics, Sunnyvale, CA).
Gross anatomy and histochemical analysis
Mouse gross anatomy was performed following standard protocols. In brief, mouse was sacrificed by suffocation in a dry ice chamber. Images of internal organs after peritoneal wall incision or after gastrointestinal tract removal were acquired with a Canon PowerShot G11 digital camera built with blue filter (Sky-blue V/475 nm, Biotransman Ltd., Taiwan). For frozen sections, tissues collected were immersion in 4% buffered paraformaldehyde. After cryoprotected in graded sucrose solution, tissues were embedded in OCT compound (Tissue Tec, Sakara, Torrance, CA). Serial sections were collected from Leica cryostat (Leica Biosystems, Wetzlar, Germany) and mounted onto slides to examine EGFP expression by a fluorescence microscope (Olympus DP72, Japan), a confocal microscope (Nikon AIR Confocal System, Japan) or a digital slide scanner (Pannoramic Scan, 3DHISTECH Ltd., Hungary). Slides were counterstained with DAPI (4′,6-diamidino-2-phenylindole) (Roche Applied Science, Indianapolis, IN). For histochemical studies, tissues fixed in buffered paraformaldehyde and embedded in paraffin were deparaffinized, hydrated in graded ethanol and stained with hematoxylin and eosin (HE stain). For immunohistochemical studies, the tissue slides were first deparaffinized and antigen retrieved. After blocking, the slides were incubated overnight at 4°C with an anti-GFP rabbit polyclonal antibody (Chemicon) or with a mouse anti-ASS monoclonal antibody (BD Biosciences) both at 1:100 dilution. Subsequently, the slides were incubated with a biotinylated secondary antibody and streptavidin conjugated-HRP (horseradish peroxidase). The HRP was visualized by the application of substrate chromogen DAB (diaminobenzidine) (Dako, Glostrup, Denmark) to generate brown coloration where the slides were counterstained with hematoxylin [20].
Conclusions
We report in this work the development of two ASS-EGFP transgenic mouse lines based on the use of modified BAC cassettes: the transcription reporter mice Tg (ASS-Ex3-EGFP) and the transcription/post-transcription couple reporter mice Tg (ASS-Ex16-EGFP). These two transgenic lines permit temporal and spatial expression profiling of ASS gene expression, thus, contributing insights to regulated ASS expression. Particularly, by comparing the expression profiles between these two lines, signals and the regulatory elements involved in novel regulation of ASS precursor RNA stability may be deduced. Moreover, the ASS expression profile in the brain should provide appropriate paths to pursuit functional roles of ASS in the nervous system. In this respect, the Tg (ASS-Ex16-EGFP) mouse line is highly suitable for examination of the influence of human ASS expression on mouse behavior upon inflammation or aging. Likewise, effects of ASS overexpression on the development of HCC in double transgenic mice of Tg (ASS-Ex16-EGFP, HBx) at resting state and upon exogenous insults, such as virus infection or inflammation, can further be analyzed using this transgenic mouse system.
Declarations
Acknowledgements
This work was supported by a National Science Council grant (NSC-99-2320-B-075-001), Taiwan and by grants V98C1-188 and V100C-107 from the Taipei Veterans General Hospital, Taiwan, to T.-S. Su. We thank Dr. Chun-Ming Chen, Dr. Li-Ru You, Dr. Hsian-guey Hsieh, Mr. Hsin-Yin Mou, Ms. Sang-Jou Lin and Mr. Sheng-Chieh Lin for technical advices and supports, and Genome Center, National Yang-Ming University, Taiwan, for the human BAC clone RP11-52B13. The plasmid carrying the spectinomycin /streptomycin resistance marker and the E. coli host used for in vivo recombination studies were obtained from Professor Keith. F. Chater, John Innes Centre, UK, through Professor Carton W. Chen, National Yang-Ming University, Taiwan.
Authors' Affiliations
(1)
Institute of Microbiology & Immunology, National Yang-Ming University, Taipei, Taiwan
(2)
Department of Medical Research, Taipei Veterans General Hospital, Taipei, Taiwan
(3)
Department of Life Sciences and Institute of Genome Sciences, National Yang-Ming University, Taipei, Taiwan
(4)
Institute of Neuroscience, National Yang-Ming University, Taipei, Taiwan
(5)
Department of Preclinical Sciences, Faculty of Medicine and Health Sciences, Universiti Tunku Abdul Rahman, Selangor, Malaysia
(6)
Centre for Stem Cell Research, Universiti Tunku Abdul Rahman, Selangor, Malaysia
(7)
Department of Animal Science, Chinese Culture University, Taipei, Taiwan
(8)
Graduate Institute of Biotechnology, Chinese Culture University, Taipei, Taiwan
Copyright
© Shiue et al.; licensee BioMed Central. 2015
This is an Open Access article distributed under the terms of the Creative Commons Attribution License (http://creativecommons.org/licenses/by/4.0), which permits unrestricted use, distribution, and reproduction in any medium, provided the original work is properly credited. The Creative Commons Public Domain Dedication waiver (http://creativecommons.org/publicdomain/zero/1.0/) applies to the data made available in this article, unless otherwise stated.