Heme oxygenase-1: emerging target of cancer therapy
Journal of Biomedical Science
2015
22:22
Received: 13 January 2015
Accepted: 9 March 2015
Published: 21 March 2015
Abstract
Heme oxygenase-1 (HO-1) is a rate-limiting enzyme catalyzing oxidative degradation of cellular heme to liberate free iron, carbon monoxide (CO) and biliverdin in mammalian cells. In addition to its primary role in heme catabolism, HO-1 exhibits anti-oxidative and anti-inflammatory functions via the actions of biliverdin and CO, respectively. HO-1 is highly induced in various disease states, including cancer. Several lines of evidence have supported the implication of HO-1 in carcinogenesis and tumor progression. HO-1 deficiency in normal cells enhances DNA damage and carcinogenesis. Nevertheless, HO-1 overexpression in cancer cells promotes proliferation and survival. Moreover, HO-1 induces angiogenesis through modulating expression of angiogenic factors. Although HO-1 is an endoplasmic reticulum resident protein, HO-1 nuclear localization is evident in tumor cells of cancer tissues. It has been shown that HO-1 is susceptible to proteolytic cleavage and translocates to nucleus to facilitate tumor growth and invasion independent of its enzymatic activity. HO-1 also impacts cancer progression through modulating tumor microenvironment. This review summarizes the current understanding of the protumorigenic role of HO-1 and its potential as a molecular target for cancer therapy.
Keywords
Heme oxygenase-1Oxidative stressInflammationTumorigenesis
Review
Heme oxygenase-1 (HO-1) was initially identified as a liver microsomal protein with activity to degrade heme to bilirubin four decades ago [1]. The first HO-1 cDNA was cloned from rat spleen in 1985 [2], and the amino acid sequence revealed a hydrophobic segment located at the carboxyl terminus, which is required for its anchoring to endoplasmic reticulum (ER) with type II transmembrane topology. HO-1 is highly expressed in the organs responsible for degrading senescent red blood cells, including spleen, reticuloendothelial cells of the liver and bone marrow, and HO-1 in macrophages is involved in the recycling of hemoglobin-heme [1]. Although the basal HO-1 expression level in tissues not directly responsible for hemoglobin metabolism is low, HO-1 is highly induced in cells upon exposure to many agents promoting cellular stresses, including heavy metals, endotoxin, cytokines, heme, hypoxia, nitric oxide, and UV irradiation [2-6]. These findings indicate that HO-1 is not only involved in normal physiology but also has a role in pathophysiological states.
The research on HO-1 was rapidly extended in late 1990's. It has been shown that HO-1 knockout mice develop anemia associated with hepatic and renal iron overload, which leads to oxidative tissue injury and chronic inflammation [7]. Moreover, these mice are more susceptible to ischemic and reperfusion injury [8,9]. A human case of HO-1 deficiency was also reported [10]. This patient suffered from growth retardation with persistent hemolytic anemia and abnormal coagulation/fibrinolysis system associated with persistent vascular injury. These observations provide strong evidence to support the implication of HO-1 in systemic iron homeostasis and stress response. Along with the genetic studies, increasing evidence has accumulated to show that CO and biliverdin, the byproducts derived from heme degradation by HO-1, possess potent anti-inflammatory and antioxidant activities, respectively [11,12]. These findings provoke substantial interest in the cytoprotective functions of HO-1 and its therapeutic potential in treating various disease states associated with inflammation and oxidative stress, such as cardiovascular and pulmonary diseases [13]. Considering that both oxidative stress and inflammation are implicated in tumorigenesis, the role of HO-1 in cancer has also received considerable attention in recent years.
Conclusion
As illustrated in Figure
1
, HO-1 can influence cancer development through multiple pathways. HO-1 confers protection in early carcinogenesis, but it promotes cancer cell survival, growth and metastasis in the later process. The paradoxical roles of HO-1 in different phases of tumorigenesis may provide partial explanation for the discrepant findings in the genetic association studies. Beyond its effect on tumor cells, HO-1 can impact cancer progression through modulating tumor microenvironment. Myeloid HO-1 expression promotes the recruitment of immune/inflammatory cells and their immunosuppressive and proangiogenic capacities facilitate cancer cell growth and metastasis. Although considerable protumorigenic effects of HO-1 are mediated by its reaction byproducts, the discovery that HO-1 translocates to nuclear to enhance tumor cell proliferation and invasion via a mechanism independent of its enzymatic activity increases the complexity of HO-1-targeted therapy. Nevertheless, accumulative evidence has demonstrated that HO-1 inhibition using specific gene knockdown approach or metalloprotoporphyrin competitive inhibitor, such as zinc protoporphyrin IX, to block heme binding significantly enhances the sensitivity of cancer cells to chemotherapy or irradiation and suppresses cancer metastasis in experimental animals [55,60,61,63,70.71]. Recently, several imidazole-based non-porphyrin HO-1 inhibitors were developed [
89
]. These compounds exhibit higher selectivity toward HO-1 without affecting other heme-containing proteins. Moreover, their potent anti-tumor activities have been shown in vitro and in vivo, supporting their therapeutic applications [
69
,
89
,
90
]. Collectively, these findings support the possibility of targeting HO-1 to improve cancer immunotherapy and prevent metastasis, which is the major cause of cancer-associated death.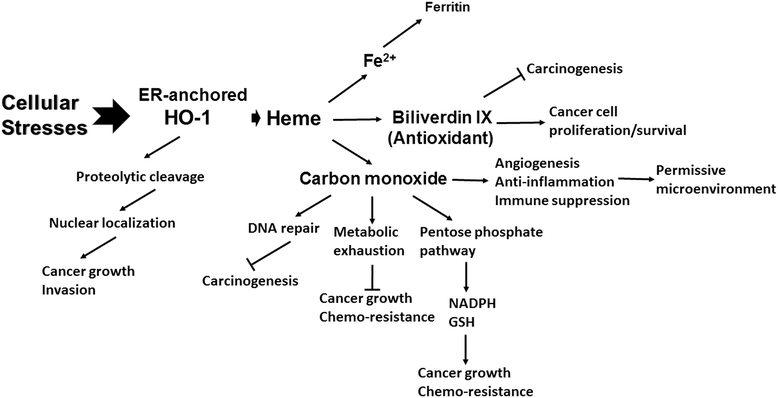 Abbreviations
CO:

Carbon monoxide
ER:

Endoplasmic reticulum
HO-1:

Heme oxygenase-1
IL-10:

Interleukin-10
ROS:

Reactive oxygen species
VEGF:

Vascular endothelial growth factor
Declarations
Acknowledgements
This work was partially supported by fundings from Ministry of Science and Technology and Institute of Biomedical Sciences, Academia Sinica, Taiwan ROC.
Authors' Affiliations
(1)
Institute of Biomedical Sciences, Academia Sinica, Taipei, Taiwan
Copyright
© Chau; licensee BioMed Central. 2015
This is an Open Access article distributed under the terms of the Creative Commons Attribution License (http://creativecommons.org/licenses/by/4.0), which permits unrestricted use, distribution, and reproduction in any medium, provided the original work is properly credited. The Creative Commons Public Domain Dedication waiver (http://creativecommons.org/publicdomain/zero/1.0/) applies to the data made available in this article, unless otherwise stated.