Zinc finger proteins in cancer progression
Journal of Biomedical Science
2016
23:53
Received: 12 May 2016
Accepted: 1 July 2016
Published: 13 July 2016
Abstract
Zinc finger proteins are the largest transcription factor family in human genome. The diverse combinations and functions of zinc finger motifs make zinc finger proteins versatile in biological processes, including development, differentiation, metabolism and autophagy. Over the last few decades, increasing evidence reveals the potential roles of zinc finger proteins in cancer progression. However, the underlying mechanisms of zinc finger proteins in cancer progression vary in different cancer types and even in the same cancer type under different types of stress. Here, we discuss general mechanisms of zinc finger proteins in transcription regulation and summarize recent studies on zinc finger proteins in cancer progression. In this review, we also emphasize the importance of further investigations in elucidating the underlying mechanisms of zinc finger proteins in cancer progression.
Keywords
Zinc finger proteinTranscription factorCancer progression
Background
Transcription factors play a central role in regulating gene expression, and therefore coordinate a plethora of biological processes, including differentiation, development, metabolism, apoptosis, autophagy and stemness maintenance [1–5]. Based on different DNA binding motifs, transcription factors can be majorly categorized into classical zinc fingers [6], homeodomains [7], and basic helix-loop-helix [8]. Among these, classical zinc finger containing proteins (ZNFs) form the largest family of sequence-specific DNA binding protein, which are encoded by 2 % of human genes [9, 10]. To date, 8 different classes of zinc finger motifs have been reported, including Cys2His2 (C2H2) like, Gag knuckle, Treble clef, Zinc ribbon, Zn2/Cys6, TAZ2 domain like, Zinc binding loops and Metallothionein [11]. Different types of zinc finger motifs show great diversity of biological functions. Notably, in addition to DNA binding, studies have recently revealed the RNA, protein and lipids interacting abilities of zinc finger motifs [12–15]. Therefore, with different combinations of multiple zinc finger motifs, ZNFs can greatly expand their diverse role in gene regulations under different cell contexts or stimuli. The general mechanism of gene regulation by ZNFs and their great variety of roles in cancer progression will be discussed in this review.
Conclusion
Recent studies show that C2H2 ZNF proteins play important roles in cancer progression through regulating transcription of downstream genes, which are involved in proliferation, apoptosis, migration and invasion. Although more and more studies have been focused on the underlying mechanism of C2H2 ZNF transcription regulation, results remain conflicting. It is now understood that different layers of regulations lead C2H2 ZNF proteins to different roles in tumorigenesis. In this review, we summarize various levels of ZNF proteins regulation in tumorigenesis (Fig
1
). First, differential expression levels of ZNF proteins in different cancer types are regulated by cancer-related miRNA, including miR-199a-3p, miR-525-3p, miR-940 and miR-31. Second, different environmental stimuli activate signaling cascades and therefore fine-tune ZNF protein functions through various PTMs, including phosphorylation and acetylation. PTMs regulation affects DNA binding abilities and interacting proteins recruitments of ZNF proteins. Third, ZNF proteins at different protein domains or with various PTMs recruit different interacting proteins, including transcription co-activators/co-repressors, chromatin modifiers and other transcription factors. Therefore, ZNF proteins can activate or suppress downstream genes by recruiting different interacting partners. Fourth, ZNF proteins show diverse sequence-specific DNA binding abilities with different combinations of zinc finger motifs. Knowing the complexities and diversities of ZNF proteins, it is important to elucidate the underlying mechanisms of C2H2 ZNF proteins in different cancers under different environmental stimuli. Therefore, drugs targeting specific C2H2 ZNF protein expression or activity can be developed for therapeutic strategy against tumors in a specific stage of cancer progression.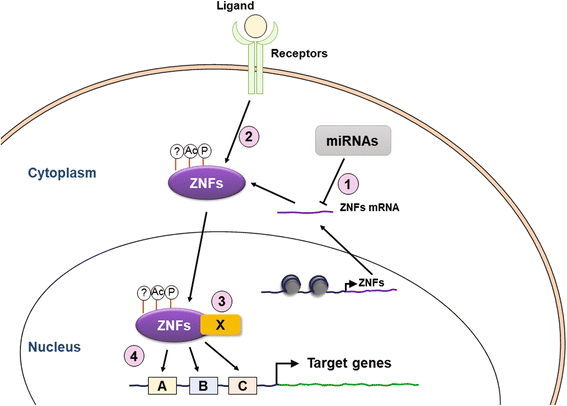 Abbreviations
BTB, Broad-Complex, Tramtrack, and Bric-a-brac; C2H2, Cys2His2; EGFR-TKI, epidermal growth factor receptor-tyrosine kinase inhibitors; EMT, Epithelial-Mesenchymal Transition; ERC-1, erythroid complex; KRAB, Krüppel-associated box; mES, mouse embryonic stem; PCAF, p300/CBP associated factor; POZ, poxvirus and zinc finger; PTMs, post-translational modifications; SCAN, SRE-ZBP, CTfin51, AW-1 and Number 18 cDNA; TGF-β, transforming growth factor-β; ZFX, zinc finger protein, X-linked; ZHX1, Zinc-fingers and homeoboxes-1; ZNF, Zinc finger
Declarations
Acknowledgments
This work was supported by Taiwan Ministry of Science grant 104-2627-B-006-001, the Aim for the Top University Project grant D105-35A07, and Taiwan Ministry of Health and Welfare grant 105-TDU-B-211-124-003.
Funding
This work was supported by Taiwan Ministry of Science grant 104-2627-B-006-001, the Aim for the Top University Project grant D105-35A07, and Taiwan Ministry of Health and Welfare grant 105-TDU-B-211-124-003 to YCW.
Availability of data and materials
Data and materials related to this work are available upon request.
Authors' contribution
JJ and YCW wrote the review. Both authors read and approved the final manuscript.
Competing interests
The authors declare that they have no competing interests.
Consent for publication
All authors approve the manuscript for publication.
Ethics approval and consent to participate
Not applicable.
Open AccessThis article is distributed under the terms of the Creative Commons Attribution 4.0 International License (http://creativecommons.org/licenses/by/4.0/), which permits unrestricted use, distribution, and reproduction in any medium, provided you give appropriate credit to the original author(s) and the source, provide a link to the Creative Commons license, and indicate if changes were made. The Creative Commons Public Domain Dedication waiver (http://creativecommons.org/publicdomain/zero/1.0/) applies to the data made available in this article, unless otherwise stated.
Authors' Affiliations
(1)
Department of Pharmacology, College of Medicine, National Cheng Kung University, Tainan, Taiwan, Republic of China
(2)
Department of Basic Medical Sciences, College of Medicine, National Cheng Kung University, Tainan, Taiwan, Republic of China