Mammalian microRNA: an important modulator of host-pathogen interactions in human viral infections
Journal of Biomedical Science
2016
23:74
Received: 21 July 2016
Accepted: 19 October 2016
Published: 26 October 2016
Abstract
MicroRNAs (miRNAs), which are small non-coding RNAs expressed by almost all metazoans, have key roles in the regulation of cell differentiation, organism development and gene expression. Thousands of miRNAs regulating approximately 60 % of the total human genome have been identified. They regulate genetic expression either by direct cleavage or by translational repression of the target mRNAs recognized through partial complementary base pairing. The active and functional unit of miRNA is its complex with Argonaute proteins known as the microRNA-induced silencing complex (miRISC). De-regulated miRNA expression in the human cell may contribute to a diverse group of disorders including cancer, cardiovascular dysfunctions, liver damage, immunological dysfunction, metabolic syndromes and pathogenic infections. Current day studies have revealed that miRNAs are indeed a pivotal component of host-pathogen interactions and host immune responses toward microorganisms. miRNA is emerging as a tool for genetic study, therapeutic development and diagnosis for human pathogenic infections caused by viruses, bacteria, parasites and fungi. Many pathogens can exploit the host miRNA system for their own benefit such as surviving inside the host cell, replication, pathogenesis and bypassing some host immune barriers, while some express pathogen-encoded miRNA inside the host contributing to their replication, survival and/or latency. In this review, we discuss the role and significance of miRNA in relation to some pathogenic viruses.
Keywords
microRNAmiRISCPathogensGene regulation
Background
Recent advancements in genomics and proteomics have shown that out of roughly half of the human genome which is transcribed into RNA transcripts, about 2 % is translated into the corresponding amino acid sequences [1]. The remaining 98 % of RNA transcripts are collectively known as non-coding RNAs (ncRNA) which may be divided into small non-coding RNA (sncRNA) or long non-coding RNA (lncRNA) [1, 2]. MicroRNAs (miRNAs) are endogenous small non-coding RNAs regulating gene expression in almost all metazoans [3]. In spite of coding for any proteins, miRNAs carry different information and execute different functions [4]. They regulate gene expression either by complete cleavage or by translational repression of the target mRNAs [3, 5, 6] It has been speculated that approximately 30–60 % of the human coding genome is regulated by thousands of miRNAs with diverse targets [7, 8].
The exciting avenue of miRNA was unraveled in 1993 by the finding that Lin-4, a heterochronic gene previously recognized for its role in regulating the temporal sequence of events involved in Caenorhabditis elegans (C. elegans) larval development to adult form, regulates the process by synthesizing a pair of small RNAs rather than coding for a protein [9]. Two small Lin-4 RNA transcripts containing complementary sequences to a repeating sequence element within the 3′-untranslated region (3′ UTR) of another mRNA (Lin-14) were identified in C. elegans [10]. The finding led to the prediction of a type of RNA-RNA binding and interaction which down-regulates the translation of the target mRNA [4]. Subsequently, the second miRNA (Let-7) with a similar function in the late development of larva was discovered in the same organism [11]. The names for miRNAs are assigned by using the prefix "miR" preceding a unique identification numeric (e.g., miR-1, miR-2 etc.). To make species specific, few letters from the name of the organism are added before miR (e.g.; hsa for Homo sapiens, mmu for mus musculus, rno from Rattus norvegicus, ath for Arabidopsis plant etc.) [12]. The genes coding for miRNAs are named by capitalization (e.g., MIR-), hyphenation and italicization (e.g., mir-) in accordance with the conventions for the particular organism [12, 13]. Currently, 35,828 total and 2588 human encoded mature miRNAs are registered in miRNA database (http://www.mirbase.org/) [14, 15].
With the expanding body of research on miRNAs in relation to important biological processes, their crucial role as regulators of cell differentiation, proliferation and growth, intracellular dynamics, and apoptosis has been established [3, 9]. De-regulated miRNA expression leads to human pathologies including cancer, cardiovascular disease, liver disorders, immunological dysfunction, and metabolic syndromes [5, 9]. There are a growing number of reviews on miRNAs and their role in the aforementioned disorders and some individual pathogenic infections. With this review we present the current understanding of miRNAs and their role in some viral pathogens.
Biosynthesis and mode of action of miRNA
Genes encoding several identical or similar miRNAs are generally located as a cluster in the genome, where they might be expressed simultaneously [
16
] or individually depending on the tissue types [
17
]. In mammals, RNA polymerase II transcribes the gene into a long transcript known as a primary miRNA (pri-miRNA) consisting of single or multiple hairpin structures (Fig.
1
) [
13
,
18
–
21
]. Pri-miRNA is trimmed into an approximately 70 nucleotide long hairpin structure known as pre-miRNA by Drosha complex [
22
,
23
]. The resulting pre-miRNA with a 5′ phosphate overhang and a 2 nucleotide 3′ overhang is recognized by exportin-5 [
24
] and is transported out of the nucleus [
18
,
25
,
26
]. Once released in the cytoplasm, a specialized multi-domain ribonuclease III enzyme known as Dicer excises the pre-miRNA to remove the loop structure leaving the remaining miRNA duplex with a 2 nucleotide 3′ overhang [
18
,
27
,
28
]. Some functional miRNA such as miRtrons and Simtrons do not undergo the canonical process for their maturations [
29
,
30
]. In miRtron biogenesis, Drosha cleavage is substituted by splicing of intronic hairpin structures, which is followed by maturation through dicing [
31
]. Simtron is synthesized by a pathway that involves only Drosha but does not require DGCR8, Dicer, Ago2 or XPO5 for its further processing [
32
]. After Dicer cleavage and unwinding of the two strands of miR-miR duplex, one strand (anti-sense strand) of the resulting miRNA-miRNA duplex is loaded onto Argonaute proteins and miRNA-induced silencing complex (miRISC) is generated [
3
,
33
].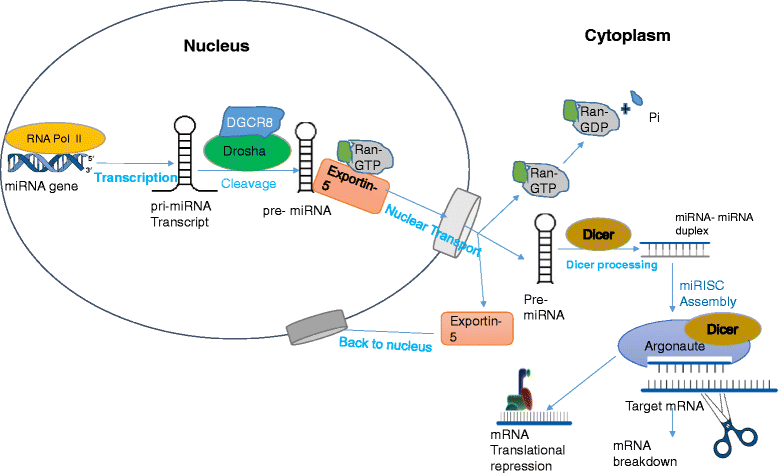 miRNA regulates gene expression typically targeting and binding to the seed map site in 3′-untranslated region (3′-UTR) of protein coding target messenger RNA (mRNA) leading to degradation or translational repression of the gene [18, 34]. However, miRNAs can also target to the sites other than 3′UTR, such as 5′UTR and the coding regions of mRNA and lead to translational repression [35, 36]. In mammal, perfect complimentary affects the stability and triggers tailing and 3′-to-5′ trimming of miRNA [37]. It has been reported that some miRNAs can also mediate up-regulation of genes and that the genetic down-regulation mediated by miRNA can be reversible [38]. The upregulating miRNAs most likely direct the association of regulatory proteins complexes (Argonaute protein and fragile X mental retardation-related protein 1 (FXR1)) with AU-rich elements (AREs) in the 3′UTR of the mRNA, leading to activation of AREs as a translation signal [39]. Moreover, interaction of miRNA at 5′UTR can also trigger activation of translation [35].
Role of miRNA in viral infections
miRNAs play a crucial role in mounting an immune response against microbial infections caused by viruses, bacteria, parasites and fungi [40]. Nevertheless, many microorganisms have been shown to modulate the expression of several host miRNAs either to facilitate their own replication, survival and pathogenesis or for some unknown functions [30, 41–43]. Restriction of viral replication by RNA interference (RNAi) either by miRNA or siRNA in human cells is still a controversial issue [44]. Most of the human viruses when in their acute and replicative stages are thought to be resistant to endogenous RNAi mediated by miRNAs [44]. However, strong evidences to prove the role of miRNAs in restricting or promoting the replication and human pathology of viruses such as Hepatitis B and C as well as other viruses have been found [45, 46] Many of the cellular miRNAs affect viral replication either directly by binding to the viral genome or indirectly by targeting host factors related to replication [8].
Virus-encoded miRNAs (vmiRNA) identified in virus-infected human cells and other mammalian hosts significantly influence viral replication and disease progression by modulating viral as well as host cellular mRNA [41, 47]. The first vmiRNA identified in humans was that encoded by the Epstein-Barr virus and subsequently, other members of herpesvirus, polyomavirus and adenovirus families were found to express vmiRNAs [41]. More than 200 vmiRNAs have been reported so far [47]. Although vmiRNAs encoded by RNA viruses are very rare, recently bovine leukemia virus has been found to encode a cluster of miRNAs transcribed by RNA Polymerase III, which is identical to human miR-29 [48]. Virus encoded miRNAs are also reported in culture cells as well as in cattle infected with bovine foamy virus (BFV), a member of retrovirus family and spumavirus subfamily [49]. Avian leukosis virus subgroup J (ALV-J), a member of avian retrovirus, also encodes a novel miRNA via canonical vmiRNA biosynthesis pathway. The vmiRNA has been designated as E (XSR) miRNA, since it is encoded by an virus specific region named exogenous element or XSR [50]. Similarly, Torque teno viruses (TTVs) a member of Anellovirus family also encodes miRNA, which inhibits the IFN signaling [51]. While studies of HIV-1 and Hepatitis B virus showed no direct evidence for vmiRNAs expression, computational analysis has predicted five pre-miRNAs in HIV-1 and one pre-miRNA in by Hepatitis B virus [52].
Conclusion and perspectives
Cellular miRNAs are important components of the host defense mechanism against viral infections. Many viruses are able to modulate cellular miRNA expression in host cells mostly in order to facilitate their survival, replication and pathogenesis. But, the overexpression of miRNA triggered by pathogens is not always correlated with their survival or pathogenesis and is sometimes cell or tissue specific. The exact mechanism(s) of modulation of host cellular miRNA by viruses and specific virulence factors is still unclear. Unraveling the molecular mechanism(s) of miRNA modulation by viral infections and vice versa will give direction to novel therapeutic approaches. Manipulation of miRNA, either by miRNA analogs or by inhibitors, could be a novel approach for developing therapies and prophylactic vaccines for various life-threatening viral infections. In addition, miRNAs may be exploited as biomarkers for laboratory diagnosis and prognosis. Some of the important cellular miRNA implicated in some viral infections are summarized in Table 1.
Some viruses encode for virus-specific miRNAs which are expressed in the host cell to subvert host defense and allow intracellular persistence. Understanding the specific functions of viral- miRNAs in the host-pathogen relationship will be another important step for targeting these miRNAs. All in all, miRNA may be a tool for diagnostic and therapeutic innovations against viral infections.
Abbreviations
HBV:

Hepatitis B virus
HCV:

Hepatitis C virus
HDF:

HIV dependency factor
HIV:

Human Immunodeficiency Virus
HMOX1:

Hemeoxygenase 1
IFN:

Interferon
lncRNA:

Long non-coding RNA
miR:

microRNA
miRISC:

microRNA-induced silencing complex
mRNA:

Messenger RNA
NAMPT:

Nicotinamide phosphoribosyl transferase
NF-kB:

Nuclear Factor Kappa B
PCAF:

p300-CREB binding protein associated factor
Pri-miRNA:

Primary miRNA
Pur-α:

Purine-rich element binding protein alpha
RBP:

RNA binding protein
RNA:

Ribonucleic acid
SIRT1:

Sirtuin 1
sncRNA:

Small non-coding RNA
SRS:

Suppressor of RNA silencing
TAR:

Transactivation Response RNA
TLBP-1:

TGF-β-binding protein-1
TLR:

Toll-like receptor
UTR:

Untranslated region
Declarations
Acknowledgement
We are immensely grateful to all the faculty members of the Biomedical Science Program at Florida International University for their valuable suggestions and feedback. We are thankful for the Presidential Award provided by the graduate school of Florida International University.
Availability of data and materials
Not applicable.
Authors' contributions
CRO: Manuscript outline, preparation of the draft manuscript, preparation of figures and table. Dr. MR: Critical reading and editing of the draft manuscript. Dr. SMD: Critical reading and editing of the draft manuscript, preparation of conclusion table. Dr. RM: Critical reading and editing of the draft manuscript, writing of the abstract and the conclusion and perspectives section. Dr. NE-H: Critical reading and editing of the draft manuscript, writing of the background section. All authors read and approved the final manuscript.
Competing interests
The authors declare that they have no competing interest.
Consent for publication
Not Applicable.
Ethical approval and consent to participate
Not Applicable.
Open AccessThis article is distributed under the terms of the Creative Commons Attribution 4.0 International License (http://creativecommons.org/licenses/by/4.0/), which permits unrestricted use, distribution, and reproduction in any medium, provided you give appropriate credit to the original author(s) and the source, provide a link to the Creative Commons license, and indicate if changes were made. The Creative Commons Public Domain Dedication waiver (http://creativecommons.org/publicdomain/zero/1.0/) applies to the data made available in this article, unless otherwise stated.
Authors' Affiliations
(1)
Department of Immunology, Herbert Wertheim College of Medicine, Florida International University, Florida, USA
(2)
Department of Cellular Biology and Pharmacology, Herbert Wertheim College of Medicine, Florida International University, Florida, USA