The paradox role of caspase cascade in ionizing radiation therapy
Journal of Biomedical Science
2016
23:88
Received: 18 November 2016
Accepted: 30 November 2016
Published: 7 December 2016
Abstract
Radiotherapy alone or in combination with chemotherapy/surgery is widely used for treatment of cancers. It reduces tumor growth and prevents metastasis. While ionizing radiation activates caspase cascade resulted in apoptosis in cancer cells, it also stimulates tumor cell re-population that leads to reduce the effectiveness of the radiation therapy. This review describes the mechanisms for paradox role of caspase cascade in cancer therapy and discusses the logical and practical strategies for improvement the therapeutic index of radiotherapy through enhancement of radiosensitivity and decreasing the rate of tumor recurrence.
Keyword
CaspaseRadiotherapyCancerTreatmentInduction
Background
Radiotherapy is one of the helpful clinical procedure for treatment of different types of human malignancies especially lung, thyroid, breast, colon, prostate and brain cancers. Nearly 50% of all cancerous patients are receiving ionizing radiation (IR) at some stages of their treatments [1, 2]. Following irradiation, cancer cell death may occur mainly through necrosis, autophagy and apoptosis of which autophagy has more complex role and might promote cell survival [3–5]. IR prolongs patient's survival through decreasing proliferative capacity and killing tumor cells [6–8]. However, re-population of tumor cells during or after radiotherapy is an important obstacle to achieve the desired response [9, 10]. Since death of high percent of tumor cell is a desirable response in radiotherapy regimen, identification of the limiting factors such as cellular proliferation and intrinsic radioresistance are very important in cancer treatment [6, 9, 11, 12]. Escaping from programmed cell death or apoptosis is one of the popular theories that explain cancer cell radioresistance [1, 13]. Caspase cascade as an apoptosis mediator in radiation therapy has been described to activate signal transduction pathways and expression of survival proteins [14]. In this review, the paradox role of caspase cascade in adjuvant therapy of the cancer by IR is discussed.
Conclusion and perspectives
Induction of apoptosis by IR and chemotherapeutic agents is a known strategy for killing human malignant cells. ROS that is produced during radiation therapy damage DNA and as a result trigger apoptotic pathway. Apoptosis induction through intrinsic and extrinsic pathways leads to caspase cascade activation. Also the mechanism of action of many radiosensitizers is based on caspase cascade activation. Caspase 3 act as an execuatior mediator in apoptosis, tumor repopulation through iPLA2 activation and PGE2 production. Repopulation of tumors results in failure of therapy. Release of PGE2 upregulates the level of expression of pro-survival proteins including: p-ERK1/2, p-EGFR, p-AKT, p-STAT3, COX-2 and PGE-2, which lead to apoptosis suppression and tumor proliferation. As a hypothesis, caspase 3 has a paradox role where its activation results in apoptosis and simultaneous acceleration of re-population of surviving tumor cells. Blockage of caspase 3 activity is a strategy to overcome radioresistance. On the other hand dependency between production of apoptosis mediator and increase in PGE2 and iPLA2 activity is a major reason for the treatment failure in radiotherapy. Results of investigations have shown that the use of COX-2 inhibitors may lead to more effective treatment. Furthermore the combination use of EGFR inhibitor and IR with COX-2 inhibitor is more impressive therapeutic regimen than the one without EGFR inhibitor. However, more clinical experiments are required to clarify the advantages of adjuvant use of cyclooxygenase, EGFR or caspase inhibitor in combination with radiotherapy (Fig.
5
).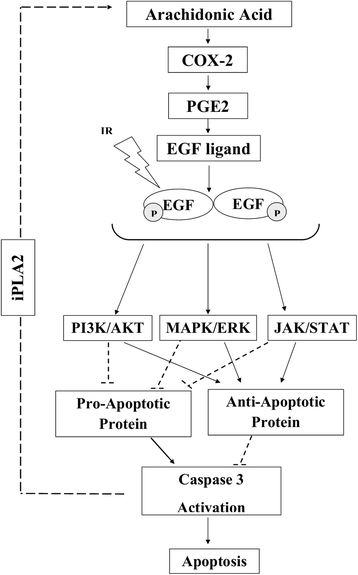 Abbreviation
APAF-1:

Adapter Protein Apoptotic protease-activating Factor-1
AVPI peptide:

Ala-Val-Pro-Ile (AVPI) tetrapeptide
BIR3:

Baculovirus IAP Repeat 3
c-IAP2:

Baculoviral IAP repeat-containing protein3 (also known as cIAP2) is a protein that in humans is encoded by the BIRC3 gene
c-IAPl:

Baculoviral IAP repeat-containing protein 2 (also known as cIAP1) is a protein that in humans is encoded by the BIRC2 gene
dATP:

Deoxyadenosine triphosphate
DIABLO:

Direct Inhibitor of Apoptosis protein-Binding protein with low pI. DIABLO is also referred to as second mitochondria-derived activator of caspases or SMAC.
DN_C3:

dominant-negative mutants of caspase 3
DN_C7:

dominant-negative mutants of caspase 7
DN_PKCδ:

dominant-negative mutants of PKCd
ER:

Endoplasmic reticulum
FADD:

Fas-associating protein with a death domain
IAP:

Inhibitors of apoptosis proteins
iPLA2:

Ca(2+)-independent cytosolic phospholipase A2
lp-PLA2:

lipoprotein-associated PLA2s
mTOR:

MammalianTtarget of Rapamaycin
NAIP:

Baculoviral IAP repeat-containing protein 1 is a protein that in humans is encoded by the NAIP gene
NF-kB:

nuclear factor kappa-light-chain-enhancer of activated B cells
PGE2:

Prostaglandin E2
PKCd:

Protein kinase C delta type is an enzyme that in humans is encoded by the PRKCD gene
ROS:

Reactive oxygen species
ULK complex:

Serine/threonine-protein kinase ULK1 is an enzyme that in humans is encoded by the ULK1 gene
SMAC:

Second mitochondria-derived activator of caspases
TNF:

Tumor necrosis factor
TNFR1:

Tumor necrosis factor receptor-1
TRAIL:

TNF-relatedapoptosis-inducing ligand
XIAP:

X-linked inhibitor of apoptosis protein (XIAP), also known as inhibitor of apoptosis protein 3 (IAP3) and baculoviral IAP repeat-containing protein 4 (BIRC), is a protein that stops apoptotic cell death. In humans, this protein (XIAP) is produced by a gene named XIAP gene located on the X chromosome
Z-DEVD:

Caspase-3 inhibitor
Declarations
Acknowledgment
Not applicable.
Funding
This review was not supported by any company.
Availability of data and materials
For preparation of this review, all data were studied and obtained from other published paper.
Authors' contributions
NR undertook writing, data interpretation and integration and design figures. AK undertook writing and editing. SJH undertook design and supervised it. All authors read and approved the final manuscript.
Competing interests
The authors declare that they have no competing interests.
Consent for publication
Authors have agreed to submit it in its current form for consideration for publication in the Journal.
Ethics approval and consent to participate
Not applicable.
Open AccessThis article is distributed under the terms of the Creative Commons Attribution 4.0 International License (http://creativecommons.org/licenses/by/4.0/), which permits unrestricted use, distribution, and reproduction in any medium, provided you give appropriate credit to the original author(s) and the source, provide a link to the Creative Commons license, and indicate if changes were made. The Creative Commons Public Domain Dedication waiver (http://creativecommons.org/publicdomain/zero/1.0/) applies to the data made available in this article, unless otherwise stated.
Authors' Affiliations
(1)
Department of Radiopharmacy, Faculty of Pharmacy, Tehran University of Medical Sciences, Tehran, Iran
(2)
Department of Radiopharmacy, Faculty of Pharmacy, Mazandaran University of Medical Sciences, Sari, Iran
(3)
Department of Medicinal Chemistry, Faculty of Pharmacy, Tehran University of Medical Sciences, Tehran, Iran