Escape from IFN-γ-dependent immunosurveillance in tumorigenesis
Journal of Biomedical Science
2017
24:10
Received: 30 September 2016
Accepted: 19 January 2017
Published: 1 February 2017
Abstract
Immune interferon (IFN), also known as IFN-γ, promotes not only immunomodulation but also antimicrobial and anticancer activity. After IFN-γ binds to the complex of IFN-γ receptor (IFNGR) 1-IFNGR2 and subsequently activates its downstream signaling pathways, IFN-γ immediately causes transcriptional stimulation of a variety of genes that are principally involved in its biological activities. Regarding IFN-γ-dependent immunosurveillance, IFN-γ can directly suppress tumorigenesis and infection and/or can modulate the immunological status in both cancer cells and infected cells. Regarding the anticancer effects of IFN-γ, cancer cells develop strategies to escape from IFN-γ-dependent cancer immunosurveillance. Immune evasion, including the recruitment of immunosuppressive cells, secretion of immunosuppressive factors, and suppression of cytotoxic T lymphocyte responses, is speculated to be elicited by the oncogenic microenvironment. All of these events effectively downregulate IFN-γ-expressing cells and IFN-γ production. In addition to these extrinsic pathways, cancer cells may develop cellular tolerance that manifests as hyporesponsiveness to IFN-γ stimulation. This review discusses the potential escape mechanisms from IFN-γ-dependent immunosurveillance in tumorigenesis.
Keywords
CancerImmunosurveillanceIFN-γHyporesponsivenessEscape
Background
Tumorigenesis is a complicated pathogenesis characterized by the hallmarks of cancer development such as [1] causing instability and mutation in genome, [2] resisting cell death response, [3] deregulating the requirement of cellular energetics, [4] sustaining proliferative signaling pathways, [5] evading growth suppressor response, [6] avoiding immune recognition and destruction, [7] enabling replicative immortality ability, [8] facilitating tumor-promoting microenvironment, [9] activating invasion and metastasis processes, and [10] inducing angiogenic status. Regarding malignancies that are derived from immortalized and transformed cells whose genomes have become altered or mutated, a variety of oncogenic alterations (including activation of the PI3K/AKT and Ras/Raf/MEK/ERK pathways as well as growth factor receptors) and either the inactivation or decreased expression of tumor suppressors such as p53, adenomatous polyposis coli mutations, phosphatase and tensin homolog deleted on chromosome 10 (PTEN), and runt-related transcription factor 3 are pathologically contributed to tumor growth and survival [33]. For immune-based anticancer defense, the immunosurveillance processes of elimination act as tumor-killing defenders; however, through immunoediting, cancer cells initially trigger tolerance, senescence, and/or equilibrium with the immune system followed by the induction of immune escape to promote malignant carcinogenesis [21, 22]. The early stages of most cancers are asymptomatic; however, cancer cells are proliferated and then invaded into the lymph nodes and nearby organs leading to mortality. For immune evasion, tumors develop a number of escape strategies from host surveillance [3, 50]. Despite cooperating with tumor-infiltrating immune cells harboring the immunosuppressive activities such as tumor-associated macrophages (TAMs), cluster of differentiation (CD) 4+ CD25+ forkhead box P3 (FOXP3)+ regulatory T cells (Treg), and myeloid-derived suppressor cells (MDSCs) [7], it is unclear whether oncogenic processes are also involved in the immune escape of cancer cells by inducing a cellular immune tolerance in response to immune recognition and activation.
Conclusions
As summarized in Fig.
1
, after MHC/TCR- and NKG2DL-mediated pathways, immune surveillance driven by anticancer immune cells (such as NK, NKT, CTL, and γδT cells) and immune factors (such as IL-2, TNF-α, IFN-γ, granzyme B, perforin, TRAIL, and CD95L) confers anti-tumorigenesis. In addition to perforin/granzyme B- and TRAIL/CD95L-mediated cytotoxicity, IFN-γ/IFN-γ receptor signaling causes the Jak/STAT/IRF1-mediated pathway to induce anticancer enhancement effects by upregulating MHC molecules as well as cytotoxic factors. Therefore, avoiding immune destruction, so called immune escape from anticancer immune cells and immune factors, is important for tumor evasion as one of the hallmarks of cancer. For immune escape, the extrinsic pathways, by recruiting and activating immunosuppressive tumor-associated TAMs, Tregs, and MDSCs via IL-10/TGF-β/PGE
2
/CCLs/CXC chemokine ligands-regulated mechanisms, are important to defeat immune surveillance. Immunosuppressive factors such as IDO, arginase, galectins, PGE
2
, IL-10, and TGF-β are able to inactivate anticancer immune cells. Additionally, the intrinsic pathways for immune escape can be initiated by immune checkpoint co-inhibitory signals such as B7/CTLA4- and PD-L1/PD-1-mediated immune suppression as well as by the induction of apoptosis in CTLs through a CD95L/CD95-mediated pathway.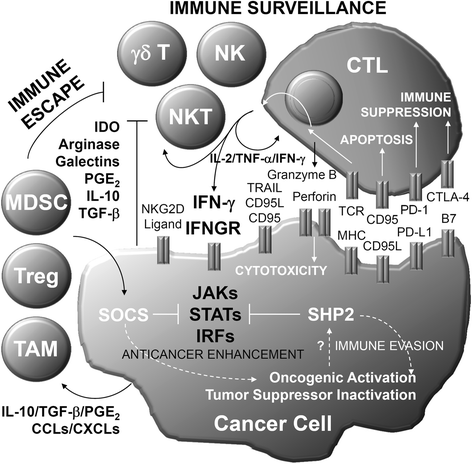 By blocking immune checkpoint signaling and depleting immunosuppressive cells, targeting immune evasion is now a potent strategy against tumorigenesis. IFN-γ-facilitated elimination is a key process of elimination in immunosurveillance; however, there are diverse mechanisms available to cancer cells to escape from IFN-γ-dependent anticancer signaling. Soluble factors in the microenvironment and immunosuppressive cells are speculated to attenuate the IFN-γ response of NK, NKT, CTL, and γδT cells; it is hypothesized that oncogenic signals, such as SOCSs and SHP2, in malignancies also cause cellular hyporesponsiveness, such as immune evasion, in response to IFN-γ anticancer activities, including cancer cell growth inhibition, cytotoxicity, and MHC class I expression. Although exogenous IFN-γ treatment confers limited results in clinical therapy due to its side effects on systemic inflammation, concurrently reversing production of IFN-γ in tumor-suppressing cells and signaling of IFN-γ in cancer cells can be utilized to evaluate the therapeutic efficacy after anticancer treatment, particularly in immune checkpoint-based therapy.
Abbreviations
ATM:

Ataxia telangiectasia mutated
ATR:

ATM and Rad3-related
CD:

Cluster of differentiation
CTL:

Cytotoxic T lymphocytes
CTLA:

Cytotoxic T-lymphocyte-associated protein
ER:

Endoplasmic reticulum
ERK:

Extracellular signal-regulated kinases
ETosis:

Extracellular trap cell death
FOXP3:

Forkhead box P3
GAS:

IFN-γ-activated site
GSK-3β:

Glycogen synthase kinase-3β
IDO:

Indoleamine-pyrrole 2,3-dioxygenase
IFN:

Interferon
IFNGR:

IFN-γ receptors
IL:

Interleukin
iNOS:

Inducible nitric oxide synthase
IRF:

IFN-regulating factors
JAK:

Janus kinase
MAPK:

Mitogen activated protein kinase
MDSC:

Myeloid-derived suppressor cell
MHC:

Major histocompatibility complex
NK:

Natural killer
PAD:

Protein arginine deiminase
PD-L1:

Programmed death ligand 1
PGE2:

Prostaglandin E2
PTEN:

Phosphatase and tensin homolog deleted on chromosome
ROS:

Reactive oxygen species
SHP:

Src homology-2 containing phosphatase
SOCS:

Suppressors of cytokine signaling
STAT:

Signal transducer and activator of transcription
TAM:

Tumor-associated macrophage
TAP:

Transporter associated with antigen processing
TGF:

Transforming growth factor
Th1:

Type 1 T helper cell
TNF:

Tumor necrosis factor
TRAIL:

TNF-related apoptosis-inducing ligand
Treg:

Regulatory T cell
Declarations
Acknowledgements
Not applicable.
Funding
This work was supported by grant 105TMU-SHH-02-3 from Taipei Medical University and Shuang Ho Hospital, Taiwan and grant MOST100-2320-B-006-009-MY3 from the Ministry of Science and Technology, Taiwan.
Availability of data and materials
Not applicable.
Authors' contributions
CFL, CML, KYL, PHF, KYC, HCC, CLC, YCW, PCT, and TTT designed the concept, collected information, and prepared the manuscript. CFL, CML, and CLC discussed the issues. CFL wrote the manuscript. All authors read and approved the final manuscript.
Competing interests
The authors declare that they have no competing interests.
Consent for publication
Not applicable.
Ethics approval and consent to participate
Not applicable.
Open AccessThis article is distributed under the terms of the Creative Commons Attribution 4.0 International License (http://creativecommons.org/licenses/by/4.0/), which permits unrestricted use, distribution, and reproduction in any medium, provided you give appropriate credit to the original author(s) and the source, provide a link to the Creative Commons license, and indicate if changes were made. The Creative Commons Public Domain Dedication waiver (http://creativecommons.org/publicdomain/zero/1.0/) applies to the data made available in this article, unless otherwise stated.
Authors' Affiliations
(1)
Department of Microbiology and Immunology, School of Medicine, College of Medicine, Taipei Medical University, Taipei, Taiwan
(2)
Graduate Institute of Medical Sciences, College of Medicine, Taipei Medical University, Taipei, Taiwan
(3)
Department of Thoracic Surgery, Lotung Poh-Ai Hospital, Yilan, Taiwan
(4)
Division of Pulmonary Medicine, Department of Internal Medicine, Shuang Ho Hospital, Taipei Medical University, Taipei, Taiwan
(5)
Department of Internal Medicine, School of Medicine, College of Medicine, Taipei Medical University, Taipei, Taiwan
(6)
Graduate Institute of Toxicology, College of Medicine, National Taiwan University, Taipei, Taiwan
(7)
Department of Radiation Oncology, Wan Fang Hospital, Taipei Medical University, Taipei Medical University, Taipei, Taiwan
(8)
Department of Biotechnology, Hung Kuang University, Taichung, Taiwan
(9)
Graduate Institute of Clinical Medicine, College of Medicine, Taipei Medical University, Taipei, Taiwan
(10)
School of Respiratory Therapy, College of Medicine, Taipei Medical University, Taipei, Taiwan
(11)
Translational Research Center, Taipei Medical University, Taipei, Taiwan