Viral and host proteins involved in picornavirus life cycle
Journal of Biomedical Science
2009
16:103
Received: 13 June 2009
Accepted: 20 November 2009
Published: 20 November 2009
Abstract
Picornaviruses cause several diseases, not only in humans but also in various animal hosts. For instance, human enteroviruses can cause hand-foot-and-mouth disease, herpangina, myocarditis, acute flaccid paralysis, acute hemorrhagic conjunctivitis, severe neurological complications, including brainstem encephalitis, meningitis and poliomyelitis, and even death. The interaction between the virus and the host is important for viral replication, virulence and pathogenicity. This article reviews studies of the functions of viral and host factors that are involved in the life cycle of picornavirus. The interactions of viral capsid proteins with host cell receptors is discussed first, and the mechanisms by which the viral and host cell factors are involved in viral replication, viral translation and the switch from translation to RNA replication are then addressed. Understanding how cellular proteins interact with viral RNA or viral proteins, as well as the roles of each in viral infection, will provide insights for the design of novel antiviral agents based on these interactions.
Keywords
Internal Ribosome Entry SiteInternal Ribosome Entry Site ElementInternal Ribosome Entry Site ActivityViral TranslationEMCV Internal Ribosome Entry Site
Introduction
Picornaviruses are a large family of animal viruses, which are pervasive in nature. Certain members of this family are well known since they importantly affect human health. The family
Picornaviridae
consists of five genera - enteroviruses, rhinoviruses, cardioviruses, aphthoviruses, and hepatoviruses. Picornaviruses are small icosahedral particles containing a single-stranded plus sense RNA genome with approximately 7,500 nt in length. It contains a 3' poly(A) tail with a variable length from 65 to 100 nt. The viron RNA has a virus-encoded peptide, VPg, attached at its 5' terminus, but this protein is rapidly lost in the cell and most of the viral transcripts consequently lack it [
1
,
2
]. The picornavirus RNAs lack the cap structure (m7GpppN, where m is a methyl group and N is any nucleotide). The viral RNA encodes a single large polyprotein which undergoes a series of processing events, mediated by virus-encoded protease, to produce the mature virus proteins (including 11 mature proteins plus numerous partially processed products, depending on the virus). Four of these proteins (VP1-VP4) constitute the virus capsid, and the others participate in virus replication [
3
] (Fig.
1
).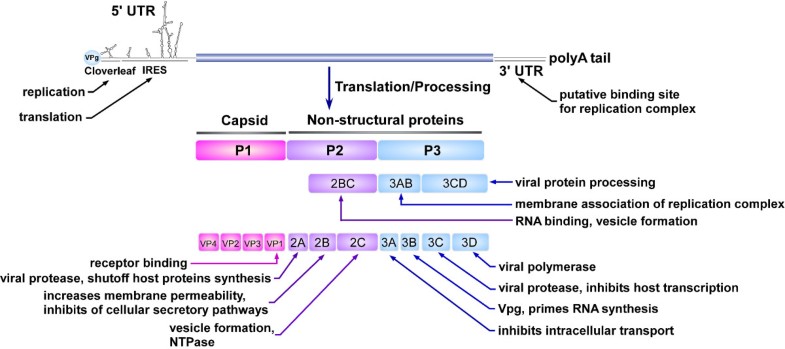 The infection of cells by enterovirus is an efficient and productive event. To complete the life cycle of the virus, viral proteins are involved in viral replication and translation, in addition to altering host functions, such as cellular gene expression, protein localization, signal transduction and membrane rearrangement. This review focuses on the functions of viral and host factors involved in the life cycle of picornaviruses.
Concluding remarks
Picornaviruses use multiple RNA-protein interactions to mediate important reactions in their life cycle, including IRES-mediated translation, possible circularization of the genome, and RNA replication. The molecular mechanisms by which host factors are involved in RNA-protein/protein-protein interaction have been intensively studied; however, tissue-specific viral virulence remains unclear, and demands further investigation in the future. No information is available on whether picornaviruses can be targeted by cellular microRNAs, leading to transcriptional or translational silencing, or RNAi-mediated degradation of viral RNA. This is another field that needs to be further studied in the future.
Declarations
Acknowledgements
The authors would like to thank the National Science Council of the Republic of China, Taiwan, for financially supporting this research under Contract No. NSC97-2320-B-182-007-MY3. Ted Knoy is appreciated for his editorial assistance.
Authors' Affiliations
(1)
Research Center for Emerging Viral Infections, Chang Gung University, Tao-Yuan, Taiwan
(2)
Department of Medical Biotechnology and Laboratory Science, Chang Gung University, Tao-Yuan, Taiwan
(3)
Graduate Program in Biomedical Science, Chang Gung University, Tao-Yuan, Taiwan
(4)
Division of Biotechnology and Pharmaceutical Research, National Health Research Institutes, Zhunan, Taiwan
Copyright
© Lin et al; licensee BioMed Central Ltd. 2009
This article is published under license to BioMed Central Ltd. This is an Open Access article distributed under the terms of the Creative Commons Attribution License (http://creativecommons.org/licenses/by/2.0), which permits unrestricted use, distribution, and reproduction in any medium, provided the original work is properly cited.