Recent advances in biomedical applications of accelerator mass spectrometry
Journal of Biomedical Science
2009
16:54
Received: 06 December 2008
Accepted: 17 June 2009
Published: 17 June 2009
The Erratum to this article has been published in Journal of Biomedical Science 2009 16:111
Abstract
The use of radioisotopes has a long history in biomedical science, and the technique of accelerator mass spectrometry (AMS), an extremely sensitive nuclear physics technique for detection of very low-abundant, stable and long-lived isotopes, has now revolutionized high-sensitivity isotope detection in biomedical research, because it allows the direct determination of the amount of isotope in a sample rather than measuring its decay, and thus the quantitative analysis of the fate of the radiolabeled probes under the given conditions. Since AMS was first used in the early 90's for the analysis of biological samples containing enriched 14C for toxicology and cancer research, the biomedical applications of AMS to date range from in vitro to in vivo studies, including the studies of 1) toxicant and drug metabolism, 2) neuroscience, 3) pharmacokinetics, and 4) nutrition and metabolism of endogenous molecules such as vitamins. In addition, a new drug development concept that relies on the ultrasensitivity of AMS, known as human microdosing, is being used to obtain early human metabolism information of candidate drugs. These various aspects of AMS are reviewed and a perspective on future applications of AMS to biomedical research is provided.
Keywords
TamoxifenLiquid Scintillation CountingSenile PlaqueAccelerator Mass SpectrometryPurine Nucleoside Phosphorylase
Introduction
Accelerator mass spectrometry (AMS; see Figure
1
for AMS schematic diagram) is an extremely sensitive nuclear physics technique for detection of very low-abundant, stable and long-lived isotopes, initially developed in the mid-70's as a method of determining isotope ratios for geochronology and archaeological research [
1
,
2
]. The technique utilizes a tandem van de Graaff accelerator in order to generate the potential energy, allowing for separation of elemental isotopes at the single atom level. Therefore, AMS can be applied to quantitating the concentrations of long-lived radioisotopes, such as
14
C, for which decay counting is an inefficient method of quantitation because of its relatively long half-life of 5760 years [
3
]. Much of this discussion concerns
14
C because it is the predominant isotope for biomedical/bioanalytical probe analysis. However, equivalent discussions refer equally well with changes in chemistry [
4
], to several other long-lived isotopes that can be quantitated by AMS:
3
H,
10
Be,
16
Al,
36
Cl,
41
Ca,
56
Ni,
99
Tc,
129
I, and
239
Pu.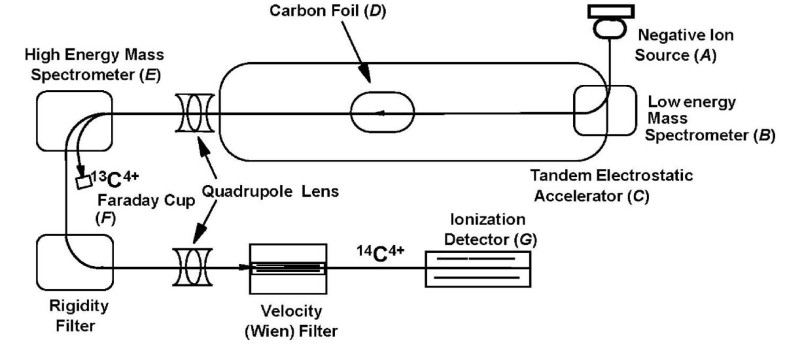 The sensitivity of AMS for radiocarbon can be emphasized by its use in geochronology or carbon dating of historical artefacts [1, 2]. As widely known, small amounts of 14C are constantly being formed from 14N by bombardment with cosmic radiation in the upper atmosphere, and this formation gives rise to 14CO2, and maintains the atmosphere at a nearly constant radiocarbon concentration of about 1.2 × 10-10% 14C (primarily as CO2) [5–7]. Plants fix atmospheric 14CO2, animals eat the plants and thus all higher living organisms contain 14C in equilibrium. When an organism dies, there is no longer any carbon exchange, and 14C decays over time. Thus, the 12C:14C ratio can be correlated with the amount of time elapsed after an organism's death, which is the basis of carbon dating. Carbon dating now extends beyond 50,000 years back in time [3].
The most conventional method for the measurement of radioactivity for biomedical applications is liquid scintillation counting (LSC), a process known as decay counting. LSC, however, suffers from an innate insensitivity. In fact, it takes over a billion atoms of 14C to generate an average of only one disintegration per minute (dpm).
AMS, on the other hand, allows direct measurement of 12C and 14C atoms by physically separating them in an ion beam [3]. Since the atoms are measured directly, without a necessity to wait for a disintegration event to occur, AMS is about six orders of magnitude more sensitive than LSC. Nowadays, AMS is the method of choice for carbon dating as well as other LCS-utilized biomedical research because of the technique's sensitivity and precision. The workings of an AMS instrument are outlined elsewhere [8–10].
Declarations
Acknowledgements
This research was supported partly by the Kyung Hee University Research Fund in 2008 (KHU-20081559) and by the Korea Science and Engineering Foundation (KOSEF) grant funded by the Korea Government (MEST) (No. 2009-0064333).
Authors' Affiliations
(1)
Department of Chemistry and Research Institute for Basic Sciences, Kyung Hee University 1 Hoegi-dong, Dongdaemun-gu, Korea
Copyright
© Hah; licensee BioMed Central Ltd. 2009
This article is published under license to BioMed Central Ltd. This is an Open Access article distributed under the terms of the Creative Commons Attribution License (http://creativecommons.org/licenses/by/2.0), which permits unrestricted use, distribution, and reproduction in any medium, provided the original work is properly cited.