A transgenic approach to study argininosuccinate synthetase gene expression
Journal of Biomedical Science
2014
21:42
Received: 11 March 2014
Accepted: 21 April 2014
Published: 13 May 2014
Abstract
Background
Argininosuccinate synthetase (ASS) participates in urea, nitric oxide and arginine production. Besides transcriptional regulation, a post-transcriptional regulation affecting nuclear precursor RNA stability has been reported. To study whether such post-transcriptional regulation underlines particular temporal and spatial ASS expression, and to investigate how human ASS gene behaves in a mouse background, a transgenic mouse system using a modified bacterial artificial chromosome carrying the human ASS gene tagged with EGFP was employed.
Results
Two lines of ASS-EGFP transgenic mice were generated: one with EGFP under transcriptional control similar to that of the endogenous ASS gene, another with EGFP under both transcriptional and post-transcriptional regulation as that of the endogenous ASS mRNA. EGFP expression in the liver, the organ for urea production, and in the intestine and kidney that are responsible for arginine biosynthesis, was examined. Organs taken from embryos E14.5 stage to young adult were examined under a fluorescence microscope either directly or after cryosectioning. The levels of EGFP and endogenous mouse Ass mRNAs were also quantified by S1 nuclease mapping. EGFP fluorescence and EGFP mRNA levels in both the liver and kidney were found to increase progressively from embryonic stage toward birth. In contrast, EGFP expression in the intestine was higher in neonates and started to decline at about 3 weeks after birth. Comparison between the EGFP profiles of the two transgenic lines indicated the developmental and tissue-specific regulation was mainly controlled at the transcriptional level. The ASS transgene was of human origin. EGFP expression in the liver followed essentially the mouse Ass pattern as evidenced by zonation distribution of fluorescence and the level of EGFP mRNA at birth. However, in the small intestine, Ass mRNA level declined sharply at 3 week of age, and yet substantial EGFP mRNA was still detectable at this stage. Thus, the time course of EGFP expression in the transgenic mice resembled that of the human ASS gene.
Conclusions
We demonstrate that the transgenic mouse system reported here has the merit of sensitivity and direct visualization advantage, and is ideal for annotating temporal and spatial expression profiles and the regulation mode of the ASS gene.
Keywords
Argininosuccinate synthetaseTransgenic mouseBacterial artificial chromosomeGreen fluorescence proteinDevelopmental regulationTissue-specific regulationPost-transcriptional regulation
Background
Argininosuccinate synthetase (ASS; EC 6.3.4.5) is an enzyme that functions in the catalysis of the conversion of citrulline and aspartate to argininosuccinate, which is further converted to arginine by argininosuccinate lyase [1, 2]. ASS catalyzes the rate-limiting step in arginine biosynthesis. Arginine plays a role in the synthesis of urea, nitric oxide (NO), polyamines, proline, glutamate, creatine and agmatine [3]. Thus, ASS participates in fine-tuning production of NO and others to maintain cellular homeostasis in response to cellular and environmental stimuli. Conceivably, ASS, one of the key enzymes involving in arginine metabolism, is subjected to various mechanisms of regulation in both physiological and disease states.
Hormones, such as glucocorticoid, glucagon and insulin, are major regulators of the expression of urea cycle enzymes in the liver [1, 2]. We have previously identified that the cAMP response element (CRE) located at about 10 kb upstream of the transcription start site of the human ASS gene is most likely the target site of the CRE-binding protein (CREB) to mediate glucagon action [4]. However, the mechanism by which glucocorticoid and insulin act on ASS expression remains unknown. On the other hand, ASS expression in non-hepatic cells were shown to be induced by interleukin-1β through NF-κB activation acting at a putative NF-κB binding site at the ASS promoter [5]. Moreover, the proximal promoter of the ASS gene was shown to contain an E-box recognized by c-Myc and HIF-1α, and a GC-box targeted by Sp4 where ASS expression involves interactions between the positive transcriptional factors c-Myc and Sp4 and the negative factor HIF-1α [6]. In addition to regulation at transcription initiation, we have also identified a novel post-transcriptional event affecting ASS nuclear precursor RNA stability in the canavanine-resistant variants of a human squamous cell carcinoma line, RPMI 2650 [7]. These variants express 200-fold increased levels of ASS mRNA as compared to the parental cells [8]. The canavanine-resistant variants have increased ASS activities, and are presumably resistant to canavanine because of increased conversion of citrulline to arginine. The post-transcriptional regulation identified in the canavanine-resistant variants may have physiological relevance since it has the advantage of being faster than transcriptional regulation. One would image that under particular circumstances such as inflammation, cells may employ such a mode of regulation to produce higher levels of ASS mRNA to meet the need for NO production. It is worth noting that similar canavanine-resistant cells have been isolated from lymphoblasts [9].
To identify cellular targets or events that employ such regulation, a suitable
ASS
expression profiling system is essential. To this end, we took BAC (bacterial artificial chromosome) containing the entire human
ASS
structural gene of 57 kb flanked by 97 kb and 16 kb of genomic sequences at its 5′- and 3′-ends, respectively, as a starting construct to knock-in the
EGFP
(enhanced green fluorescence protein) coding sequence. Two types of
ASS-EGFP
transgene were constructed (Figure
1
). One is designated as a transcription reporter,
Tg(ASS-Ex3-EGFP)
. In such a construct,
EGFP
is knocked in at a position of authentic initiation codon residing in exon 3 of the
ASS
gene where
EGFP
transcription termination is regulated by a SV40 poly(A) signal. The EGFP level in this construct would, therefore, essentially reflect the transcription activities of the
ASS
gene. Another one is designated as a transcription/post-transcription couple reporter,
Tg(ASS-Ex16-EGFP)
, in which the
EGFP
knock-in sequence also contains the sequence of the internal ribosome entry site (IRES), and the hybrid sequence is inserted into exon 16, the terminal exon of the
ASS
gene, at site between the
ASS
stop codon and the polyA signal. In such a configuration, the human
ASS
and the
EGFP
genes are transcribed as a bicistronic RNA, and
EGFP
, the downstream cistron, is translated by the IRES mechanism. Thus, EGFP activity expressed from such a transgene is subjected to both transcriptional and post-transcriptional regulation as that of the endogenous
ASS
mRNA. Using transgenic mice carrying these
ASS-EGFP
reporters, we show here that location of EGFP in the liver and kidney, the major organ of ASS production, is essentially mimic that of the endogenous
Ass
gene, suggesting sufficient regulatory element(s) is included in the
ASS-EGFP
transgene.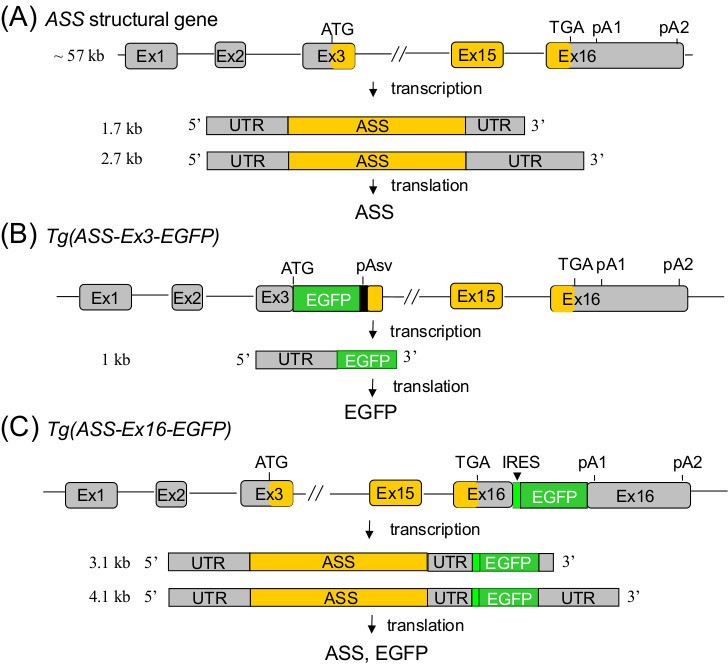 To obtain the temporal and spatial expression profiles of ASS transgene, major efforts in this study are to establish the developmental expression pattern of ASS-EGFP in the liver, the organ for urea production, and in the intestine and kidney where arginine biosynthesis occurs. By comparing the expression patterns between Tg(ASS-Ex3-EGFP) that are carrying the transcription reporter and Tg(ASS-Ex16-EGFP) that are carrying the transcription/post-transcription couple reporter, we aim to deduce at which level the expression control acts during development. Moreover, the ASS transgene is of human origin. It would be of interest to know how a human gene behaved in the mouse genetic background.
Methods
Animals
Mice were housed in a specific pathogen-free (SPF) area of the animal room in the Taipei Veterans General Hospital and were maintained according to protocols approved by the Animal Care and Use Committee of Taipei Veterans General Hospital. The male transgenic mice of the FVB/N strain carrying the ASS-EGFP transgene, i.e., Tg(ASS-Ex3-EGFP) or Tg(ASS-Ex16-EGFP), were mated with wild-type FVB/N female where parturition occurred on day 17.5 or 18.5 after conception. Progenies carrying EGFP transgene were identified by visualization of fluorescence of two-week old littermates by a portable fluorescence detection system. The transgenic mouse lines Tg(ASS-Ex3-EGFP)Tsu and Tg(ASS-Ex16-EGFP)Tsu have been deposited in National Laboratory Animal Center, Taiwan, and are available for researchers on requests.
Histological study
Histological study was performed following standard protocols [10]. In brief, mice were sacrificed by anesthetized with CO2 and tissue collected was fixed in 4% buffered paraformaldehyde. For frozen section, after dehydration in graded sucrose solution, tissue was embedded in OCT (Optimal Cutting Temperature) compound (Tissue Tec, Sakara, Torrance, CA). Serial sections were performed with Leica cryostat (Leica Biosystems, Wetzlar, Germany) and mounted onto slides to examine EGFP expression by a fluorescence microscope. Slides were counterstained with DAPI (4′,6-diamidino-2-phenylindole) (Roche Applied Science, Indianapolis, IN). For immunohistochemical studies, tissues fixed in buffered paraformaldehyde and embedded in paraffin were deparaffinized, hydrated in graded ethanol, and heated in 10 mM sodium citrate (pH 6.0) plus 0.1% NP-40 by microwave oven to retrieve the antigens. The remaining activity of endogenous peroxidase activity was quenched with hydrogen peroxide. After blocking, the slides were incubated with a primary antibody of GFP (1:100 dilution, anti-GFP, rabbit polyclonal antibody) (Chemicon, Billerica, MA) or 1:100 dilution of a mouse monoclonal anti-ASS antibody (BD Biosciences, San Jose, CA) overnight at 4°C. Subsequently, the slides were incubated with the biotinylated secondary antibody and streptavidin conjugated-HRP (horseradish peroxidase). The HRP was then visualized by the application of substrate chromogen DAB (diaminobenzidine) (Dako, Glostrup, Denmark) to give brown color where the slides were counterstained with hematoxylin.
RNA isolation and S1 nuclease mapping analysis
For total RNA isolation, tissue was first grinded to powder cooled in liquid nitrogen. The frozen powder was transferred to a MagNA Lyser tube (Roche Applied Science, Indianapolis, IN) filled with 1 ml TRIzol (Invitrogen, Carlsbad, CA) and homogenized immediately by MagNA Lyser homogenizer (Roche Applied Science, Indianapolis, IN). The supernatant was used in RNA isolation following manufacturer's instructions. For S1 nuclease mapping, appropriate restriction enzyme-digested DNA fragment was labeled at the 5'-end with [γ-32P] ATP and T4 polynucleotide kinase [11]. The labeled DNA probe was hybridized to total RNAs prepared from the mouse tissues. The DNA-RNA hybrids that resisted to S1 nuclease digestion were electrophoresed through a 4% polyacrylamide gel containing 7 M urea. Gel was dried and analyzed either by autoradiography or by a phosphorimager (Molecular Dynamics, Sunnyvale, CA).
Conclusions
We demonstrate that this transgenic mouse system is ideal for annotation of temporal and spatial expression profiles of the ASS gene. In particular, the Tg(ASS-Ex3-EGFP) 3GTsu line, containing 30 copies of the transgene, generates strong EGFP signals, and is, thus, useful in revealing weak expression. It is conceivable that a comprehensive knowledge of cell types expressing ASS may provide insights into the function. Such knowledge should facilitate investigation of the role of ASS in conditions of physiological and disease states, especially when ASS mRNA or protein are found not to be expressed in many tumours including hepatocellular carcinoma (HCC), melanoma, some mesotheliomas, renal cell cancers, sarcomas and lymphomas [26]. As a result, arginine deprivation employing the pegylated form of arginine deiminase (ADI-PEG20) as a targeted therapy is currently in clinical trials for patients with HCC and melanoma [26]. In this respect, feature of down-regulated expression of ASS in HCC has been recaptured in our ASS-EGFP transgenic mouse model (manuscript in preparation). Thus, questions such as physiological or pathophysiological response of ASS expression stimulated by a variety of signals may be tackled using this system.
Declarations
Acknowledgements
We thank Kong-Bung Choo for critical reading and editing of the manuscript, Chun-Ming Chen, Ting-Fen Tsai and Hsian-guey Hsieh for technical support. This work was supported by grants NSC 99-2320-B-075-001 from the National Science Council and by grants V98C1-188 and V100C-107 from the Taipei Veterans General Hospital, Taiwan.
Authors' Affiliations
(1)
Institute of Microbiology & Immunology, National Yang-Ming University, Taipei, Taiwan
(2)
Department of Medical Research, Taipei Veterans General Hospital, Taipei, Taiwan
Copyright
© Shiue et al.; licensee BioMed Central Ltd. 2014
This article is published under license to BioMed Central Ltd. This is an Open Access article distributed under the terms of the Creative Commons Attribution License (http://creativecommons.org/licenses/by/4.0), which permits unrestricted use, distribution, and reproduction in any medium, provided the original work is properly credited. The Creative Commons Public Domain Dedication waiver (http://creativecommons.org/publicdomain/zero/1.0/) applies to the data made available in this article, unless otherwise stated.