Sudden cardiac death: focus on the genetics of channelopathies and cardiomyopathies
Journal of Biomedical Science
2017
24:56
Received: 6 April 2017
Accepted: 9 August 2017
Published: 15 August 2017
Abstract
Sudden cardiac death (SCD) describes a natural and unexpected death from cardiac causes occurring within a short period of time (generally within 1 h of symptom onset) in the absence of any other potentially lethal condition. Most SCD-related diseases have a genetic basis; in particular congenital cardiac channelopathies and cardiomyopathies have been described as leading causes of SCD. Congenital cardiac channelopathies are primary electric disorders caused by mutations affecting genes encoding cardiac ion channels or associated proteins, whereas cardiomyopathies are related to mutations in genes encoding several categories of proteins, including those of sarcomeres, desmosomes, the cytoskeleton, and the nuclear envelope. The purpose of this review is to provide a general overview of the main genetic variants that have been linked to the major congenital cardiac channelopathies and cardiomyopathies. Functional alterations of the related proteins are also described.
Keywords
CardiomyopathiesChannelopathiesCaveolinsGeneticsSudden cardiac death
Background
Sudden death (SD) is defined by clinicians as a natural and unexpected death that occurs within a short period of time (generally less than 1 h from the onset of acute symptoms) in an apparently healthy person or in a subject whose disease is not sufficiently severe to predict a fatal outcome. The most challenging point is that post-mortem examination often fails to demonstrate an adequate cause of death [1]. Indeed, approximately 85% of all SD are of cardiac origin, otherwise known as sudden cardiac death (SCD). Although SCD is a leading cause of death in western countries, many deaths remain largely unexplained [1–3]. SD involving infants under 1 year of age is referred as sudden infant death syndrome (SIDS). In general, SIDS occurs during sleep and remains unexplained after a thorough investigation that includes full autopsy, examination of the death scene, and review of the clinical history [4]. Many pathophysiologic mechanisms have been proposed for SIDS, including respiratory dysfunction, cardiorespiratory instability, and inborn errors of metabolism, however definitive pathogenic mechanisms precipitating an infant's sudden death are still uncertain [5]. Arrhythmias related to cardiac channel mutations have been proposed as the pathogenic basis for an estimated 5 to 10% of SIDS cases involving Caucasian infants [5]. Such mutations mainly affect the SCN5A gene and result in phenotypic changes in this sodium channel [6]. In addition, the ethnic-specific common cardiac sodium channel polymorphism S1103Y-SCN5A has been associated with African American SIDS and sudden cardiac death in young black adults [5, 7, 8], reinforcing the hypothesis that genetic issues may be strikingly involved in SIDS.
Although the actual incidence of SCD is highly variable, recent prospective studies from multiple sources in the United States, Europe, and China have estimated that SCD rates in the general population range from 50 to 100 per 100,000 people annually [9]. The annual incidence of SCD increases as a function of advancing age; specifically, it is 100-fold lower in individuals < 30 years old (0.001%) than in those > 35 years of age [10–14]. However, the incidence is higher in men than in women at any age [9]. SCD has been shown to occur most frequently between birth and 6 months of age (SIDS) and again between 45 and 75 years of age [3].
The aetiologies of SCD are very diverse. However, certain diseases are known to play significant roles in its pathogenesis. In particular, congenital cardiac channelopathies and inherited cardiomyopathies have been described as leading causes of SCD.
Congenital cardiac channelopathies are caused by mutations affecting genes encoding membrane ion channels (sodium, potassium or calcium channels) or cellular structures that affect Ca2+ availability [15, 16]. Major cardiac channelopathies include long-QT syndrome (LQTS), short-QT syndrome (SQTS), Brugada syndrome (BrS), and catecholaminergic polymorphic ventricular tachycardia (CPVT) [15–17].
Cardiomyopathies are primarily related to cardiac structural abnormalities [18] that lead to arrhythmias. Although the causes of cardiomyopathy are varied, it is widely accepted that the disease may depend on genetic alterations in structural proteins, including those of sarcomeres, desmosomes, and the cytoskeleton [17–19]. The most common SCD-related cardiomyopathies in young children and adults include hypertrophic cardiomyopathy (HCM), dilated cardiomyopathy (DCM), restrictive cardiomyopathy (RCM), arrhythmogenic right ventricular cardiomyopathy (ARVC), and left ventricular noncompaction (LVNC) [18, 20].
Recent investigations of SCD have focused on CAV3 genetic variants. The CAV3 gene encodes the protein caveolin-3 [21, 22], a member of the caveolin family, which in humans also includes caveolin-1 and caveolin-2. Caveolins are the main constituents of caveolae, small plasma invaginations composed of cholesterol and other lipids that contain several protein complexes involved in signalling and vesicular trafficking [21]. Caveolin-3 is selectively expressed in cardiac caveolae, where it represents the main scaffolding protein [23]. Recent studies have identified CAV3 mutations in subjects affected by LQTS, SIDS, and HCM [5, 24, 25].
Herein, we summarize the current genetic understanding of the main congenital diseases associated with SCD, with a specific focus on CAV3 genetic variants.
Congenital cardiac channelopathies
At the cardiac level, the perfect interplay between sodium, calcium, and potassium ions results in a heartbeat. Specific ion channels allow these ions to cross the myocardial membrane. Mutations in genes encoding these specific channels or associated proteins may impair ionic conduction, leading to channelopathies and life-threatening arrhythmias. As mentioned above, the main cardiac SCD-linked channelopathies are LQTS, SQTS, BrS, and CPVT.
Cardiomyopathies
Along with cardiac channelopathies, cardiomyopathies may be considered leading causes of SCD. Cardiomyopathy often results in the heart failure syndrome, with a consistent number of systemic manifestations. Early clinical investigations have recognized familial transmission for many cardiomyopathies, suggesting a genetic basis of this disease. This hypothesis now has been widely confirmed by intensive research. Accordingly, many cardiomyopathies are currently recognized as monogenic disorders [18, 60].
A focus on CAV3 genetic variants
Caveolins are the main constituents of the caveolae, which are small (50–100 nm) plasma invaginations composed of cholesterol and other lipids. These structures contain several protein complexes involved in numerous cellular processes such as vesicular trafficking, protein targeting, second messenger signalling, cholesterol homeostasis, mechanosensing and survival responses to stressful stimuli [22]. In particular, caveolin-3, encoded by the CAV3 gene, is one of the three major forms of caveolins selectively expressed within the heart. Many cardiac ion channels and transporters, including L-type calcium channels, potassium channels, sodium channels, the sodium/potassium ATPase, and the sodium/calcium exchanger have been found within caveolae. This specific subcellular localization is critical for the function of these components since it allows integration within macromolecular signalling complexes, thus ensuring precise regulation.
CAV3 genetic variants have been associated with a variety of diseases, including rippling muscle disease, limb-girdle-muscle dystrophy, muscular dystrophy, and cardiac-related disorders [105]. The first CAV3 mutation associated with HCM was identified in a case involving siblings [24]. According to research by Hayashi and colleagues, these patients showed an atypical clinical phenotype, with mild CAV3-induced HCM characterized by high ECG voltage and suggestive diastolic dysfunction with elevated LV end-diastolic pressure. Noteworthy, the father of the siblings, an obligate carrier of the CAV3 mutation, died suddenly at the age of 41. Interestingly, the study reported that the HCM-related mutation occurred at the same codon as observed for limb-girdle-muscle dystrophy. Analysis of the cellular effect of the CAV3 mutation revealed that the mutated caveolin-3 protein had reduced surface expression compared to the wild type protein. This change appeared to be relatively mild in the case of the HCM-related mutant, indicating that the dysfunctions induced by CAV3 mutations are of differing severity in the two pathologies. The greater severity of the muscular-dystrophy-related mutation explains the cardiac involvement (DCM) observed in patients with this disease. In contrast, the presence of HCM mutations does not necessarily imply muscular involvement; in fact, the siblings did not exhibit any muscular disorder. This may be because caveolin functions may be differently regulated in cardiac and muscle tissues. A study by Cagliani and colleagues [106] also supports this observation. The authors identified a heterozygous 3-bp microdeletion (328–330 del) in individuals affected by skeletal muscle diseases such as limb-girdle muscular dystrophy type 1C, rippling muscle disease, and both sporadic and familial forms of hyperCKemia. The mutation resulted in the loss of a phenylalanine (Phe97del) in the transmembrane domain, leading to a severe caveolin-3 deficiency and caveolar disorganization in the skeletal muscle. Of note, caveolin-3 was expressed in the myocardium to a degree corresponding to approximately 60% of that of control individuals and was correctly localized at the myocardial cell membranes, with preservation of cardiac myofibre caveolar structures [106]. Thus, the same mutation may lead to different phenotypes. However, clear evidence in the literature has shown that muscular and cardiac dysfunctions related to CAV3 mutations may also coexist [107, 108]. This observation emphasizes the importance of carefully monitoring myopathic patients carrying CAV3 mutations for cardiac involvement. It is worthwhile to report the case of a German family with rippling muscle disease in which two members died suddenly of possible cardiac arrhythmias. Autopsies of one of these patients revealed a non-obstructive cardiomyopathy [107, 109].
CAV3 mutations have also been related to LQTS. In 2006, Vatta and colleagues reported, for the first time, a relationship between CAV3 mutations and LQTS [25]. In particular, they demonstrated that caveolin-3 directly modified cardiac sodium channel kinetics. Therefore, CAV3 mutations, by altering sodium currents, have been directly associated with the pathogenesis of the LQTS variant LQTS9. In particular, it has been shown that coexpression of the caveolin-3 mutation and the SCN5A gene results in an increased late sodium current. Cronck and colleagues [5] identified three CAV3 mutations (V14 L, T78 M, and L79R) among a population of 133 infants who died from SIDS. Voltage clamp analysis revealed that all the three mutations were responsible for a fivefold increase in the late sodium current. The mechanism underlying this finding was recently clarified. Cheng and colleagues reported that the increase in cardiac sodium current related to caveolin-3 mutations may be reversed by the neural nitric oxide synthase (nNOS) inhibitor L-NG-monomethyl arginine citrate. The authors propose a mechanism whereby wild type caveolin-3 negatively regulates nNOS. A CAV3 mutation (F97C) may cause the loss of this inhibitory effect, thereby accentuating local NO and increasing the late sodium current via direct S-nitrosylation of the α-subunit of the sodium channel Nav1.5. This, in turn, may significantly prolong the action potential duration, as observed in the LQTS clinical electrophysiological phenotype [110].
Recently, a new putative
CAV3
variant (V82I) was identified in a patient with SCD [
22
]. The study by Lariccia and colleagues reported the case of an adult with suspected LQTS who suddenly died prior to complete comprehensive cardiologic examination. Interestingly, no mutations in the major LQTS-related genes were found, although a novel mutation (V82I) in the
CAV3
gene was identified (Fig.
1
). The effect of this mutation has been studied in vitro by using BHK cells. Biochemical analysis of the transiently transfected cell line showed that the caveolin-3 V82I mutant was expressed at higher level than caveolin-3 wild type, as a probable consequence of higher protein stability (Fig.
2
). Additionally, confocal microscopy studies revealed that the caveolin-3 V82I mutant tends to accumulate within the cells (Fig.
3
), a tendency that has also been observed in a different caveolin-3 mutation [
24
]. The results also suggest an impairment in the ERK signalling pathway, which is normally regulated by caveolin-3 and influences the cell survival rate. This impairment renders the cells more susceptible to stressful conditions, specifically sub-lethal osmotic stress, thereby suggesting that expression of this novel mutation may be detrimental for the survival response to mechanical stress.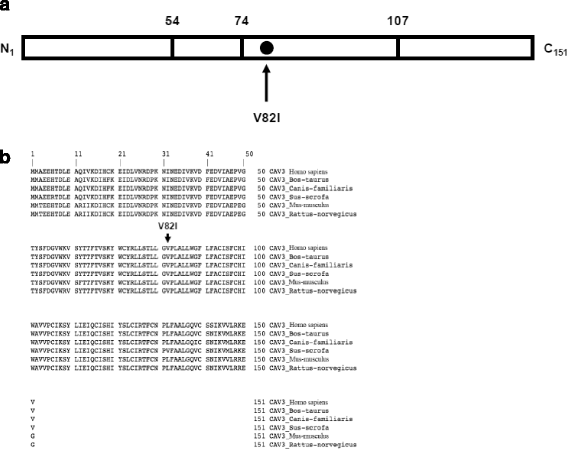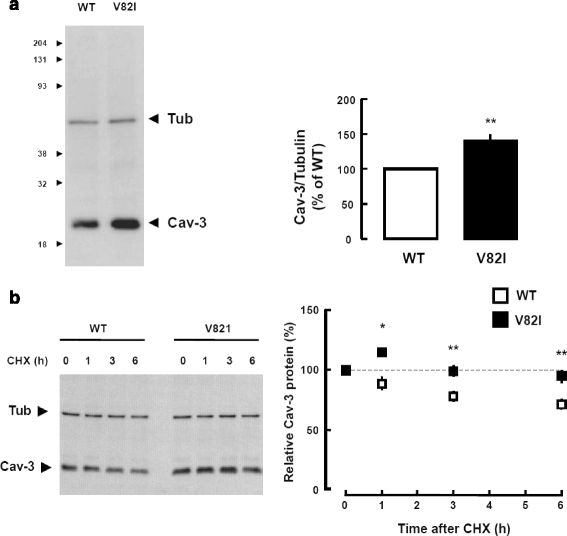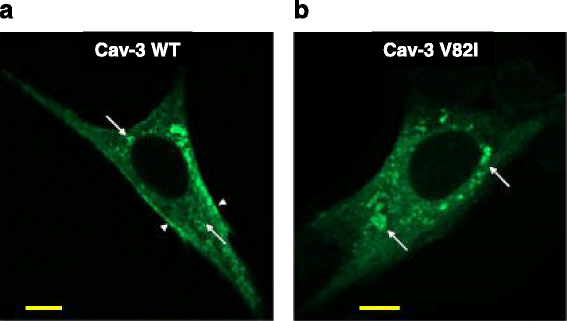 Conclusions
The knowledge on channelopathies and cardiomyopathies has greatly improved during the last 20 years thanks mainly to advances in the genetic field. Several genes have been demonstrated to be involved in the origin of these cardiac diseases. A proportion of this improved genetic understanding has been applied to the diagnosis and prevention of channelopathies and cardiomyopathies associated with SCD. Genotype studies have become an essential part of clinical diagnosis both to identify asymptomatic individuals who may be at risk of SCD and to unravel genetic alterations when post-mortem examination fails to demonstrate an adequate cause of death. Several mutations related to channelopathies have been reported to occur in genes encoding ion channels or associated proteins. In comparison, for cardiomyopathies, mutations mainly occur in genes encoding structural proteins found in sarcomeres, desmosomes, or the cytoskeleton. Although great achievements have been made in the understanding of genetic contributions to cardiac disorders leading to SCD, a significant number of clinically diagnosed patients still have no recognized genetic cause of disease. Continuous efforts in researching the genetic basis of SCD will be essential for identification of new genetic alterations associated with SCD to improve current diagnostic testing, early prevention, and risk stratification.
Abbreviations
ARVC:

Arrhythmogenic right ventricular cardiomyopathy
BrS:

Brugada syndrome
CPVT:

Catecholaminergic polymorphic ventricular tachycardia
DCM:

Dilated cardiomyopathy
HCM:

Hypertrophic cardiomyopathy
LQTS:

Long-QT syndrome
LVNC:

Left ventricular noncompaction
NGS:

Next-generation sequencing
RCM:

Restrictive cardiomyopathy
SCD:

Sudden cardiac death
SD:

Sudden death
SIDS:

Sudden infant death syndrome
SQTS:

Short-QT syndrome
Declarations
Acknowledgements
We acknowledge and thank the University "Politecnica delle Marche" for a PhD scholarship awarded to MM.
Funding
We thank the University "Politecnica delle Marche" for supporting our research.
Availability of data and materials
Not applicable.
Authors' contributions
SM and VL wrote the manuscript. MM, SA and SG drafted and critically revised the manuscript. All authors read and approved the final manuscript.
Ethics approval and consent to participate
Not applicable.
Competing interests
The authors declare that they have no competing interests.
Publisher's Note
Springer Nature remains neutral with regard to jurisdictional claims in published maps and institutional affiliations.
Open AccessThis article is distributed under the terms of the Creative Commons Attribution 4.0 International License (http://creativecommons.org/licenses/by/4.0/), which permits unrestricted use, distribution, and reproduction in any medium, provided you give appropriate credit to the original author(s) and the source, provide a link to the Creative Commons license, and indicate if changes were made. The Creative Commons Public Domain Dedication waiver (http://creativecommons.org/publicdomain/zero/1.0/) applies to the data made available in this article, unless otherwise stated.
Authors' Affiliations
(1)
Department of Biomedical Sciences and Public Health, School of Medicine, University "Politecnica delle Marche", Ancona, Italy
(2)
Department of Health Sciences, University "Magna Graecia", Catanzaro, Italy