CRISPR/Cas9: the Jedi against the dark empire of diseases
Journal of Biomedical Science
2018
25:29
Received: 17 November 2017
Accepted: 26 February 2018
Published: 28 March 2018
Abstract
Advances in Clustered Regularly Interspaced Short Palindromic Repeats/CRISPR associated system (CRISPR/Cas9) has dramatically reshaped our ability to edit genomes. The scientific community is using CRISPR/Cas9 for various biotechnological and medical purposes. One of its most important uses is developing potential therapeutic strategies against diseases. CRISPR/Cas9 based approaches have been increasingly applied to the treatment of human diseases like cancer, genetic, immunological and neurological disorders and viral diseases. These strategies using CRISPR/Cas9 are not only therapy oriented but can also be used for disease modeling as well, which in turn can lead to the improved understanding of mechanisms of various infectious and genetic diseases. In addition, CRISPR/Cas9 system can also be used as programmable antibiotics to kill the bacteria sequence specifically and therefore can bypass multidrug resistance. Furthermore, CRISPR/Cas9 based gene drive may also hold the potential to limit the spread of vector borne diseases. This bacterial and archaeal adaptive immune system might be a therapeutic answer to previous incurable diseases, of course rigorous testing is required to corroborate these claims. In this review, we provide an insight about the recent developments using CRISPR/Cas9 against various diseases with respect to disease modeling and treatment, and what future perspectives should be noted while using this technology.
Keywords
CRISPR/Cas9Disease modelingGenetic diseases
Background
The potential and versatility of the field of genome engineering are remarkable in the sense of how scientists can utilize it for numerous benefits of mankind. The field has a wide range of applications in therapeutic medicine and biomedical research. The most pivotal aspect of genome engineering is certainly gene therapy, which can provide novelty to the way infectious diseases and genetic disorders are treated. To provide a cure through gene therapy, it is fundamental to study the gene functions and gene regulations through disease models that are in vivo and ex vivo. Another aspect of gene therapy is the way the genome is modified using different approaches, and how this modification could result in either a cure or a harmful mutation.
The genome whether in eukaryotes, prokaryotes or archea is a fascinating plethora of genes with endless protein products and possibilities. The vastness of proteins encoded by genes can be comprehended by a paradigm that twenty thousand proteins can be encoded by genes accumulated in only a meter of linear DNA in the genome [1]. In addition, this DNA also contains non-coding genes too. So, an estimate of the vastness of genes in the genome is tangibly comprehensible. In genetics, data from various studies of the past decade has elaborated the importance of variants and disease. Scientists have apprehended about the pivotal role that genome editing could play in the cure or prevention of infectious diseases. In the field of genome engineering, the term CRISPR/Cas9 has gained much fame in the previous few years. Many research papers are being written and published regarding exceptional experimentation using the technique: also claims of how this innovative, but simple method will prove to be the therapeutic answer to previous incurablediseases. Much testing is being done to confirm the claim of being the divine cure to diseases; in this review, we highlight the advancements that have been made using CRISPR/Cas9 in relation to cancer, genetic diseases, neurological, immunological disorders and viral infections.
Primordial genome editing to CRISPR/Cas9: The journey
The journey of genetic modification through the past few decades has been remarkable and fascinating. First and foremost, the classical experimentation of Capechhi must be reminisced. He was the first modifier of genes in mammalian cells through his revolutionary research termed, "heteroduplex induced mutagenesis" [2]. In concise, he made possible genetic modification in cells, which potentially paved the way for future genomic modification research. However, modification of the genomes has come a long way since the revolutionary discovery by Capecchi, Many improvements have been indoctrinated into methodologies that have uplifted the technology of genomic modification to a higher level. For many years the field of genetic engineering was based only on simple homologous recombination of DNA, and there was a seemingly limited application of the field due to the requisite of more complex targeting and construct selection.
The consequent development of homologous combination of DNA based upon phages (bacterial viruses) simplified the engineering of much larger DNA fragments, and also made possible the production of target vectors [3]. The headway towards more accomplished gene modification got better when it was demonstrated that double-stranded breaks (DSB) could be induced in mammalian chromosomes [4]. It was further proved that the use of the meganuclease, 'I-SceI' could induce double-stranded breaks increasing the probability to get targeted homologous recombination events [5]. These meganucleases can be cogitated as modified forms of naturally occurring restriction enzymes having extended DNA recognition sequences (14–40 bp) [6]. The engineering of meganucleases is an arduous challenge because the DNA recognition and cleavage function of these enzymes are interwined in a single domain [7].
Further facilitation of genome editing was provided by the use of zinc finger nucleases (ZFNs). These ZFNs have two independent regions: a recognition domain of zinc fingers which identify the target triplet nucleotides in the DNA, while the second region, which is a non-specific nuclease called FokI generates the double stranded breaks (DSB) Since the nuclease has to dimerize to remain active, the ZFNs have to be used in pairs [8]. The ZFNs are small like MNs, but the designing of the recognition domain of ZFNs is more straightforward than MNs. More studies indicated about the potentiality of the use of ZF domains as an effective nuclease system; a target sequence of about 9 bp or 18 bp can be modified using ZFNs in a precise manner [9, 10].
Another genome editing tool is Transcription activator-like effector nucleases (TALENs). These have two independent parts. The first part consists of transcription activator-like factors (TALEs); these proteins were first discovered in the plant pathogen bacteria Xanthomonas [11]. During the TALEs infection of plants, these TALEs are transported into the plant cells and bind to DNA sequences resulting in modulation of the expression of the plant genes [11, 12]. These TALEs can be fused to a FokI nuclease domain, which in turn can create DSB in the targeted DNA. The designing of TALENs is simpler than ZFNs, while longer recognition sites enhances its specificity and make it less prone to off-target mutations [13].
Another technology is RNA interference (RNAi), which has also been used to some extent for gene expression modification. But, this technique has certain limitations. The effects of RNAi are generally non-specific, temporary and the technique is restricted to the knocking down of only transcribed genes [14]. These chimeric nucleases ZFNs, TALENs, and meganucleases possess powerful attributes to perform site-specific genome modifications, activation/inactivation of genes, sequence deletion, andrearrangement of the chromosomes [15]. However, an even more efficient genome modification tool was soon to be put to use to modify genomes.
CRISPR/Cas9 miraculous genetic tool
In 2012, the field of genome engineering had one of the most important discoveries ever. Surprisingly, it involved the adaptive immune system of a Gram-positive bacteria Streptococcus pyogenes. The adaptive prokaryotic immune system CRISPR/Cas is present in 90% of archea and around 50% of bacteria [16]. The immune system is somewhat analogous to mammalian systems in remembrance of the foreign DNA; a sort of record is kept of prior exposures to phages and plasmids. A recurrent exposure results in a rapid and robust immune response to the invading foreign DNA. The genetic locus of the CRISPR/Cas systems is called "CRISPR array"; the locus contains a base pair range of ~ 20–50 (bp) separated by variable short DNA sequences termed as "Spacers". These spacers are preceded by a leader sequence rich in AT. The sequence of DNA in the invading microbe possesses a sequence identical to the spacers, this foreign sequence is termed as "Protospacer" [17].
The mechanism of immunity generally involves three important phases: adaptation, expression (biogenesis of crRNA) and interference [
18
]. The first phase, which involves the injection of foreign DNA into the host, the adaption system selects protospacers from the foreign DNA and includes them into the CRISPR locus (array) towards the leader end. During the expression (crRNA biogenesis) phase, there is transcription at the CRISPR locus normally as a single pre-crRNA, which subsequently proceeds into a mature crRNA containing a single spacer. The final phase is the interference in which the crRNA guides the Cas nucleases to preciselyidentify and cleave the foreign nucleic acid [
19
]. A comparison of CRISPR/Cas9, ZFNs, meganucleases, TALENs and RNAi is given in Table
1
.
Table 1
Comparison of CRISPR/Cas9, ZFNs, TALENs, meganucleases and RNAi
| | CRISPR/Cas9 | ZFNs | TALENs | Meganucleases | RNAi |
| --- | --- | --- | --- | --- | --- |
| Target site | 19–22 bp | 18–36 bp | 24–40 bp | 14–40 bp | Target site should be located 50–100 nt from ATG |
| Retargeting possibility | Easily retargeted without any complexity | Yes, but requires complex molecular cloning | Yes, but requires protein engineering | Yes, by protein engineering | Yes |
| Nuclease | Cas9 | FokI | FokI | I-SceI | Dicer and Argonaute proteins |
| Recognition mechanism | RNA-DNA | Protein-DNA | Protein-DNA | Protein-DNA | RNA |
| Targeting restrictions | Protospacer adjacent motif (PAM) must be present | Non-G-rich sequences are difficult to target | T in the start and A at the end | Novel sequences are difficult to target | Only targets mRNA |
| Efficiency | High | High | High | High | High |
| Limitations | Off targets | Both expensive and time consuming to construct | Takes long to construct | Limited versatility in targeting | Off targets |
| Cytotoxicity | Low | Low | Variable to high | Low | Variable to high |
| Multiplexing ease | High | Low | Low | Low | High |
| Cost | Low | High | Moderate | Low | Low |
Classification of the CRISPR/Cas system
The diversity of the CRISPR/Cas system is an essential component keeping in mind the wide range of foreign genetic elements that have to be confronted by it. Moreover, there are major differences in the repeated sequences of the CRISPR loci; it also applies to the Cas sequences and overall architecture of the Cas operon [
18
]. To overcome this ambiguity and to provide a clearer picture of the CRISPR/Cas system, it has been classified into six main types and two main classes shown in Fig
1
. Type I-III is better understood, whereas types IV-VI have been identified recently. In the type I system the Cas-3 nuclease-helicase is involved, the type II system has the nuclease Cas9, while the type III systems possess the least understood Cas10. Type IV system possesses an uncharacterized protein Csf1. Type V systems contain either Cpf1, C2c1or C2c3, which are very much similar to Cas9. Type V1 contains a large protein C2c2. Class 1 system comprises of type I, III and IV and the class 2 system comprises of II, V and VI [
19
].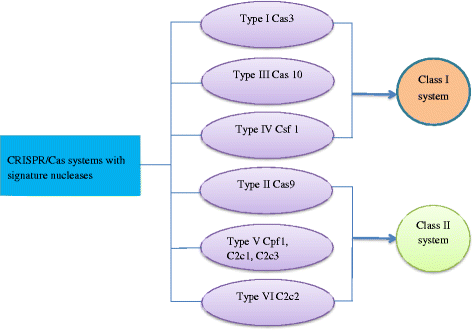 CRISPR/Cas9 in genome editing
The potential of CRISPR/Cas9 was exploited in mammalian cells for the first time in 2013, the mechanism of action is similar to the prokaryotes with the single guide RNA (sgRNA) derived from the crRNA and trans-acting CRISPR RNA [
20
]. The CRISPR/Cas9 domains consist of sgRNA, and Cas9 nuclease that has RuyC and HNH as two catalytic active domains [
21
]. In response to Protospacer adjacent motif (PAM) present on the other strand, the sgRNA directs Cas9 through base pairing to the target site resulting in DSBs generated by Cas9. If homologous sequences are available these DSBs are repaired by homologous directed repair, the absence of homologous sequences will result in non-homologous end joining (NHEJ). The type of joining is pivotal as HDR results in an accurate gene correction while NHEJ may produce insertions/deletion mutations, shown in Figs.
2
and
3
.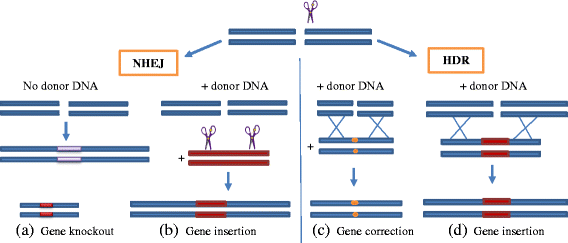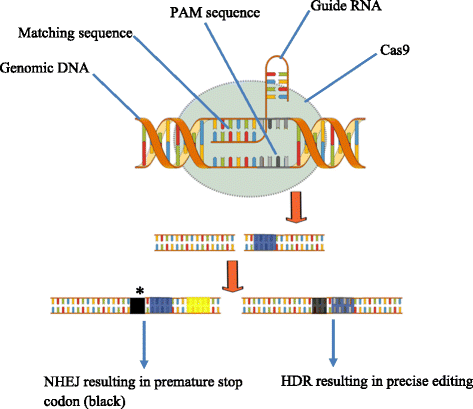 The reprogrammable property of Cas9 is incredible; it can be reprogrammed through inactivation of either or both HNH or RuvC into nickase Cas9 and dead Cas9 (dCas9). The dCas9 is catalytically inactive, but still shows a promising platform for targeting DNA through RNA guidance [22]. The CRISPR technology for gene regulation is termed as CRISPR interference (CRISPRi for gene repression) or CRISPR activation (CRISPRa for activation). Both use dCas9 fused with transcriptional repressors and activators [23]. In bacteria, dCas9 alone with sgRNA can efficiently silence gene expression [24]. However, only moderate silencing takes place in mammalian cells when dCas9 is used alone [24, 25] The fusing of dCas9 to the repressive KRAB (Krupel associated box) domain of Kox-1 exhibits strong gene silencing [25]. The effective targets sites of CRISPRi include proximal promoters, enhancers and coding region downstream from the transcription site of a gene [25]. The fusion of dCas9 with a transcription activator VP64 can result in the activation of a reporter gene [26, 27].
The CRISPR/Cas9 has many benefits in comparison to TALENs, ZFNs, RNAi and meganucleases. Firstly, in order to target a new DNA sequence the only requirement is a sgRNA, this is much simple and easy as compared to the synthesis of a cumbersome guiding protein for TALENs, ZFNs, RNAi and meganucleases. Furthermore, multiple sgRNAs can be used in the case of CRISPR/Cas9 to target different genomic loci simultaneously this is termed as "multiplexing" [28].
Methods of delivery of CRISPR/Cas9
Both viral and non-viral delivery methods are being used for the delivery of CRISPR/Cas9 components into cell lines and animal models. Viral vectors such as self-inactivating lentivirus, adenovirus and adeno-associated virus (AAV) are potential delivery vehicles for CRISPR/Cas9. For non-viral delivery potential cargoes include plasmid DNA, Cas9/gRNA ribonuleoprotein complexes and donor nucleic acid templates [29]. However, for non-viral delivery various methods such as electroporation, induced osmocytosis, hydrodynamic delivery and lipid-mediated transfection can be used [30].
CRISPR/Cas9 resources
Hundreds of online methods are available for CRISPR/Cas9 gene editing, construct designing with double stranded breaks, single stranded breaks, functional knockouts, plasmid with active gene expression, repress gene expression
,
tagging protein, finding target sequences and many others. A large number of resources have been developed which are being used for application in genome engineering, for identification of CRISPR target site and for selection of gRNA. Multiple online resources are available forcommercially available kits/ plasmids and CRISPR/Cas9 construction, as few are mentioned in Table
2
.
Table 2
Commercial available kits/plasmids and services for CRISPR/Cas9 construction
Numerous vectors are used for Cas9 according to the desired gene modification to be performed. The desired modifications include single strand break (SSB), double strand break (DSB), activation of gene expression, repression of gene expression and tagging of proteins knockout genes, these tools working so that any user can design construct with selectable marker, and different gene to be inserted according to their own demands. Many of them are freely accesible, but some are paid as well, depicted in Table
3
.
Table 3
Selective CRISPR/Cas9 plasmids
Name

Gene/insert

Selectable marker

Purpose

Reference

1.CRISPR/Cas9 plasmids that create single stranded break (Mammalian)

pX335-U6-chimeric_BB-CBh-hSpCas9n (D10A)

Humanized S. pyogenes Cas9(D10A) nickase

None

A human codon-optimized SpCas9 nickase and chimeric guide RNA expression plasmid

[28]

2.CRISPR/Cas9 plasmids that create double stranded break (Mammalian)

pX330-U6-chimeric_BB-CBh-hSpCas9

humanized S. pyogenes Cas9

None

A human codon-optimized SpCas9 and chimeric guide

RNA expression plasmid

[28]

pSpCas9 (BB)-2A–Puro (PX459) V2.0

hSpCas9-2A-Puro V2.0 (Synthetic)

Puromycin

Cas9 from S. pyogenes with 2A–Puro, and cloning backbone for sgRNA (V2.0)

[31]

3.CRISPR/Cas9 plasmids which activate gene expression(Mammalian)

SP-dCas9-VPR

SP-dCas9-VPR (Homo sapiens)

Neomycin (select with G418)

SP-dCas9 with VP64-p65-Rta (VPR) fused to its C-terminus; mammalian vector

[33]

dCAS9-VP64_GFP

dCAS9(D10A, H840A)-VP64_2A_GFP (Synthetic)

GFP

Expresses dCas9-VP64 activator with 2A GFP

[34]

lenti dCAS-VP64_Blast

dCAS9(D10A, N863A)-VP64_2A_Blast (Synthetic)

Blasticidin

3rd generation lenti vector encoding dCas9-VP64 with 2A Blast resistance marker (EF1a-NLS-dCas9(N863)-VP64-2A-Blast-WPRE)

[34]

4.CRISPR/Cas9 plasmids which repress gene expression(Mammalian)

pSLQ1658-dCas9-EGFP

dCas9 fuse to EGFP(Homo sapiens)

Puromycin

Template for NLS-dCas9-NLS-EGFP fusion protein for CRISPR imaging (the recipient vector can beTetON 3G promoter system)

[35]

pLV hUbC-dCas9-T2A-GFP

Humanized dead Cas9T2A GFP (Other)

Zeocin

Co-expresses human optimized S. pyogenes dCas9 and GFP

[36]

pJMP1

dCas9 (Other)

None

Bacillus subtilis dCas9 expression vector; integrates into lacA/ganA

[37]

5.CRISPR/Cas9 plasmid for tagging protein

Protein

pFETch_NCoA2

Human

Donor plasmid

pFETCh_NCoA2

Donor vector for 3' FLAG tag of human NCoA2

[38]

pFETch_RAD21

Human

pFETCh_RAD21

Homology arms and 3X Flag with P2A Neofor 3′ tagging of human RAD21

[38]
In addition, miscellaneous online resources are available for the designing of sgRNAs which provide information about OTs without limiting the PAM or number of mismatch bases, for finding potential off targets in any genome, identification and ranking all sgRNA targets sites according to off target quality, help in inquiry of guide sequences [
32
], and few of them are described in Table
4
with pros and corns.
Table 4
Tools available for sgRNA designing
| Tool | Website | Purpose | Input | Output | Available genomes | Pros | Cons | Reference |
| --- | --- | --- | --- | --- | --- | --- | --- | --- |
| Atum | | Candidate gRNA | DNA sequence, (max 10,000 bp) gene name, genomic region | Candidate guidesequences and off target loci | 5 | Uses ATUM scoring to minimize off-targets/all in one nickase ninja | Not free of cost | N/A |
| Benchling | | Candidate gRNA | DNA sequence/gene name | Candidate guidesequences and off target loci | 5 | Free of cost | | N/A |
| CRISPR design | | Used to find target sequences for a sequence or seuqnces (batch mode), also provides in depth on/off target information | DNA sequence/FASTA files single or batch mode | Candidate guide sequences and off target loci | 16 | Helpful to generate many candidates with on/off information | Only handles short sequences up to23–500 bp/slow to use/no efficacy merit/does not indicate identity of mismatches | [39] |
| CHOPCHOP | | To find target sequences for a single sequence/gene/transcript | DNA sequence/gene name/genome location | Candidate guide sequences and off target loci, | 23 | Good to generate multiple guides for a single target, free of cost | No on-target efficacy | [40] |
| Cas off finder | | Provides information about OTs without limiting the PAM or number of mismatch bases | sgRNA | Off target loci for guide sequences | 20 | Free of cost/easy to use | Does not give indication if OTs are in coding sequences | [41] |
| Fly CRISPR | | Candidiate gRNA, software provides maximum stringency-(uses strict algorithm based on OT cleavage in cells lines) and minimum stringency; off target cleavage effects observed | DNA sequence | Candidate guidesequences and off target loci, | 18 | Free of cost | Slow to use | [42] |
| E-CRISP | | Finds target sequences for a single gene or sequence | DNA sequence/gene symbol | Candidate guide sequences and off target loci, | 30 | Free of cost | Numerous options maybe confusing/no account for identity of mismatches | [43] |
| Cas OT | | To find potential off targets in any genome | FASTA files | sgRNA and OT sites | User input | Free of cost/ First tool that identifies off-targetes in a user specified genome | No account for identitiy of mismatches | N/A |
| CRISPR ERA | | Used for genome wide screening based on CRISPR, CRISPRi and CRISPRa | DNA sequence, gene name or TSS location | Candidate guide sequences and distances to TSS | 9 | Free of cost/can also be used for genome imaging and CRISPR synthetic circuit design | | [44] |
| CCTop | | It helps in identifying and ranking all sgRNA targets sites according to off target quality | DNA sequence/FASTA file single/batch/ sequences 23 to 500 bp | Scores OTs and also ranks sgRNA by OTs | 45 | Free of cost/easy to use | No on–target efficacy prediction | [45] |
| WU-CRISPR | | Potential candidate gRNA | DNA sequence/gene symbol | sgRNA list ranked by efficacy score | 2 (Human and mouse) | Free of cost/easy to use | No account of identity of mismatches | [46] |
| GTscan | | Used to find target sequences and OTs for a single sequence | DNA sequence/FASTA file | SgRNA, genomic sites with 0 to 3 mismatches | 51 | Free of cost/easy to use | Trouble in finding exact matches in genome | [47] |
| CRISPR direct | | To find target sequences for a single transcript/sequence | DNA sequence/genome location/transcript | Target sequence and position | 20 | Free of cost/rapid visual display of target sequence and OT information | No on-target efficacy | [48] |
| COD | | Used to find target sequences for an input sequence | DNA sequence up to 400 bp | Gene bank file/CSC file/ OT scoring | 27 | Free of cost/easy to use/ OT scoring | Slow to use/no on-taget prediction | N/A |
| sgRNA scorer 2.0 | | Used to find target sequences/OT using Casfinder | DNA sequence/FASTA files upto10 kb | Target sequence with activity score | 14 | Free of cost/ allows to identify target sites for any CRISPR system | Slow to use/OT prediction does not account identity | N/A |
| CRISPOR | | To find candidate guide sequences | DNA sequence 1000 bp | Guide sequence with specificity score/guides for OTs | 146 | Free of cost | N/A | [49] |
CRISPR/Cas9 and disease resistance
Gene drive and CRISPR the ultimate gene editing alliance?
A gene drive is a process by which an altered gene is introduced inside an animal population. The aim of gene drive is to get desired traits a population through natural reproduction alone. The use of novel gene drives resides in the use of CRISPR, the CRISPR technique has great potential in genome engineering. By using it scientists edit genes with precision, quickness, and economy, in addition it also has the potential of generating genetic alterations in wild animals that may persist in nature [127].
Gene drive research and its applications are progressing quickly. The CRISPR/Cas9 phenomenon became the holy grail of genome editing about 4–5 years ago, and the first reports of gene drive organisms (yeast, laboratory fruit flies and mosquitoes) were published in 2015 [128]. It will take some time for scientists to release genetically modified organisms (GMO's) with a gene drive system into the wild, till that happens the US National Academy of Sciences, Engineering and Medicine has recently approved comprehensive research for the betterment of gene drive and has encouraged carefully controlled field trials in the near future [129].
Gene drives have the potential to limit the spread of various diseases, to support the agriculture sector by reversing pesticides and herbicides resistance in insects and plants.. Till now there is no claim about the successful testing of any gene drive in the wild but in laboratory organisms like fruitfly and mosquitos, scientists have converted almost entire populations to carry a favored trait. In laboratory tests, different groups have already used CRISP for editing genes of mosquito species, these blood thirsty insects harbor the parasite that causes malaria, and so the gene drive can be used to prevent female mosquitoes from producing fertile eggs [129].
So far, gene drives have been tested and evaluated only in laboratories, and the main emphasis of research has been on mosquitoes that transmit infectious diseases, as well as lab animals such as mice. The objectives are numerous however, some of the pivotal ones include control of the size of the population, or to suppress it completely, the last but not least is its use to combat against infectious diseases. Gene drives therefore have the potential to reduce the occurrence of, and possibly eradicate various infectious diseases by upsetting their transmission chains [130].
Conclusions
Ever since CRISPR/Cas9 was introduced as the key aspect of genome engineering a plethora of advances have been made. Despite its easy adoption, the proper translation of this technology for clinical purposes has been cumbersome. The main emphasis on the utilization of this genome-editing tool has been to develop a control of the repair mechanisms in the targeted DNA. Despite recent advances in genome editing targeted in vivo gene integration has not been achieved specifically in non-dividing cells A recent development of much interest is homology-independent targeted integration (HITI) for CRISPR/Cas9, which allows robust knock-in in both dividing and non-dividing cells [28, 121–123].
Another limitation in the use of CRISPR/Cas9 has been off-target cleavage activity. However, experiments have proven that shortening the length of gRNA < 200 nucleotides can reduce off-target mutagenesis. [124]. A high fidelity variant Cas9 termed (Cas9-HFI) has been constructed with reduced off-targets. It was compared with wild type Cas9, it showed similar on target results and reduced off-targets [124]. Similar results were shown by Slaymaker et al. by the use of an "enhanced specificity" Cas9 [125]. In short, the use of altered Cas9 nucleases, which possess higher precision as compared to wild type Cas9 could be an appropriate tactic to curtail off-target cleavage.
In this review, many of the possibilities of CRISPR/Cas9 have been outlined in relation to not only understanding the various diseases but also devising ways of making efficient therapeutic cures using CRISPR/Cas9. What the future holds with CRSIPR/Cas9 is both fascinating and intriguing, however much further research is necessary to overcome the shortcomings at hand, to tackle any possible adverse effects on humans, and the ethical aspects of such experiments must not be overlooked.
Declarations
Acknowledgments
We are grateful to USAID for provision of funds to conduct research work. Sehrish Khan was also supported by USAID under USPCAS-AFS.
Funding
Research related to CRISPR/Cas9 was funded by USAid under United States Pakistan Center for Advanced Studies in Agriculture and Food Security (USPCAS-AFS), University of Agriculture, Faisalabad, Pakistan.
Availability of data and materials
Data and materials related to work on CRISPR/Cas9 are available upon request.
Authors' contributions
The manuscript was originally drafted by SK, AA and HZ. Further improvements were done by MSM, SUR, SH and ZK. All authors read and approved the final manuscript.
Ethical approval and consent to participate
None.
Consent for publication
All the authors read the manuscript carefully and gave their consent for publication.
Competing interests
The authors declare they have no competing interests.
Publisher's Note
Springer Nature remains neutral with regard to jurisdictional claims in published maps and institutional affiliations.
Open AccessThis article is distributed under the terms of the Creative Commons Attribution 4.0 International License (http://creativecommons.org/licenses/by/4.0/), which permits unrestricted use, distribution, and reproduction in any medium, provided you give appropriate credit to the original author(s) and the source, provide a link to the Creative Commons license, and indicate if changes were made. The Creative Commons Public Domain Dedication waiver (http://creativecommons.org/publicdomain/zero/1.0/) applies to the data made available in this article, unless otherwise stated.
Authors' Affiliations
(1)
Institute of Microbiology University of Agriculture, Faisalabad, Pakistan
(2)
Center of Agricultural Biochemistry and Biotechnology, University of Agriculture, Faisalabad, Pakistan
(3)
Department of Biochemistry/U.S.-Pakistan Center for Advanced Studies in Agriculture and Food Security (USPCAS-AFS), University of Agriculture Faisalabad (UAF), Faisalabad, Pakistan