Investigation on the role of nsSNPs in HNPCC genes – a bioinformatics approach
Journal of Biomedical Science
2009
16:42
Received: 05 November 2008
Accepted: 24 April 2009
Published: 24 April 2009
Abstract
Background
A central focus of cancer genetics is the study of mutations that are causally implicated in tumorigenesis. The identification of such causal mutations not only provides insight into cancer biology but also presents anticancer therapeutic targets and diagnostic markers. Missense mutations are nucleotide substitutions that change an amino acid in a protein, the deleterious effects of these mutations are commonly attributed to their impact on primary amino acid sequence and protein structure.
Methods
The method to identify functional SNPs from a pool, containing both functional and neutral SNPs is challenging by experimental protocols. To explore possible relationships between genetic mutation and phenotypic variation, we employed different bioinformatics algorithms like Sorting Intolerant from Tolerant (SIFT), Polymorphism Phenotyping (PolyPhen), and PupaSuite to predict the impact of these amino acid substitutions on protein activity of mismatch repair (MMR) genes causing hereditary nonpolyposis colorectal cancer (HNPCC).
Results
SIFT classified 22 of 125 variants (18%) as 'Intolerant." PolyPhen classified 40 of 125 amino acid substitutions (32%) as "Probably or possibly damaging". The PupaSuite predicted the phenotypic effect of SNPs on the structure and function of the affected protein. Based on the PolyPhen scores and availability of three-dimensional structures, structure analysis was carried out with the major mutations that occurred in the native protein coded by MSH2 and MSH6 genes. The amino acid residues in the native and mutant model protein were further analyzed for solvent accessibility and secondary structure to check the stability of the proteins.
Conclusion
Based on this approach, we have shown that four nsSNPs, which were predicted to have functional consequences (MSH2-Y43C, MSH6-Y538S, MSH6-S580L, and MSH6-K854M), were already found to be associated with cancer risk. Our study demonstrates the presence of other deleterious mutations and also endorses with in vivo experimental studies.
Keywords
Root Mean Square DeviationLynch SyndromeSolvent AccessibilityHereditary Nonpolyposis Colorectal CancerExonic Splice Enhancer
Background
Colorectal cancer is the second leading cause of cancer death in the western countries after lung cancer. Colorectal cancer manifests itself after an accumulation of several genetic alterations. These mutations can be either somatic or inherited. The most common forms of heritable colorectal cancer are hereditary non-polyposis colorectal cancer (HNPCC) and familial adenomatous polyposis (FAP). Hereditary nonpolyposis colorectal cancer is an autosomal dominant syndrome which accounts for about 1–5% of colorectal cancer [1]. Lynch syndrome, also known as hereditary nonpolyposis colorectal cancer (MIM# 114500) is the most common form of inherited colorectal cancer caused by mutations in high-penetrance genes. Hereditary nonpolyposis colorectal cancer is a dominant condition, meaning that people with HNPCC have a 50% chance of passing the HNPCC gene mutation (change) to each of their children. With HNPCC, the lifetime risk for colorectal cancer (CRC) is approximately 80% and the lifetime risk of endometrial cancer is 40%. HNPCC is associated with germline genetic alterations in the mismatch repair (MMR) genes. The primary function of the mismatch repair system is to eliminate single base substitutions and insertion-deletion errors that may arise during DNA replication. The system involves several proteins encoded by 5 different genes namely [MLH1 (MIM# 120436), MSH2 (MIM# 609309), MSH6 ( MIM# 600678), PMS1 (MIM# 600258), and PMS2 (MIM# 600259)] have been implicated in HNPCC [2]. Loss of mismatch repair gene activity leads to an accumulation of replication errors and genetic instability that is exhibited as micro satellite instability (MSI). Germline mutations in MLH1 and MSH2 account for approximately 90% of detected mutations in families with HNPCC where as mutations in MSH6 account for about 7%–10%, and PMS2 mutations in fewer than 5% of families with Hereditary nonpolyposis colorectal cancer and risk of developing colorectal cancer is also increased among MSH2 mutation carriers as compared with MLH1 mutation carriers [3].
In human genome more than 99% genetic nucleotides are same, only less than 1% genetic variations are different. These genetic variations widely spread on species genome which form a ubiquitous phenomenon cause the differences and diversities of the species. The variation in DNA may consist of deletions where some pieces are missing, insertions of new genetic material or changes in nucleotides, where a sequence is changed to another. Most of the variation in human genome consists of substitutions in single nucleotide, where one of the four nucleotides (A, T, G, and C) has changed to another one. The phenomenon of having such a varying nucleotide at a certain locus is referred as single nucleotide polymorphism (SNP). Common definition of the SNP requires that the relative frequency of the least frequent allele is greater than 0.01. Single nucleotide polymorphisms are generally the most common form polymorphisms of DNA sequence variation in the species genome and resource for mapping complex genetic traits. There are now several databases with these variations of single nucleotide polymorphisms, such as the human genome variation database, HGVBase [4] and the National Center for Biotechnology Information (NCBI) database, dbSNP [5]. With exception of variants lying in promoters or splice site donors or acceptors, it is difficult to determine the effect of non-coding SNPs on gene expression. For this reason, particular attention has been focused towards nonsynonymous coding SNPs (nsSNPs), SNPs that cause amino acid alteration. These types of alterations are believed to be more likely to cause a change in structure and as such compromise the function of a protein. Our literature survey shows that nsSNPs affect the functional roles of proteins in signal transduction of visual, hormonal and other stimulants [6, 7] in gene regulation by altering DNA and transcription factor binding [8, 9]. nsSNPs may inactivate functional sites of enzymes or alter splice sites and thereby form defective gene products [10, 11]. They may destabilize proteins, or reduce protein solubility [12], may have functional effects on transcriptional regulation, by affecting transcription factor binding sites in promoter or intronic enhancer regions [13], or alternatively splicing regulation by disrupting exonic splicing enhancers or silencers [14]. To understand the mechanism of phenotypic variations due to nsSNPs, it is important to assess the structural consequences of the alteration of amino acid residue. With the advent of high-throughput SNP detection techniques, the number of known nsSNPs is growing rapidly, providing an important source of information for studying the relationship between genotypes and phenotypes of human diseases.
Over the past few years, quite a lot of studies have attempted to predict the functional consequences of an nsSNPs whether it is disease-related or neutral, based on sequence information and structural attributes [
15
] using computational algorithms such as SIFT and PolyPhen algorithms to screen for deleterious nsSNPs [
16
,
17
]. The structure of a protein can change in various ways due to the biochemical differences of the amino acid variant (acidic, basic, or hydrophobic) and by the location of the variant in the protein sequence (by affecting tertiary or quaternary structure or the active site where substrate binds) which can have a deleterious effect on the structure and/or function of the proteins [
18
]. Therefore, it is important to determine whether an nsSNP that affects the amino acid sequence of a gene product can alter protein function and contribute to disease will be a challenge in the coming years [
19
]. Several groups have tried to evaluate the deleterious nsSNPs based on 3-dimensional (3D) structure information of proteins by
in-silico
analysis. They indicated that the residue solvent accessibility, which could identify the buried residues, was confidently proposed as predictors of deleterious substitutions [
20
,
21
]. Deleterious nsSNPs analyses for the HNPCC genes have not been estimated computationally until now, although they have been the focus for experimental researchers. Therefore, in this work, the computational algorithms namely SIFT, PolyPhen, PupaSuite, ASA View and DSSP were used to identify the deleterious nsSNPs that are likely to affect the function and structure of the protein. Based on PolyPhen, we identified the possible mutation, proposed a model structure for the mutant proteins and compared this with the native protein in the 3-D modeled structure of the
MSH2
and
MSH6
gene. We further analyzed native and mutant modeled proteins for solvent accessibility and secondary structure analysis. Secondary structures and solvent accessibilities of amino acid residues give a useful insight into the structure and function of a protein [
22
–
25
]. We have described our approach using computational tools to provide related information of SNPs and a guide to experimental biologists (Figure
1
). Our computational study also demonstrates the presence of other deleterious mutations in other HNPCC genes in which there is no availability of three- dimensional structure that may affect the expression and function of proteins with possible roles in colon cancer.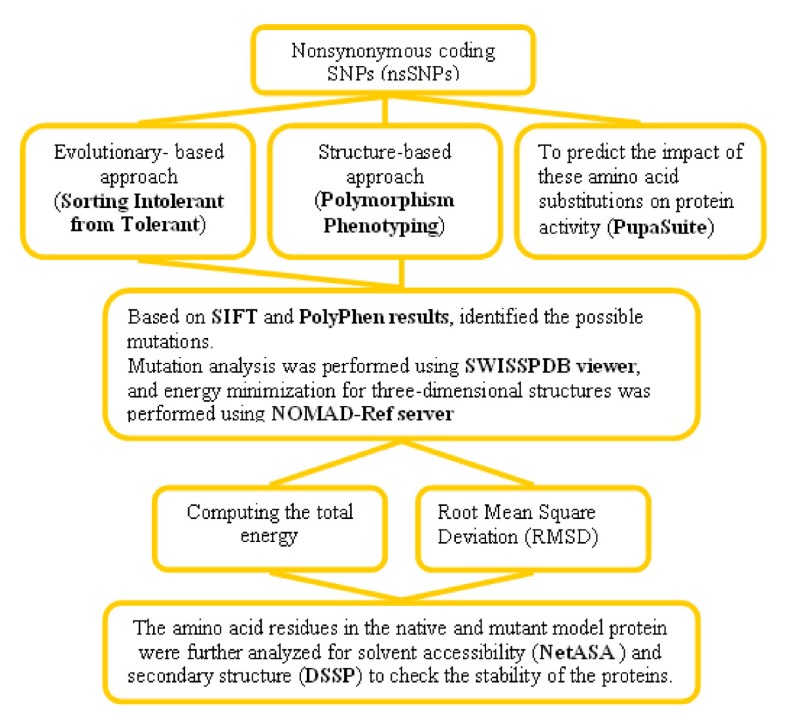 Discussion
A major interest in human genetics is to distinguish mutations that are functionally neutral from those that contribute to disease. Amino acid substitutions currently account for approximately half of the known gene lesions responsible for human inherited disease [72]. Therefore, the identification of nsSNPs that affect protein functions and relate to disease is an important task. The effect of many nsSNPs will probably be neutral as natural selection will have removed mutations on essential positions. Assessment of non-neutral SNPs is mainly based on phylogenetic information (i.e. correlation with residue conservation) extended to a certain degree with structural approaches (PolyPhen). However, there is increasing evidence that many human disease genes are the result of exonic or noncoding mutations affecting regulatory regions [73, 74]. Much attention has been focused on modeling by different methods the possible phenotypic effect of SNPs that cause amino acid changes, and only recently has interest focused on functional SNPs affecting regulatory regions or the splicing process. Moreover, because of their widespread distribution on the species genome, SNPs become particularly important and valuable as genetic makers in the research for the diseases and corresponding drug. Currently, millions of human SNPs have reported by high-throughput methods. The vast number of SNPs causes a challenge for biologists and bioinformaticians although they provide lot information about the relationships between individuals. Besides numerous ongoing efforts to identify millions of these SNPs, there is now also a focus on studying associations between disease risk and these genetic variations using a molecular epidemiological approach. This plethora of SNPs points out a major difficulty faced by scientists in planning costly population-based genotyping, which is to choose target SNPs that are most likely to affect phenotypic functions and ultimately contribute to disease development.
Currently, most molecular studies are focusing on SNPs located in coding and regulatory regions, yet many of these studies have been unable to detect significant associations between SNPs and disease susceptibility. To develop a coherent approach for prioritizing SNP selection for genotyping in molecular studies, we applied an evolutionary perspective to SNP screening. We correlated findings from molecular studies of cancer with the evolutionary conservation levels of non-synonymous SNPs using a sequence homology-based tool. Our hypothesis was that, amino acids conserved across species are more likely to be functionally significant. Therefore, SNPs that change these amino acids might be more likely to be associated with cancer susceptibility. It is becoming clear that application of the molecular evolutionary approach may be a powerful tool for prioritizing SNPs to be genotyped in future molecular epidemiological studies. Therefore, our analysis will provide useful information in selecting SNPs that are likely to have potential functional impact and ultimately contribute to an individual's cancer susceptibility.
Out of 1970 SNPs, 125 were non-synonymous SNPs (nsSNPs) of the HNPCC genes were submitted to the SIFT and PolyPhen algorithms. Sorting Intolerant from Tolerant (SIFT) classified 22 of 125 variants (18%) as "Intolerant." Polymorphism Phenotyping (PolyPhen) classed 40 of 125 amino acid substitutions (32%) as "probably or possibly damaging". 49 nsSNPs, 3 SNPs in mRNA and a SNP in intron region showed molecular phenotypic variation by PupaSuite. Based on the PolyPhen scores and availability of 3D structures, structure analysis was carried out with the major mutation that occurred in the native protein coded by MSH2 and MSH6 genes. The total energy and RMSD value of mutant structure Y43C is high when compared to the other mutants H639Q and P670L in MSH2 gene, while all the three mutants Y538S, S580L and K854M in MSH6 showed almost same total energy and RMSD. Based on the SIFT, PolyPhen, total energy and RMSD values of the mutant proteins, solvent accessibility and secondary structure of all the residues in the native protein and mutant protein Y43C, H639Q and P670L of MSH2 gene and Y538S, S580L and K854M of MSH6 gene were computed with NetASA. Solvent accessibilities and secondary structures of amino acid residues give a useful insight into the structure and function of a protein. Based on this approach, we have shown that four nsSNPs, which were predicted to have functional consequences (MSH2-Y43C, MSH6- Y538S, MSH6- S580L, and MSH6- K854M), were already found to be associated with cancer risk.
Conclusion
Our current analysis focuses on SNPs in the coding regions, and our findings could explain a significant fraction of the cancer risk that has been detected. This approach might also be applied to a relationship between SNP conservation levels and epidemiological studies of diseases other than cancer. More importantly, this study builds a bridge from evolutionary biology to molecular epidemiology, which may further our understanding of disease-related SNPs and ultimately facilitate SNP genotyping in future studies. In summary, we have systematically and comprehensively evaluated structure and sequence-based computational prediction methods applied to variants in the MLH1, MSH2, MSH6, PMS2 and PMS1 genes and provided detailed structural explanations for the measured and predicted impact of MSH2 and MSH6 variants. The data presented here show that this novel bioinformatics approach to classifying cancer-associated variants is robust and can be used for large-scale analyses. Our approach will present the application of computational tools in understanding functional variation from the perspective of structure, expression, evolution and Phenotype. The existing in silico methods that we used can also be adapted by any investigator to a priori SNP selection or post hoc evaluation of variants identified in whole-genome scans. The best-supervised learning algorithms are in greater agreement with experimental results than has been reported previously.
Abbreviations
CRC:

Colorectal cancer
ESEs:

Exon splicing enhancers
HNPCC:

Hereditary non-polyposis colorectal cancer
HGVBase:

Human genome variation database
FAP:

Familial adenomatous polyposis
MMR:

Mismatch repair
NCBI:

National Center for Biotechnology Information
NsSNPs:

Nonsynonymous single nucleotide polymorphism
OMIM:

Online Mendelian Inheritance In Man
MSI:

Micro satellite instability
PSIC:

Position-specific independent counts
RMSD:

Root Mean Square Deviation
SNP:

Single Nucleotide Polymorphism
SIFT:

Sorting Intolerant From Tolerant.
Declarations
Acknowledgements
The authors thank the management of Vellore Institute of Technology for providing the facilities to carry out this work. Authors also thank the reviewers for their valuable comments and suggestions in the improvement of the manuscript.
Authors' Affiliations
(1)
Bioinformatics Division, School of Biotechnology, Chemical and Biomedical Engineering, Vellore Institute of Technology, Vellore, India
Copyright
© Doss and Sethumadhavan; licensee BioMed Central Ltd. 2009
This article is published under license to BioMed Central Ltd. This is an Open Access article distributed under the terms of the Creative Commons Attribution License (http://creativecommons.org/licenses/by/2.0), which permits unrestricted use, distribution, and reproduction in any medium, provided the original work is properly cited.