Human mesenchymal stem cells (MSCs) for treatment towards immune- and inflammation-mediated diseases: review of current clinical trials
Journal of Biomedical Science
2016
23:76
Received: 23 June 2016
Accepted: 12 October 2016
Published: 4 November 2016
Abstract
Human mesenchymal stem cells (MSCs) are multilineage somatic progenitor/stem cells that have been shown to possess immunomodulatory properties in recent years. Initially met with much skepticism, MSC immunomodulation has now been well reproduced across tissue sources and species to be clinically relevant. This has opened up the use of these versatile cells for application as 3rd party/allogeneic use in cell replacement/tissue regeneration, as well as for immune- and inflammation-mediated disease entities. Most surprisingly, use of MSCs for in immune-/inflammation-mediated diseases appears to yield more efficacy than for regenerative medicine, since engraftment of the exogenous cell does not appear necessary. In this review, we focus on this non-traditional clinical use of a tissue-specific stem cell, and highlight important findings and trends in this exciting area of stem cell therapy.
Keywords
Mesenchymal stem cellsHumanImmunomodulationInflammationClinical trialsAutoimmune diseaseOrgan transplantation and rejectionStem cell therapy
Stem cell therapy for immune- and inflammation-mediated diseases
Stem cells are likely the most promising agent for the treatment of degenerative and ischemic diseases due to their self-renewal and multilineage differentiation capacity. The most exciting aspect of these unique cells is their potential therapeutic impact for regenerative medicine [1, 2]. The best studied type of stem cell is the hematopoietic stem cell (HSC), and transplantation of these tissue-specific stem cells have now become standard-of-care for numerous indications [3]. Over 50 years in the making, the success of HSC transplantation is illustrative of the paradigm for stem cell therapy: replacement and regeneration of pathological endogenous tissue with autologous or 3rd party/allogeneic stem cells. While research in stem cell biology is mainly focused on this goal, an unexpected new avenue of clinical application has emerged for the mesenchymal stem cell (MSC) as an immunotherapeutic agent. A type of somatic progenitor/stem cell, the MSC is capable of multilineage differentiation. However, in recent years, consistent reports on its immunomodulatory properties have opened up the use of these cells for indications other than regenerative medicine. The therapeutic application of MSCs in immune/inflammatory contexts may be more efficacious than traditional indications for regenerative medicine, since engraftment of infused/transplanted stem cells—which have proved surprisingly difficult to achieve [4]—appears not to be necessary for efficacy [5]. In this review, we specifically focus on this non-traditional application of a tissue-specific stem cell, and highlight important findings and trends in this exciting area of stem cell therapy.
Background: Functional capacity of Mesenchymal stem cells (MSCs)
MSCs were first isolated from the adult bone marrow (BM), and distinguished from marrow hematopoietic cells by their adherent nature in in vitro cell cultures and fibroblastic morphology [
6
,
7
]. The function of BMMSCs was initially thought to be limited to supporting hematopoiesis; indeed, one of the first clinical use of these progenitor/stem cells was to enhance HSC engraftment [
8
]. Since these early reports, MSCs have been demonstrated to exist in a wide range of adult and fetal organs/tissues [
9
], and popular sources for isolation other than the BM include adipose tissue, umbilical cord blood, umbilical cord and placenta. In 2006, the International Society for Cellular Therapy (ISCT) established the following unified and minimal criteria to define MSCs [
10
].
Plastic-adherent cells

Expression of the surface markers CD73, CD90 and CD105, but not the hematopoietic markers CD45, CD34, CD14, CD11b, CD19, CD79a or HLA-DR

Trilineage mesenchymal differentiation capacity into osteoblasts, adipocytes and chondrocytes
In the early 2000's, reports of immunomodulatory properties in BMMSCs began to emerge [11–13]. While initially met with much skepticism, the reproducibility of these findings using multiple species and disease models along with human case reports established that in vitro cultured MSCs clearly are immunosuppressive and immunomodulatory [14–16]. Moreover, these properties were not limited to MSCs from the BM, but also found with other sources of MSCs, especially fetal sources [17, 18]. Interestingly, despite the increasing number of reports on MSC immune-related functions, the question of why these somatic progenitor/stem cells harbor these properties remain much of a mystery. Regardless of this issue, MSC immunomodulatory functions have greatly expanded the clinical utility of this progenitor/stem cell over other stem cell types, since this allows 3rd party/allogeneic use. Moreover, use of MSCs for immune-/inflammation-mediated disease entities appear to yield more efficacy than for cell replacement/tissue regeneration, since engraftment of the exogenous cell is not necessary. These reasons, along with easily accessible sources for isolation, help explain the popularity of MSC therapy for immune-and inflammation-mediated diseases.
Clinical status of MSC therapy for immune-/inflammation-mediated diseases
Disease indications in clinical trials utilizing MSCs
The capacity of MSCs for multilineage differentiation as well as immunomodulation has meant that these somatic progenitor cells are highly versatile for a wide range of therapeutic applications. Moreover, a number of animal model and translational studies have reported on the capacity of MSCs to home to sites of injury and/or inflammation, thus adding to their attractiveness for clinical use [
19
]. Indeed, as of April 2016, there were over 500 MSC-related clinical trials registered on the NIH Clinical Trial Database (
https://clinicaltrials.gov/
). Surprisingly, while the immunomodulatory properties of MSCs have only more recently been identified, nearly half of all registered clinical trials—230 trials or 42 % of all registered trials—are being conducted for immune-/inflammation-mediated diseases (Fig.
1
). The main clinical indications within these trials include autoimmune diseases (
n
 = 51), organ transplantation and rejection (
n
 = 67), and other inflammatory aspects of various diseases (
n
 = 112). These trials generally are Phase 1 studies to evaluate safety (
n
 = 49 or 21.3 %; 2 Phase 0 trial to establish dosage safety in a small number of subjects), Phase 2 studies to evaluate efficacy (
n
 = 53 or 23.0 %), or combined Phase 1/2 studies (
n
 = 103 or 44.8 %). A small number of trials are in Phase 3 (
n
 = 10 or 4.3 %) or combined Phase 2/3 (
n
 = 8 or 3.5 %). There is only one Phase 4 trial to monitor side effects after marketing, and there are 4 trials which did not specify a trial Phase (
n
 = 4 or 1.7 %) (Table
1
). Trials also differ in terms of the tissue source of MSCs used, with the most frequent reported source being adult BMMSCs (41.2 %). However, other tissue and fetal source MSCs are also popular choices, with 16.3 % of trials using adipose-derived MSCs, and 21.1 % of trials using fetal-source MSCs which includes MSCs isolated from umbilical cord, umbilical cord blood, and placenta (Table
1
). While 32.5 % of all trials specify the use of autologous sources, over 50.9 % of trials appear to use allogeneic sources, i.e. trials which use fetal-source MSCs on adult patients. Unspecified donor sources account for approximately 16.7 % of trials. Clearly, the capacity to use allogeneic/3rd party source MSCs greatly contributes to the popularity of this stem cell source. In this review, we will focus our attention on disease indications which have a higher number of clinical trials being conducted.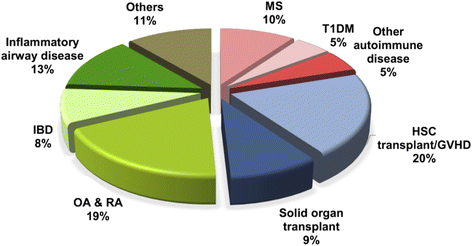 Table 1
MSC clinical trials for immune-related diseases
MSC source

Total %

Total No.

No. of clinical trial phases

?

0

1

1 & 2

2

2 & 3

3

4

Unspecified

21.0

49

1

0

9

21

14

3

1

0

Bone marrow

41.2

96

3

1

21a

38

25

3

5

0

Adipose tissue

16.3

38

0

1

10

17

7

1

2

0

Umbilical cord

14.2

33

0

0

6ab

22

4c

0

0

1

Umbilical cord blood

5.6

13

0

0

3

4

3

1

2

0

Placenta

1.3

3

0

0

2b

0

1c

0

0

0

Menstrual Blood

0.4

1

0

0

0

1

0

0

0

0

Total No. of clinical trial phases

230

4

2

49d

103

53e

8

10

1

Total % of clinical trial phases

1.7

0.9

21.3

44.8

23.0

3.5

4.3

0.4
Mechanisms of human BM and other tissue source MSC immunomodulation
Since the first studies demonstrating immunomodulation by MSCs, there have been significant advances in understanding mechanisms involved in these properties, including interactions with specific leukocyte populations [16, 20]. MSC modulation of CD4 T lymphocyte populations has been best studied, with most reports demonstrating that secreted factors such as transforming growth factor β1 (TGF-β1) and prostaglandin E2 (PGE2) being involved in inhibiting T cell proliferation [21]. In addition, MSCs can modulate T lymphocyte fate, polarizing naïve CD4 towards a regulatory T cell (Treg) phenotype and shifting the cytokine profile from a T helper cell type 1 (Th1)—in which high levels of interferon-γ (IFN-γ) and tumor necrosis factor-α (TNF-α) are secreted—to a Th2 milieu [22]. MSCs can suppress the cytotoxic activity of CD8 cytotoxic T cells [23, 24] as well as natural killer cells (NK) [25], and can also interfere with B cell maturation and antibody production [26, 27]. In addition to interacting with adaptive and innate lymphocyte populations, MSCs have also been shown to modulate the differentiation, expansion, and/or function of myeloid cells towards more immunosuppressive and immunomodulatory phenotypes. These interactions include myeloid populations ranging from monocytes [28, 29], dendritic cells (DCs) [30, 31], macrophages [32, 33], and myeloid-derived suppressor cells (MDSCs) [34]. Most recently, there is also data showing modulation of granulocytes by BM and placental MSCs [35, 36]. In studies using animal disease models, efficacy was especially prominent in experimental autoimmune encephalomyelitis (EAE) and moderate for collagen-induced arthritis (CIA), which are models for multiple sclerosis (MS) and rheumatoid arthritis (RA), respectively [20, 37]; an early human case report demonstrated efficacy of allogeneic BMMSCs towards graft-versus-host disease (GVHD) [14].
In correlation to animal studies and human case reports, the most common immune-/inflammation-mediated indications in MSC clinical trials were for GVHD (
n
 = 46), osteoarthritis (OA;
n
 = 38), inflammatory airway diseases (
n
 = 29), MS (
n
 = 23), and solid organ transplant rejection (n =21). The majority of trials are still ongoing, with less than 7 % of trials with published results; these published reports have been for clinical trials on MS [
38
], GVHD [
39
–
41
], OA [
42
–
46
], inflammatory bowel disease (IBD) [
47
,
48
] and various pulmonary inflammatory diseases [
49
–
51
]. In this review, therefore, we will discuss the possible mechanisms and clinical efficacy of MSC treatment for these particular indications (Fig.
2
).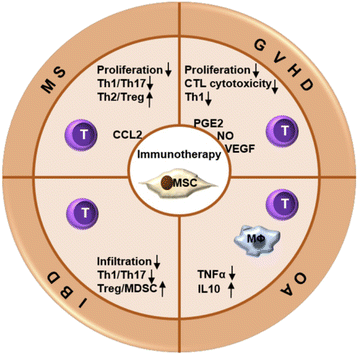 State of MSC clinical research in specific immune-/inflammation-mediated diseases
Conclusion
The immunomodulatory properties of MSCs have become increasingly relevant for clinical use. Based on hundreds of clinical trials, the safety of this therapy appears clear; less certain is the efficacy of such cell therapy. The overwhelming positive results seen in preclinical animal studies have largely not yet translated into clinical efficacy. Clearly, there is still much to learn and optimize with regards to the in vivo interactions of MSCs in human pathological states. As we improve our understanding on the mechanistic properties of MSC immunomodulation, we also need to clarify pathophysiological details and subsets within disease entities to better tailor MSC therapy. One important aspect is to delineate tissue-specific functional differences in MSCs from difference sources; the current ISCT standardization does not include immune-related functional tests or more detailed molecular validation. In addition, standardization of in vitro culture protocols with stringent criteria for testing of functional parameters is necessary as well. While there is clearly much still to do in this field, it must be remembered that even for HSC transplantation—a clinically established treatment modality—continued evolution in improving engraftment and decreasing complications is still ongoing. Nevertheless, based on current development and results, the tremendous potential of MSC therapy can be expected in the near future to achieve clinical relevance.
Abbreviations
ARDS:

Acute respiratory distress syndrome
BM:

Bone marrow
BPD:

Bronchial pulmonary dysplasia
CCL2:

CC chemokine ligand 2
CD:

Crohn's disease
CIA:

Collagen-induced arthritis
CNS:

Central nerve system
COPD:

Chronic obstructive lung diseases
COX2:

Cyclooxygenase-2
DC:

Dendritic cell
DSS:

Dextran sodium sulfate
E. coli:

Escherichia coli
EAE:

Experimental autoimmune encephalomyelitis
EGF:

Epidermal growth factor
GVHD:

Graft-versus-host disease
GVL:

Graft-versus-leukemia
HSC:

Hematopoietic stem cell
IBD:

Inflammatory bowel disease
IDO:

Indoleamine-2, 3-dioxygenase
IFN-γ:

Interferon-γ
IgE:

Immunoglobulin E
IGF-I:

Insulin-like growth factor I
IL:

Interleukin
IL-1RA:

IL-1 receptor antagonist
IPF:

Idiopathic pulmonary fibrosis
ISCT:

International society for cellular therapy
KGF:

Keratinocyte growth factor
LCN-2:

Antibacterial protein lipocalin 2
MAdCAM-1:

Mucosal addressin cell adhesion moledule-1
MBP:

Myelin-based protein
MCP-1:

Monocyte chemoattractant protein-1
MDSC:

Myeloid-derived suppressor cell
MS:

Multiple sclerosis
MSC:

Mesenchymal stem cell
NK:

Natural killer cell
NO:

Nitric oxide
OA:

Osteoarthritis
PGE2:

Prostaglandin E2
RA:

Rheumatoid arthritis
SLPI:

Secretory leukocyte protease inhibitor
T1DM:

Type 1 diabetes mellitus
TGF-β1:

Transforming growth factor β1
Th:

T helper cell type
TNBS:

2, 4, 6-Trinitrobenzene-sulfonate acid
TNF-α:

Tumor necrosis factor-α
Treg:

Regulatory T cell
TSG-6:

TNF-stimulated gene 6 protein
UC:

Ulcerative colitis
VCAM-1:

Vascular cell adhesion molecule-1
VEGF:

Vascular endothelial growth factor
Declarations
Acknowledgement
Not applicable.
Funding
This work was supported in part by funding from the NHRI (CS-105-PP-06) and the Taiwan Ministry of Science & Technology (MOST-104-2321-B-400-021 and MOST-104-2314-B-400-002).
Availability of data and materials
Not applicable (review article).
Authors' contributions
LZ W, CHT, & BLY conceived the concept, researched and analyzed the literature, and wrote the manuscript; MLY, KJL, HKS, & KKW analyzed the literature and edited the manuscript. All read and approved the final manuscript.
Competing interests
The authors declare that they have no competing interests.
Consent for publication
Not applicable.
Ethics approval and consent to participate
Not applicable (review article).
Open AccessThis article is distributed under the terms of the Creative Commons Attribution 4.0 International License (http://creativecommons.org/licenses/by/4.0/), which permits unrestricted use, distribution, and reproduction in any medium, provided you give appropriate credit to the original author(s) and the source, provide a link to the Creative Commons license, and indicate if changes were made. The Creative Commons Public Domain Dedication waiver (http://creativecommons.org/publicdomain/zero/1.0/) applies to the data made available in this article, unless otherwise stated.
Authors' Affiliations
(1)
Regenerative Medicine Research Group, Institute of Cellular & System Medicine, National Health Research Institutes (NHRI), Zhunan, Taiwan
(2)
Graduate Institute of Life Sciences, National Defense Medical Center (NDMC), Taipei, Taiwan
(3)
Department of Ob/Gyn, National Taiwan University Hospital & College of Medicine, National Taiwan University, Taipei, Taiwan
(4)
National Institute of Cancer Research, NHRI, Tainan, Taiwan
(5)
Graduate Institute of Microbiology and Immunology, NDMC, Taipei, Taiwan
(6)
Graduate Institute of Basic Medical Sciences, China Medical College, Taichung, Taiwan