Neuroblastoma treatment in the post-genomic era
Journal of Biomedical Science
2017
24:14
Received: 28 September 2016
Accepted: 31 January 2017
Published: 8 February 2017
Abstract
Neuroblastoma is an embryonic malignancy of early childhood originating from neural crest cells and showing heterogeneous biological, morphological, genetic and clinical characteristics. The correct stratification of neuroblastoma patients within risk groups (low, intermediate, high and ultra-high) is critical for the adequate treatment of the patients.
High-throughput technologies in the Omics disciplines are leading to significant insights into the molecular pathogenesis of neuroblastoma. Nonetheless, further study of Omics data is necessary to better characterise neuroblastoma tumour biology. In the present review, we report an update of compounds that are used in preclinical tests and/or in Phase I-II trials for neuroblastoma. Furthermore, we recapitulate a number of compounds targeting proteins associated to neuroblastoma: MYCN (direct and indirect inhibitors) and downstream targets, Trk, ALK and its downstream signalling pathways. In particular, for the latter, given the frequency of ALK gene deregulation in neuroblastoma patients, we discuss on second-generation ALK inhibitors in preclinical or clinical phases developed for the treatment of neuroblastoma patients resistant to crizotinib.
We summarise how Omics drive clinical trials for neuroblastoma treatment and how much the research of biological targets is useful for personalised medicine. Finally, we give an overview of the most recent druggable targets selected by Omics investigation and discuss how the Omics results can provide us additional advantages for overcoming tumour drug resistance.
Keywords
NeuroblastomaOmicsPersonalised medicineTargeted therapy
Background
Neuroblastoma is an embryonal malignancy of early childhood of the sympathetic nervous system belonging to the neuroblastic tumors that also include ganglioneuroblastoma and ganglioneuroma. The nosologic group of neuroblastoma is very heterogeneous in terms of biologic, genetic, clinical and morphologic characteristics [1, 2]. Neuroblastoma presents with a poor prognosis for individuals diagnosed at over 18 months of age with disseminated disease as metastatic processes in liver, bone marrow, skin and several other organs [3]. The highly heterogeneous clinical behaviour of disease makes the prediction of the patient's individual risk at the time of diagnosis the major goal in choosing an adequate therapeutic approach. Many efforts done by performing the so called "Omics" technologies have shed light on the biology of this tumour allowing more accurate stratification of the patients in proper risk group.
In fact, by combining the results of Omics data and available clinical/biological parameters, the International Neuroblastoma Risk Group (INRG) task force has established a stratification system of neuroblastoma patients taking into consideration diverse prognostic factors (i.e., clinical stage, patient's age at diagnosis, tumour histology (Shimada system) [4], grade of tumour differentiation, MYCN oncogene amplification, 11q deletion and DNA ploidy). Based on these criteria, neuroblastoma patients are currently subdivided into (very) low-, intermediate-, high- and ultra-high-risk groups. Nowadays, about half of all diagnosed cases are classified as high-risk (HR) for disease relapse, while overall survival rates still show only modest improvement, less than 40% at 5 years [5],. Therefore, recent discoveries regarding the understanding of the genetic basis of neuroblastoma and Omics data should necessarily be integrated in current knowledge of this malignancy in order to assure more accurate diagnosis for each patient and ascertain a good medical practice in terms of personalised therapy. In this regard, the awareness of the sequence of the entire human genome and the development of high-throughput Omics technologies has changed the approach to study neuroblastoma. Genome-wide information of amplifications and deletions of genomic regions, or somatically acquired genetic variations, common predisposing genetic variants and mRNA expression profiles have greatly helped us in better understanding of tumour behaviour. In this review we provide an overview on recent Omics studies, and how they direct current and future therapeutic approaches, shaping in that way the clinical trials set for neuroblastoma patients.
Therapeutic solutions to approach the treatment of neuroblastoma
Current views and directions in neuroblastoma therapy: the Omics as the basis for personalised medicine
Among all Omics, the advent of massive parallel sequencing approach, so-called Next Generation Sequencing (NGS), has enabled a more detailed and deeper molecular characterisation of the neuroblastoma tumours. The analysis of the entire genome and exome showed genomic alterations associated with the molecular pathogenesis of neuroblastoma [119–124]. In particular, somatic point mutations and somatic structural variants in the PTPRD, ODZ3, CSMD1 and ARID1A genes [120, 123], a few high-frequency recurrent somatic mutations in the ALK, CHD9, PTK2, NAV3, NAV1, FZD1, ATRX, ARID1B, TIAM1, ALK, PTPN11, OR5T1, PDE6G, MYCN and NRAS genes [119, 120, 122, 123] and rearrangements in TERT gene super enhancer region [121, 124] are discovered in neuroblastoma patients with worst survival.
Considering all currently available genomic data, several national and international groups operating in neuroblastoma field discussed in March 2015 during the SIOPEN Genomics Meeting in London, a NGS neuroblastoma signature for tumours of HR patients. At this meeting the collaborators proposed a panel of mutations, determined by whole exome sequencing (WES), to be screened in neuroblastoma patients, defining in that way a NGS signature specific for neuroblastoma [70]. The use of NGS profile is the first step towards personalised medicine in this paediatric malignancy. Subsequently, genomic data assisted in the development of pharmacogenomic technologies that allow the determination of specific therapeutic approaches for genetically homogenous cohorts of patients. It is expected that the current therapeutic protocol adopted for patients of one risk group will be replaced by a specific drug combination designed to treat patients based on their specific genetic profiles. A pioneer result that compare mutational spectrum in mitochondria (mt) versus nuclear (n) DNA in neuroblastoma patients at diagnosis and at relapse has been published by Reihl et al. [125]. To address the question if and in which extent DNA appertaining to these two cell compartments varies at spatiotemporal scale they applied WES. They found that both mtDNA and nDNA showed similar variations in relapsed samples with respect to samples obtained at diagnosis. Hence, the authors suggest that observed genetic variances could be useful biomarkers for monitoring of neuroblastoma progression. In support to this concept, recent studies on matched primary tumours and biopsies at relapse clarified that genetic alteration in CHD5, DOCK8, PTPN14, HRAS and KRAS genes and losses on chromosome 9p acquired during tumour progression suggesting a likely tailored therapy against these genetic alterations in patients at the disease recurrence [126]. Furthermore, the authors showed that the overall count of mutations in biopsies at relapse is higher than in primary tumours. In another independent, non-overlapping study, 78% of recurrent tumours harboured a higher overall mutations count compared to primary tumours showing an hyperactivated RAS-MAPK signalling pathway [127]. Both reports introduced the concept of temporal and dynamic cancer model in which neuroblastoma primary tumours were composed of a minor population of multiple clones that persisted throughout the therapy, expanding then at the recurrence [128]. Together, these studies suggest that the analysis of recurrent tumour biopsies is mandatory for any clinical trial [128].
Metabolomics and proteomics – is it time to move therapy towards precision medicine?
Additional Omics that will certainly contribute to more effective personalised medicine are metabolomics and proteomics. The analysis of small-molecule metabolites is an advantageous means to differentiate normal from malignant tissue and to predict tumour treatment response [129–131]. Indeed, Imperiale and colleagues [132] defined a metabolite profile using tumour of neuroblastoma patients, establishing differences in their profiles with respect to healthy tissues. More precisely, they defined the so-called metabolic fingerprint of neuroblastoma as a metabolic marker to control the disease course. Another valuable approach includes metabolome analysis of patients' sera to improve the reliability of diagnosis or risk-stratification of neuroblastoma patients, as reported by Beaudry et al. [133]. The authors performed a retrospective metabolome study, examining whether the patient's sera discriminate low from HR neuroblastoma patients. They observed equally distributed metabolite profile between low and HR patients using nuclear magnetic resonance (NMR). In addition, they analysed metabolites profile in sera of mice after neuroblastoma xenografts by NMR and gas chromatography–mass spectrometry. Importantly, they distinguished the metabolites differentially present at early phase versus late stage of disease proposing them as possible biomarkers to determine a presence of early stage tumours. Moreover, the results of these analyses done in humans and repeated using sera of xenografted-mice gave comparable profiles confirming that the xenografts recapitulate the behaviour of human tumours. These observations imply that the analysis of metabolome profile from neuroblastoma patients' sera, together with other diagnostic tools already used in clinic, could enable more accurate prediction of tumour behaviour. In any case, at this moment larger studies are needed to determine whether identification of key metabolites in patients' sera can be used as diagnostic tools in neuroblastoma. As far as proteomics is concerned, the level of specific protein biomarkers in the plasma of neuroblastoma patients can determine HR neuroblastoma [134]. These results support the integration of proteomic approaches as fast and non-invasive techniques in the monitoring of neuroblastoma behaviour in HR patients. Additional findings that provide evidence in favour of metabolic markers have been provided by Otake et al. [135], who defined new biomarkers of an unfavourable neuroblastoma phenotype, applying shotgun proteomic analysis. The authors focused particular attention to the protein DDX39A, which might be considered a novel marker for proteomics approaches to HR neuroblastoma diagnosis. Several in vitro validation studies also gave encouraging data that a proteomic approach can be applied to define the diverse intracellular pathways and molecules that are responsible for: i) an aggressive neuroblastoma phenotype or ii) resistance to therapy [136, 137].
High-throughput drug screening
The National Cancer Institute has launched a program to assess new drugs for paediatric use, called the Paediatric Preclinical Testing Program (PPTP) [138]. The PPTP is an initiative to identify therapeutic drugs that have significant activity against childhood cancers, including neuroblastoma. The PPTP has established panels of childhood cancer cell lines and xenografts to be used for in vitro and in vivo testing. The PPTP has the capacity to test approximately 12 compounds or combinations of compounds in preclinical models of childhood cancers. The cancers include Wilms tumour, sarcomas (rhabdomyosarcoma, Ewing sarcoma and osteosarcoma), neuroblastoma, brain tumours (glioblastoma, ependymoma and medulloblastoma), rhabdoid tumours (CNS and renal) and acute lymphoblastic leukaemia (ALL). The selection of drugs for PPTP testing is based on their potential relevance in the childhood cancer setting and their stage of clinical development. In parallel, standard drugs are also being tested, both to calibrate the PPTP tumour panels and to serve as a basis for future combination studies [107]. Between 2008 and 2015, more than 60 reports of initial testing (Stage 1) were published by the PTPP. From the point of the in vitro studies, another interesting approach arrives and proposes high-throughput screening for the best single or combined drug selection. In fact, an increasing number of reports identified high-throughput screening as useful methodology to select additional functional anti-tumour drugs. Indeed, an example is the screening of compounds against the neuroblastoma cell line IMR32, from which it was discovered that the PHOX2B gene might be targetable by influencing its direct transcriptional regulators, such as Meis-1, NF-κB and AP-1 [139]. Accurate evaluations of high-throughput screening in neuroblastoma have been described by Harder et al. [140]. Therefore, we propose that introducing this technique could lead to increased identification of promising compounds for neuroblastoma treatment. The identification of new compounds could allow us to increase the number of clinical trials for personalised medicine.
Epigenetic biomarkers and regulatory RNAs
Recently, analysis of epigenome profiling and microRNA (miRNA) expression patterns performed in neuroblastoma samples has provided a significant amount of data, identifying the targeting of epigenetic regulators as a possible treatment strategy. It is also expected that epigenomic studies will identify new biomolecular markers that may lead to a better stratification of neuroblastoma patients.
Epigenetic background of neuroblastoma
Aberrant DNA methylation, either hyper- or hypo-methylation, has emerged as a new hallmark of tumourigenic processes [141]. In particular, changes of the "physiological" methylation patterns have been correlated with neuroblastoma patients' prognosis [142]. Additional studies of DNA methylation profiles in neuroblastoma tumours have identified the pro-apoptotic gene CASPASE 8 and the tumour suppressor gene RASSF1A as novel target molecules. The hyper-methylation of their promoter regions, and hence reduced or absent gene expression, has been confirmed in the majority of examined neuroblastoma [143]. Soledad Gómez and colleagues revealed that major DNA methylation changes took place outside promoter regions. More importantly, they observed that the changes in the methylation pattern are associated with clinico-pathological characteristics of neuroblastoma [144]. A similar conclusion was drawn by Buckley et al. [145], who associated a hyper-methylation pattern with diverse neuroblastoma phenotypes.
Non coding RNAs
Another class of biological molecules whose expression depends on epigenetic regulators are microRNAs (miRNAs). As non-coding RNA molecules, miRNAs are able to control the expression of genes at the post-transcriptional level. miRNAs have emerged as very important biomarkers of many cancers including neuroblastoma. In fact, an increasing number of studies indicate that imbalanced expression of miRNAs could offer an alternative explanation for neuroblastoma aggressiveness and serve as a basis for selection of more efficient drug combination [146]. Even at this level MYCN is an important player, since some miRNAs are described as direct transcription targets of MYCN. Among them, several miRNAs with tumour-suppressor features (e.g. miR-184, miR-181a-5p, miR-181b-5p, miR-320a) [147] are evidenced. These findings suggest that MYCN, beside direct impact on its target genes, can indirectly regulate a subset of other genes at post-transcriptional level. There are several data that indicate that miRNAs profiles are predictive for the outcome of neuroblastoma patients [148–150]. Some of the suggested miRNAs might be interesting targets to be combined with standard therapeutic protocols for neuroblastoma cure in future. High throughput studies of long non-coding RNAs (lncRNAs) also highlighted the role of these regulatory RNAs as promising drug targets for therapeutic interventions. Indeed, a recent sequencing transcriptomes analysis of low- and HR neuroblastomas pinpointed a lncRNA neuroblastoma associated transcript-1 (NBAT-1) as a biomarker that predicted neuroblastoma patients outcome [151]. The authors showed that NBAT-1 was necessary for differentiation of neuronal precursors and that hypermethylation of its promoter region and following gene down-regulation increases neuroblastoma cells proliferation. Being described as tumour suppressor, NBAT-1 might be among crucial regulatory RNAs and so, the therapy against NBAT-1 and its downstream effectors could be a potential novel therapeutic option for the treatment of HR neuroblastoma [151]. Moreover, another recent study evaluated differential expression profiles of lncRNAs and protein-coding genes between MYCN amplified and non-amplified neuroblastomas by examining microarray and RNA-seq datasets [152]. The authors revealed correlation between SNHG1 regulation and MYCN amplification and suggested SNHG1 as another indicator of neuroblastoma patient's outcome and/or as an option for therapeutic targeting.
Liquid biopsy as a useful technique for Omics studies
In recent years, liquid biopsy has been used as a biological sample that enables diagnosis and monitoring of disease status. Blood liquid biopsy contains circulating tumour cells, which can be studied by Omics technologies. In neuroblastoma, liquid biopsy is very useful, particularly if tumour cells are not available from the primary tumour or are not sufficient for genomic studies. The importance of liquid biopsy for tumour studies was realised when it is discovered that the levels of cell-free circulating DNA (ctDNA; small, double-stranded fragments of DNA) in the blood were much higher in patients with cancer than in those of healthy individuals. These findings provide a basis for the possibility of using liquid biopsy to monitor the disease in a simpler and faster way [
153
]. In neuroblastoma, liquid biopsy is useful in evaluating
ALK
and
PHOX2B
mutations,
MYCN
expression etc. As far as neuroblastoma is concerned, some research groups have already begun testing whether liquid biopsy could mirror the genetic profile obtained directly from tumours [
154
,
155
]. The first data obtained by the use of liquid biopsy at neuroblastoma diagnosis are promising. They suggest that this non-invasive approach could serve as a detection method of neuroblastoma at early time points of disease, allowing an immediate and suitable treatment. Liquid biopsy is also useful for the evaluation of the response to therapy by allowing for more frequent follow-up measurements of specific molecular markers persisting in liquid biopsies. A diagram of the workflow of liquid biopsy use in neuroblastoma and its integration with Omics technologies is shown in Fig.
2
. Because the clinical utility of this approach has been already demonstrated for other types of cancer [
156
], its use in neuroblastoma provides new prospects for more accurate and faster diagnosis of the disease and eventual determination of the correct approach in personalised therapy.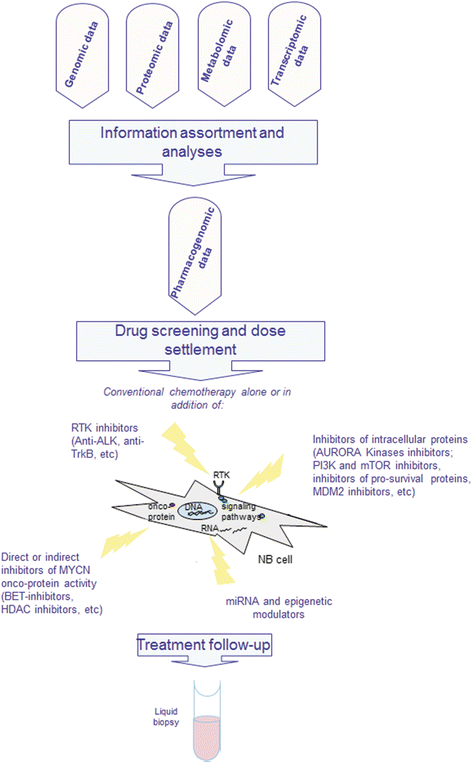 Conclusions
In this review we provided an update of the pharmacological achievements proposed for neuroblastoma treatment during the last years. Moreover, we discussed the way that neuroblastoma management could be influenced by the findings obtained from Omics technologies. We also reported the importance of high-throughput Omics data for better risk's stratification of the neuroblastoma patients in order to provide a more efficient targeted therapy. From these techniques, it is expected to allow, in a rapid and strict way, a generation of the list of possible druggable targets that clinicians should consider to improve patients health. Indeed, these techniques will lead to the increased number of successful clinical trials which will contribute to increasing cure rates of neuroblastoma patients.
In conclusion, we believe that the use and integration of Omics data within other clinical and biological information already defined for neuroblastoma is the right direction toward precision medicine. Under this scenario, the Omics profiles should allow a more accurate characterisation of neuroblastoma phenotype providing a support for an efficient therapy against this pediatric tumor.
Declarations
Acknowledgements
The authors would like to thank Dr Carlo Zanon for helping with the figure preparation.
Funding
The present work was supported by Fondazione Italiana per la Lotta al Neuroblastoma.
Availability of data and materials
All data generated or analysed during this study are included in this published article.
Authors' contributions
MRE, SA, AS have contributed to the design and preparation of the manuscript. GPT has contributed to the study for important intellectual content. MRE and GPT was also involved in the manuscript drafting and revising. All authors read and approved the final manuscript.
Competing interests
The authors declare that they have no competing interests.
Consent for publication
Not applicable.
Ethics approval and consent to participate
Not applicable.
Open AccessThis article is distributed under the terms of the Creative Commons Attribution 4.0 International License (http://creativecommons.org/licenses/by/4.0/), which permits unrestricted use, distribution, and reproduction in any medium, provided you give appropriate credit to the original author(s) and the source, provide a link to the Creative Commons license, and indicate if changes were made. The Creative Commons Public Domain Dedication waiver (http://creativecommons.org/publicdomain/zero/1.0/) applies to the data made available in this article, unless otherwise stated.
Authors' Affiliations
(1)
Paediatric Research Institute, Fondazione Città della Speranza, Neuroblastoma Laboratory, Padua, Italy
(2)
Department of Biology, University of Padua, Padua, Italy