Androgens as therapy for androgen receptor-positive castration-resistant prostate cancer
Journal of Biomedical Science
2011
18:63
Received: 6 July 2011
Accepted: 23 August 2011
Published: 23 August 2011
Abstract
Prostate cancer is the most frequently diagnosed non-cutaneous tumor of men in Western countries. While surgery is often successful for organ-confined prostate cancer, androgen ablation therapy is the primary treatment for metastatic prostate cancer. However, this therapy is associated with several undesired side-effects, including increased risk of cardiovascular diseases. Shortening the period of androgen ablation therapy may benefit prostate cancer patients. Intermittent Androgen Deprivation therapy improves quality of life, reduces toxicity and medical costs, and delays disease progression in some patients. Cell culture and xenograft studies using androgen receptor (AR)-positive castration-resistant human prostate cancers cells (LNCaP, ARCaP, and PC-3 cells over-expressing AR) suggest that androgens may suppress the growth of AR-rich prostate cancer cells. Androgens cause growth inhibition and G1 cell cycle arrest in these cells by regulating c-Myc, Skp2, and p27Kip via AR. Higher dosages of testosterone cause greater growth inhibition of relapsed tumors. Manipulating androgen/AR signaling may therefore be a potential therapy for AR-positive advanced prostate cancer.
Keywords
Testosterone
Androgen
Androgen Receptor
Androgen Deprivation Therapy
Androgen Receptor Expression
Introduction
In 1941, Huggins and Hodges reported that androgen ablation therapy causes regression of primary and metastatic prostate cancer [1]. Approximately 20-40% of patients treated with radical prostatectomy will have tumor recurrence and elevation of serum prostate-specific antigen (PSA) [2]. Primary metastatic sites for prostate cancer include bones and lymph nodes. More than 80% of patients who die from prostate cancer develop bone metastases [3–5]. Androgen ablation therapy is provided to patients who develop recurrent or metastatic prostate tumors. However, 80-90% of the patients who receive androgen ablation therapy ultimately develop recurrent castrate-resistant tumors 12-33 months after androgen ablation therapy. The median overall survival of patients after tumor relapse is 1-2 years [6, 7]. Several long-term studies have failed to show that androgen ablation therapy provides a disease-specific survival advantage in patients [6]. Androgen ablation therapy is associated with undesired side-effects that impair the patient's quality of life as well as increased risk of diabetes and cardiovascular diseases [6]. Therefore, shortening the period of androgen ablation therapy may protect the patients.
Conclusions
Although our observations suggested that androgen suppress growth of AR-positive advanced prostate tumors while Vancouver group use IAD to show that cessation of anti-androgen therapy allowed tumor cells to recover their androgen-sensitivity and be sensitive to subsequent rounds of anti-ablation treatment. We believe that our LNCaP progression model may provide the molecular explanation for IAD treatment. As most prostate tumors relapsed from androgen ablation therapy express AR and expression of mRNA and protein level of AR are frequently elevated [
23
–
25
], restoration of endogenous testosterone level by IAD treatment will suppress the proliferation of AR-rich relapsed prostate cancer cells based on observations in LNCaP 104-R1, 104-R2, CDXR, and in other relapsed prostate cancer cell models [
15
,
18
–
22
,
31
,
32
,
55
,
57
,
58
,
61
–
65
,
74
]. The decrease in testosterone production is generally reversible upon cessation of LH-RH agonist therapy, however, testosterone production does not always return to baseline levels and may be related to the duration of LH-RH agonist therapy, patient age, and other factors [
75
,
76
]. According to our study, serum testosterone level around 2970 ± 495 ng/dl is required to cause regression of relapsed tumors [
18
], so patients showing no response to IAD treatment might be either having tumors expressing very low AR expression or having very low serum testosterone level. For the later ones, exogenous testosterone should be applied to patients to suppress the growth of relapsed tumors. At the beginning of IAD or testosterone treatment, serum PSA level will increase dramatically [
48
], similar to the stimulated PSA expression in 104-R1, 104-R2, and CDXR cells [
15
,
18
,
20
,
21
,
51
]. The AR-rich relapsed prostate cancer cells will then undergo G1 cell cycle arrest and/or apoptosis [
25
–
27
,
59
,
64
,
65
], causing the regression of tumor and decrease of serum PSA level [
15
,
18
,
21
,
22
]. The regression of tumors can continue for weeks or months before the prostate cancer cells adapt to the androgenic suppression [
15
,
18
,
21
,
51
,
58
], possibly by down-regulating AR [
15
,
18
,
21
,
51
]. The adapted cells are probably similar to R1Ad cells [
15
,
18
,
20
] in patients receiving androgen ablation therapy (LH-RH agonists) or similar to IS or R2Ad cells [
21
] in patients receiving combined treatment of LH-RH agonists and anti-androgens or long-term androgen ablation therapy. The stimulation of PSA secretion by androgen in R1Ad, R2Ad, or IS cells is very low, so the serum PSA level will remain low until the adapted tumors start to grow, either stimulated by testosterone like R1Ad cells or by androgen-insensitive growth like R2Ad and IS cells. IAD will delay the growth of R1Ad-like tumors [
15
,
18
,
20
] but not R2Ad or IS-like tumors [
27
]. Therefore, only the subgroup of patients carrying R1Ad-like tumors will respond to the subsequent cycles of IAD treatment. As 104-R1 cells will progress to 104-R2 cells in androgen-depleted medium and 104-R2 cells will progress to R2Ad cells following androgen treatment, patients receiving a few cycle of IAD treatment will ultimately develop androgen-insensitive tumors that will not respond to further IAD treatment [
43
–
45
,
47
]. Alternative therapies, such as chemotherapy (docetaxel plus prednisone) [
77
], green tea catechin epigallocatechin 3-gallate (EGCG), or liver X receptor agonists, might be able to suppress growth of these androgen-insensitive prostate tumors [
18
,
50
,
78
–
82
] (Figure
5
).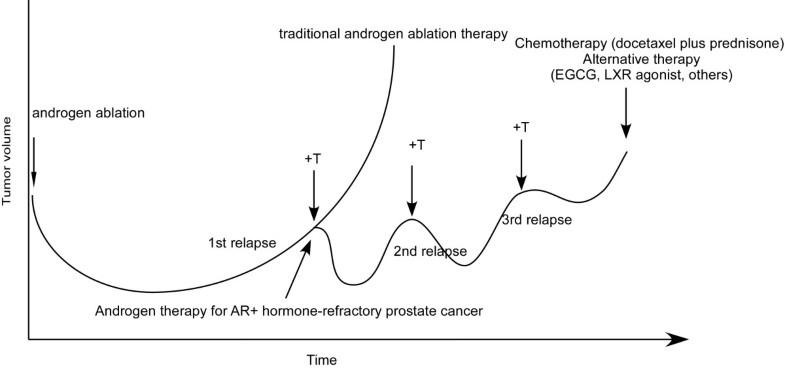 Based on the results from our in vitro and in vivo progression model, patients developing relapsed hormone-refractory prostate tumors after androgen ablation therapy should be biopsied for expression level of AR protein in tumors. IAD and/or administration of exogenous androgen at a concentration 2500-3500 ng/dl will benefit patients with AR-rich relapsed tumors by suppressing tumor growth, improving quality of life, and reducing risks for cardiovascular diseases and diabetes. Combined treatment of androgen ablation therapy with anti-androgen cause a rapid and irreversible selection of more aggressive advanced prostate cancer cells [83], possibly similar to CDXR cells. Exogenous androgen treatment can cause regression of these tumors and a subgroup of these tumors will disappear [21]. Androgen deprivation therapy alone may promote a slow adaptation to androgen ablation-resistance [15, 20], thus shortening the period of androgen deprivation therapy may retard the diseases progression and reduce side effects. Aromatase inhibitors should be considered in combination with androgen treatment to prevent the conversion of testosterone to estradiol (E2) by aromatase to avoid potential cardiac toxicity. Since several clinical trials already confirmed that testosterone is a safe, feasible, and reasonably well-tolerated therapy for men with early hormone-refractory prostate cancer [39, 48, 72, 73], we believe that manipulating androgen/AR signaling can be a potential therapy for AR-positive advanced prostate cancer.
Endnotes
This article is dedicated to our dear mentor Dr. Shutsung Liao, professor at Ben May Department for Cancer Research of The University of Chicago for his 80th birthday. He is a member of America Academy of Art & Science (U.S.A.) and academician of Academia Sinica (Taiwan).
Declarations
Acknowledgements
This work is supported by CS-100-PP-12 (National Health Research Institutes), DOH100-TD-C-111-014 (Department of Health), and NSC 99-2320-B-400-015-MY3 (National Science Council) in Taiwan for C.-P. Chuu. We also thank the editor and reviewers for their very useful suggestions for the revision of the manuscript.
Authors' Affiliations
(1)
Institute of Cellular and System Medicine, National Health Research Institutes, Miaoli, Taiwan
(2)
Translational Center for Glandular Malignancies, National Health Research Institutes, Miaoli, Taiwan
(3)
Ben May Department for Cancer Research, The University of Chicago, Chicago, USA
(4)
Pharmaceuticals and Medical Devises Agency, Tokyo, Japan
(5)
Department of Life Sciences, National Central University, Chungli, Taiwan
Copyright
© Chuu et al; licensee BioMed Central Ltd. 2011
This article is published under license to BioMed Central Ltd. This is an Open Access article distributed under the terms of the Creative Commons Attribution License (http://creativecommons.org/licenses/by/2.0), which permits unrestricted use, distribution, and reproduction in any medium, provided the original work is properly cited.